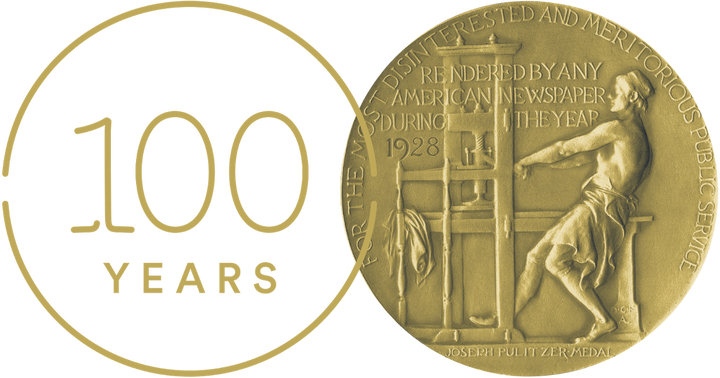 NEW YORK -- The Pulitzer Prizes were awarded Monday, honoring standout journalism that tackled topics including police violence, education inequality, rape and modern day slavery.
The Washington Post won the National Reporting prize for its deep coverage of police shootings resulting in fatalities, a project that included building a database more comprehensive than the FBI's own records. 
The Huffington Post was a finalist in the National Reporting category for Jason Cherkis' investigation into heroin treatment, "Dying To Be Free," which won a prestigious Polk Award in February. Washington Bureau Chief Ryan Grim edited the story, which also included reporting from Shane Shifflett.
"Hamilton" writer Lin-Manuel Miranda won the award for Drama, as expected for the hit musical.
Several news organizations walked away with two awards, including the New York Times, Boston Globe, New Yorker and Tampa Bay Times. 
The Tampa Bay Times, a newspaper that has faced significant cutbacks in recent years, again displayed its investigative chops against the nation's biggest media players. The paper, along with the Sarasota Herald-Tribune, took home the Investigative prize for reporting on conditions at Florida mental hospitals and the Local award for its investigation into how black students have been disproportionately routed to failing schools. 
The New Yorker won its first two Pulitzers on Monday, the result of several categories in the newspaper-heavy competition being expanded to magazines. Editor David Remnick told staff in a memo that "this year's results are simply astounding––and a source of immense pride."
ProPublica and The Marshall Project won Explanatory Reporting prize for the media outlets' joint examination of botched rape investigation, a collaboration that began after ProPublica's T. Christian Miller and The Marshall Project's Ken Armstrong learned one another was digging into the same case.
This year marks the centennial of the awards. Administrator Mike Pride announced the winners from the World Room at Columbia University's Graduate School of Journalism. 
There were nearly 3,000 entries in all categories for 2016, Pride said.  
See the full list of winners below:
JOURNALISM

Public Service: Associated Press

Breaking News Reporting: Los Angeles Times staff

Investigative Reporting: Leonora LaPeter Anton and Anthony Cormier of the Tampa Bay Times; and Michael Braga of the Sarasota Herald-Tribune

Explanatory Reporting: T. Christian Miller of ProPublica and Ken Armstrong of The Marshall Project

Local Reporting: Michael LaForgia, Cara Fitzpatrick and Lisa Gartner of the Tampa Bay Times

National Reporting: The Washington Post staff

International Reporting: Alissa J. Rubin of The New York Times

Feature Writing: Kathryn Schulz of The New Yorker

Commentary: Farah Stockman of The Boston Globe

Criticism: Emily Nussbaum of The New Yorker

Editorial Writing: John Hackworth of Sun Newspapers Charlotte Harbor, Fla.

Editorial Cartooning: Jack Ohman of The Sacramento Bee

Breaking News Photography: Mauricio Lima, Sergey Ponomarev, Tyler Hicks and Daniel Etter of The New York Times; Photography Staff of Thomson Reuters

Feature Photography: Jessica Rinaldi of The Boston Globe

LETTERS AND DRAMA

Fiction: The Sympathizer by Viet Thanh Nguyen (Grove Press)

Drama: Hamilton, book, music and lyrics by Lin-Manuel Miranda

History: Custer's Trials: A Life on the Frontier of a New America  by T.J. Stiles (Alfred A. Knopf)

Biography: Barbarian Days: A Surfing Life by William Finnegan (Penguin Press)

Poetry: Ozone Journal by Peter Balakian (University of Chicago Press)

General Nonfiction: Black Flags: The Rise of ISIS by Joby Warrick (Doubleday)

Music: "In for a Penny, In for a Pound": by Henry Threadgill, recording released on May 26, 2015, by Zooid (Pi Recordings)
Calling all HuffPost superfans!
Sign up for membership to become a founding member and help shape HuffPost's next chapter