Men don't have very many options when it comes to contraception they can control. But a new national report reveals that one male contraceptive method — withdrawal — has nearly doubled among unmarried men.
While rates of condom use and vasectomy have held steady since 2002, the rate of men who say they use withdrawal, or the so-called pull-out method, has increased from about 10 percent in 2002 to 19 percent by 2015, according to a new study published by the National Center for Health Statistics.
Rates of withdrawal ― when a man pulls his penis out of his partner's vagina before ejaculating ― may be increasing because men are dissatisfied with condoms. Young, unmarried men are most likely to report doing it ― despite the fact that withdrawal is a relatively unreliable birth control method and doesn't protect against sexually transmitted infections. However, at least one expert said withdrawal's rise could be a sign that men are increasingly willing to take responsibility for contraception.
How unmarried men are using birth control
The NCHS's report, which surveyed about 3,700 unmarried men who have had sex in the past three months, found that the use of any kind of male contraception has increased. Back in 2002, only 52 percent of men surveyed said they had used condoms, withdrawal method or a vasectomy the last time they had sex. Now that number is up to 59 percent, and the increase appears to be among those who reported using withdrawal, as rates of condom and vasectomy use held steady.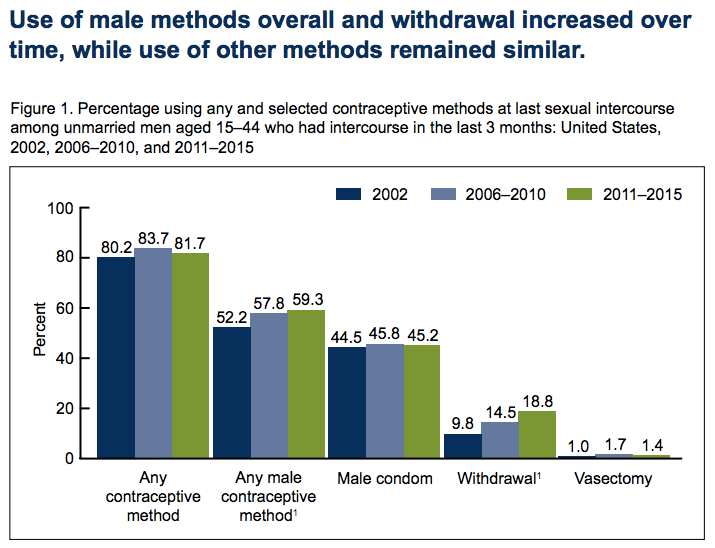 Among unmarried men, those aged 15 to 19 were most likely to use withdrawal (26 percent), as were men who had never been married (23 percent). There also seemed to be similar rates among whites, blacks and Hispanics — the three racial groups measured in the study.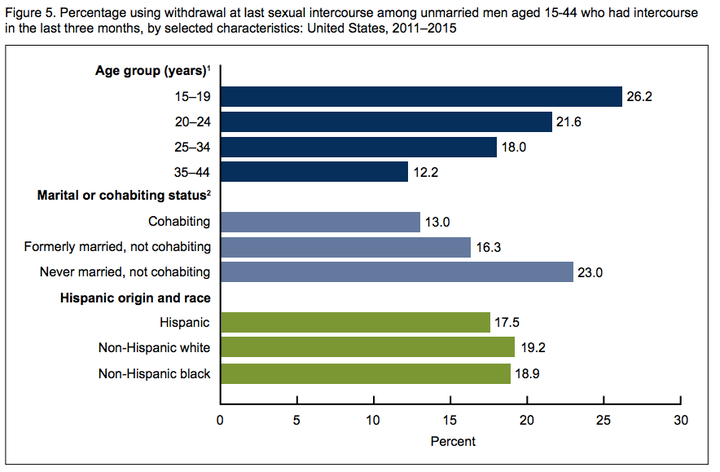 Among couples who correctly uses withdrawal every single time they have sex, only about four out of 100 women will get pregnant. However, it requires a great deal of self-knowledge, self-control and trust between partners. And as Planned Parenthood notes in the video below, it basically means that men have to completely pull out of their partner's vagina just when sex starts to feel the best. Perhaps that's why it's very difficult to do it perfectly every single time. Among typical couples who use withdrawal, about 27 out of 100 women will get pregnant, according to Planned Parenthood.
To put that in perspective, typical use of a condom results in 18 pregnancies out of 100 couples using them, while about nine out of every 100 women using the contraceptive pill will get pregnant in a year.
For more protection, Planned Parenthood recommends using a second contraceptive — perhaps a condom or the pill — in addition to withdrawal. Alternately, couples could stock emergency contraception pills at home just in case they have an accident.
While withdrawal is better than nothing, it's far from the most effective contraceptive method men have at their disposal. It also does nothing to prevent the transmission of sexually transmitted infections. So why is it growing in popularity?
There are two reasons, suspects Dr. Jamin Brahmbhatt, a urologist with Orlando Health.
"Dissatisfaction with condoms or current available forms of male birth control, and lack of awareness on the risks of 'pulling out' as their choice of birth control," she said.
Of course, feeling unhappy about having to choose between a permanent form of birth control and a barrier method that may blunt some sexual pleasure isn't a new phenomenon. But perhaps cultural acceptance ― especially among female partners ― of withdrawal as a legitimate birth control method is growing.
A 2014 birth control study surveying reproductive-age women found that one-third of them had used the pull-out method at least once in the past month, and that it was a back-up form of contraception for some of these women, as they were also using the pill, an IUD or condoms. The same thing could be true of the men in the NCHS survey, as it asks only about male forms of contraception, and not about any kinds of birth control their female partner may be using.
Unsurprisingly, Brahmbhatt is no fan of the pull-out method, and he advises his patients to stick with condoms to prevent both pregnancy and sexually transmitted infections. To him, the report's silver lining is the fact that use of any male contraceptive is up from 52 percent in 2002 to 59 percent in 2015.
"Guys seem to be taking an initiative," he said. "They probably would do more if there were more options in the market."
Currently, there is no hormonal male contraception, but ongoing research suggests it may be a reality in the near future. A 2016 study of hormonal male contraceptive shots found that they successfully suppressed sperm production in 96 percent of participants, and that 75 percent of them said they'd be willing to continue using the shots as their main method of birth control.
Before You Go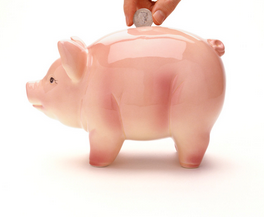 10 Must-Know Birth Control Facts