As a new year quickly approaches, so does the United Nations' 2016 celebration of pulses.
What is a pulse anyway? And why does the UN care so much about them? And, perhaps more importantly, why should you?
Pulses represent 12 crops of grain legumes, which include dry beans, dry peas, chickpeas and lentils -- they are quite simply the little beans we have been cultivating from the soil for more than 10,000 years.
To be exact, pulses are the edible seeds of plants in the legume family. They are low in fat, high in protein (about 20-30 percent) and fiber, and contain various vitamins and amino acids. They also improve the environmental sustainability of annual cropping systems because they are nitrogen-fixing and water-efficient crops; they use 10-50 percent less water compared to other sources of proteins.
Eating pulses can help reduce obesity-related chronic diseases such as diabetes. By consuming as little as a half-cup of pulses daily, you can increase absorption of these key nutrients: iron (transports oxygen throughout the body), zinc (fights bacteria and viruses), folate (makes DNA), and magnesium (necessary for more than 300 biochemical reactions in the body; regulates muscle and nerve function, blood sugar levels, and blood pressure; and makes protein, bone, and DNA).
You probably already are consuming these nutritiously-dense foods and if you are not, a day to start is in 2016 during the International Year of Pulses and more precisely on Jan. 6 when the world will be celebrating Pulse Feast, a campaign for all to eat pulses.
This global day dedicated to pulses is because of the vital role they play in our diets and in sustainable farming -- a long answer to the question of why the United Nations declared 2016 the International Year of Pulses. Throughout the year, global activities and a series of international events will be held with the goal to position pulses as a primary source of protein and other essential nutrients.
One of these events will be taking place at The Sackler Institute for Nutrition Science at the New York Academy of Sciences on Nov. 19. This scientific conference, Little Beans, Big Opportunities: Realizing the Potential of Pulses to Meet Today's Global Health Challenges, will examine the role of pulses in meeting the imperative nutritional needs of women and infants during the first 1,000 days of life, reducing obesity and chronic diseases, and influencing the microbiome.
Need ideas on how to include or increase your daily pulse consumption? Vegan and vegetarian chef Amy Chaplin shared two of her pulse-centered healthy dishes to spark inspiration from her James Beard Award-winning cookbook At Home in the Whole Food Kitchen: Celebrating the Art of Eating Well. Perhaps these delicious dishes will inspire you to incorporate pulses into a quest for a healthier 2016!
Chickpea mash is a favorite side dish in my house. When made with freshly pressure-cooked chickpeas and served slightly warm, this mash is rich in flavor with a luxurious, almost fluffy texture. It's perfect for the sweltering heat of New York City summers when beans seem too heavy. I love serving the mash with juicy tomato and cucumber salads, as a side dish to simple grains, spread on toast, or with just about anything. Although it may sound reminiscent of hummus, because there's no lemon, garlic, or tahini, it's quite different -- lighter and more versatile. If you don't have a pressure cooker, I would advise using canned chickpeas here, as boiling them won't get them soft enough to mash them into creamy deliciousness.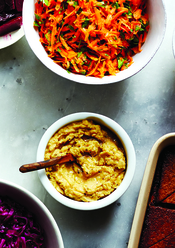 MAKES ABOUT 3½ CUPS
6 cups cooked chickpeas (use canned if you don't have a pressure cooker)
1 cup of cooking liquid or water
3 tablespoons extra virgin olive oil
½ teaspoon sea salt, plus more to taste
TO SERVE:
Chopped parsley or chives
Cold-pressed flax oil or extra virgin olive oil
Add chickpeas and ½ cup cooking liquid to a medium pot over medium heat. Stir until heated through and remove from heat. Add olive oil and salt, and mash until creamy with a potato masher, adding more liquid as needed to get desired consistency. Season to taste, place in a bowl, and serve topped with parsley or chives and a drizzle of oil.
Any leftover mash will keep in the fridge for up to four days. It will become quite firm and needs to be warmed to soften it up before serving. Place it in a pot over medium heat with a splash of water, stir until smooth, and season to taste.
SIMPLE RED LENTIL SOUP WITH SPINACH, LEMON, AND PEPPER
The quality I like most about red lentils is their ability to dissolve and become a creamy pot of earthy goodness in very little time -- for a legume, that is.
When I was in Istanbul, my friend Sila took me to a fantastic restaurant called Ciya Sofrasi on the Eastern side of the city, where I ate a memorable and incredibly simple red lentil soup. It was made with dried mint and served with a wedge of lemon, and I couldn't get over how nourishing it felt to eat. This recipe, although very different in flavor, has the same soothing effect, and I often make it when I'm in need of such a soup but have no desire to tackle chopping vegetables.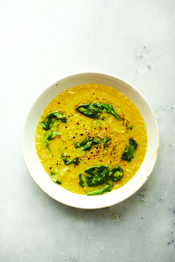 SERVES 4
2 tablespoons extra virgin olive oil
1 medium onion, finely chopped
5 garlic cloves, minced
2 cups red lentils washed and drained
6 cups filtered water, plus more to thin out soup as needed
1½ teaspoons sea salt, plus more to taste
¼ to ½ teaspoon freshly ground black pepper
4 cups (3½ ounces) baby spinach leaves
¼ cup freshly squeezed lemon juice, plus more to taste
TO SERVE:
Extra virgin olive oil
Freshly ground black pepper
Warm olive oil in a medium-large pot over medium heat. Add onions and sauté for 5 minutes or until golden. Stir in garlic and sauté for 2 to 3 minutes longer. Add lentils and water, and bring to a boil over high heat. Cover pot, reduce heat to low, and simmer for 30 to 35 minutes or until lentils are cooked and becoming creamy; stir pot every 10 minutes or so to make sure lentils aren't sticking. Remove lid, add salt and more water, if needed, to reach your desired consistency. Cover again and cook for 5 to 10 minutes longer or until lentils have completely dissolved and soup is creamy.
Stir in pepper and spinach, and cook for 1 minute or until spinach is wilted. Remove from heat and add lemon juice. Season to taste and serve with a drizzle of olive oil and black pepper.
At Home in the Whole Food Kitchen: Celebrating the Art of Eating Well © 2014 by Amy Chaplin. Photographs © 2014 by Johnny Miller. Reprinted by arrangement with Roost Books, an imprint of Shambhala Publications Inc., Boston, MA. www.roostbooks.com
Popular in the Community