**Updated Twice Below**
WASHINGTON, D.C. -- More than 250 diehard Hillary supporters were scheduled to meet this weekend at the Marriott Wardman Hotel here to plan their convention strategy. The group's online spokesperson said that the meeting, "PUMA Conference 2008," was "closed to media of any kind."
PUMA stands for "Party Unity, My Ass" -- a coalition of voters who believe the Democratic Party primary process is deeply flawed and that Democratic Party leaders have underestimated the seriousness of opposition to Obama. The group rallies around the conviction that Hillary Clinton was forced out of the race by party insiders and unfair news coverage, and members look to the day when a national watchdog of some sort would point out and combat sexist reporting in the media. (Take note, NBC and Maureen Dowd.)
It's clear PUMA is looking for Hillary Clinton's name to be placed into nomination at the National Convention, but which convention -- Democratic or Republican? PUMA founder and spokesperson Will Bower told the Huffington Post in June that even though he has been a lifelong Democrat, if Hillary's destiny is to become vice-president, then he would prefer a McCain/Hillary ticket.
Is PUMA really prepared to be part of a McCain victory?
Seeking the answer to that question, I roamed the halls of the Marriott Wardman Hotel Saturday looking for the PUMA Conference, doing my best Michael Moore "Roger and Me" impersonation. "No PUMA conference is registered here," they told me at the front desk. Allegedly they told a Hearst reporter the same thing a day earlier.
No reports yet on what PUMA may be cooking up for the conventions.

Today I received this email from Bower: "The conference was moved to a new location. We made an agreement with all our participants that we would treat the proceedings as confidential. There was a great deal of information that was generated that our members want to disseminate to their colleagues in their own way."
****
UPDATE: Bower is making the media rounds this week, starting tonight, Wednesday 13 August, on Fox. PUMAs believe Democratic Party unity depends upon whether or not the name "Hillary Clinton" appears on the nominating ballot in Denver. A nominating petition requires 300 delegate signatures. "We have over 200 names and we're pretty sure we're going to get all 300," Bower told Fox. According to the rules of the convention, Hillary Clinton must sign off on the petition. Would she? "My guess is she would," Bower told OffTheBus. "But we're not connected, so I have no idea what she's thinking."
UPDATE TWO:Despite official word issued in a joint press release by the Obama and Clinton campaigns that makes it clear Hillary Clinton's name will be placed into nomination at the convention, Bower intends to go forward with his petition so that the final decision to put Clinton's name on the ballot won't rest in the hands of DNC chairman Howard Dean.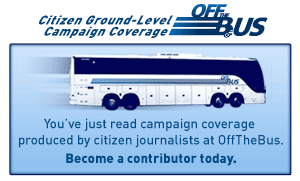 Calling all HuffPost superfans!
Sign up for membership to become a founding member and help shape HuffPost's next chapter