I was stunned to learn that ICNY came to life through an unfortunate car accident in 2012. After being hit by a car while riding his bike, Founder & Creative Director Michael Cherman developed ICNY "with the goal of adding safety and increased visibility to the thriving lane of reflective sports wear apparel & accessories.'"
Here in New York City, ICNY and PUMA's vision of functional sportswear has come to life as a stylishly fluorescent, wearable tech experience. Revealing their AW15 Autumn-Winter Collection, this season's PUMA x ICNY collaboration coincides with the opening of their new pop-up shop in New York's Lower East Side.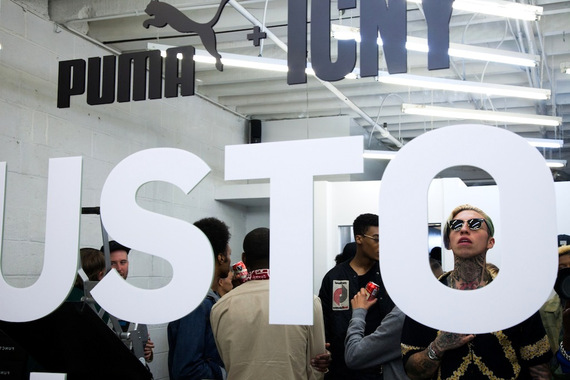 Featuring the designs of Michael Cherman, ICNY's Creative Director & Founder, PUMA & ICNY's latest collaboration is a celebration of function and comfort, and the recognition, evolution & journey of a Brooklyn-born sportswear brand.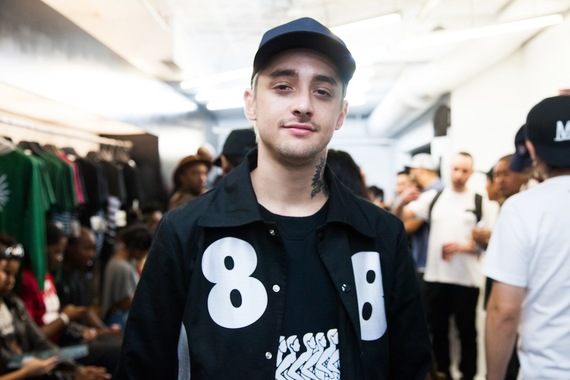 [Photo: Cavier Coleman, ICNY Founder & Creative Director Michael Cherman is captured at the ICNY x PUMA Pop-up shop opening night in NYC.]
"I'm looking for function, I'm looking for comfort. Anything that you wear should be functional, comfortable, and look good. By using reflective material or safety stuff, it makes it very hard to make it cool to wear. So that's our constant challenge, yet also what makes it amazing. You get to make something ugly- made for safety construction workers- and make it a cool something for everyday people to wear." -Michael Cherman, ICNY Founder & Creative Director

[Photo: Cavier Coleman, PUMA's classic Trinomic R698 shoe is given a futuristic makeover utilizing ICNY's reflective technology. Colors include Black-White, Rhododendron and a striking Fluro Yellow.]
Running on the expertise of ICNY's reflective technology and PUMA's rich sporting history, I found their debut designs to be practical, purposeful, and packed with style.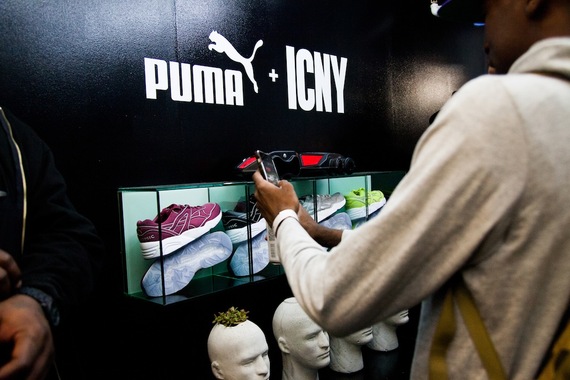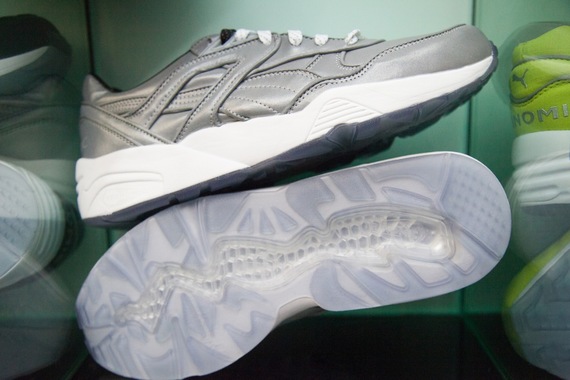 [Photo: Cavier Coleman, The Trinomic R698 x ICNY X3M shoe makes a statement in its own right, in all over reflective silver.]
On the day of the PUMA X ICNY launch, Indian Summer had bounced in and left temperatures inside a bit hotter than expected. As colorful patrons peeled into the vertical space, each expressed genuine enthusiasm over ICNY's eclectic, futuristic theming on their products.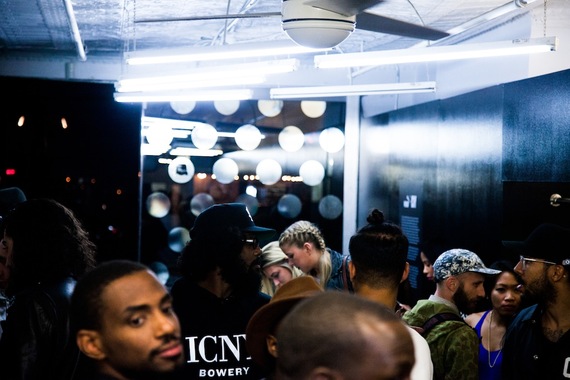 Like most pop-up shops, the space was tight, but the atmosphere had an inviting, yet mysterious thrill to it. As I bounced my attention from product to product, there was a lively celebration amongst the room, with most of the crowd nodding at how "dope" each ICNY piece was.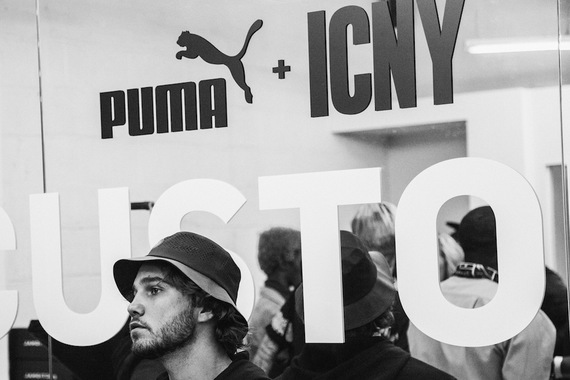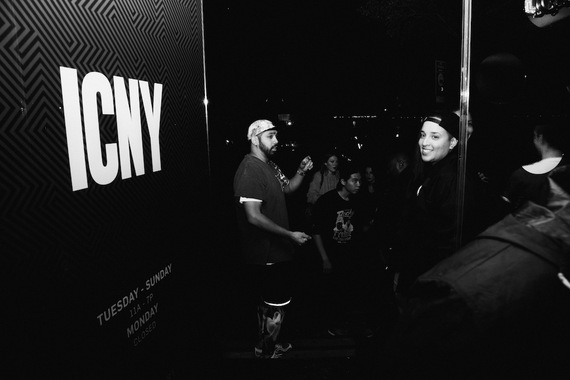 As seen above, the theming at PUMA x ICNY's pop-up shop ties in perfectly with all the fresh reflective gear that their collaboration has to offer.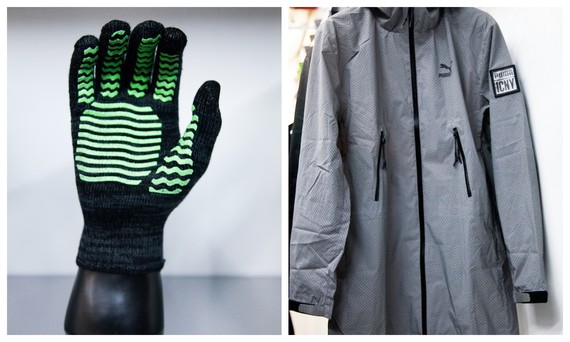 [Photo: Cavier Coleman, ICNY's AW 15/16 apparel features the PUMA x ICNY Reflective Windbreaker(right), a key piece based on a metro cycling aesthetic, and is fully bonded using storm Cell Force 2 technology.]
Catching-up with ICNY founder Michael, he was jittery with excitement, and spoke fast as I pulled him away from the crowd for a comment. Thankfully, he seemed relieved for this minute to downshift, clear his mind, and catch some fresh air.
Michael is a baby-faced Brooklyn boy with the spirit of a go-getter, and had quite a story to tell behind the building of his brand. His enthusiasm and passion for ICNY were all sentiments to living the New York City life, and of course, following your dreams.
"My dreams of outerwear, my dreams of making shoes. I'd never really made anything fully technical, or anything forward-thinking so it feels good to see this all here. We started off 3 years ago, and now to be able to exhibit the brand is mind blowing."
"What makes ICNY stand out from all the other reflective wear brands popping up?" I asked.
Michael responded, "You know, what's luckily here, is that we have a great story. A great reasoning of why the stuff is made. Obviously, you're going to have competitors, there's going to be things that people did better than me, but at the end of the day all I can do is stay true to our vision. "
"The other brands can't say they have a PUMA collaboration either.[Laughs]" I said.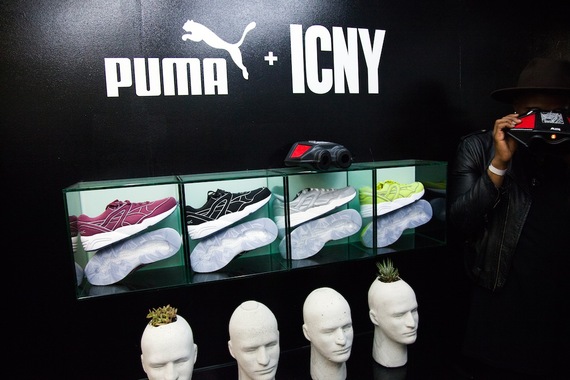 Michael added, "Exactly, but then there are those brands like Nike and Adidas. At the time that I started doing this, Nike's Olympic Flashtec had just come out. After that was when reflective wear really started catching a little wind, and it took my perspective to bring it to lifestyle. Usually consumers would only see this as sportswear or only safety-wear. Crossing it over, people finally realize what it can be used for."