I am a fashion lover and as I discussed with Bravo TV's Stassi Schroeder of Vanderpump Rules, I am intent on keeping to a limited budget. The ongoing question is how to do this without breaking the bank. I will be the first to admit that I am among countless Americans who have shunned their credit cards and are taking painstaking efforts to use only cash. So many of us are in this position, but remain closetted. Well, I for one am coming out. I have some expensive looking items, but they are either gifts, consignment store purchases or from long ago when I was a richer girl (single, living in NYC, before the "dot com bomb" and later, kids and the associated expenses of having a family. Up next in our lives: orthodontics).
This may be a reason why I like Vanderpump Rules, which would seem like a show that I as a 40-year-old would never relate to because it chronicles the shenanigans of mainly 20-somethings. Unlike those Real Housewives, with Vanderpump, we are shown a world where people have to work as servers and may dress fashionably, but make no bones about essentially living paycheck to paycheck. (Of course, we have to wonder how they might be profiting from "reality" in the long run and then there are those spin-off clothing lines cast members are launching.)
Stassi, who worked as a server in Lisa Vanderpump's restaurants for years, totally gets the thrifty thing. She says she receives the most compliments on the least expensive items she wears. In a phone conversation, she advises me as a busy mom to have a "uniform" (i.e. a white t-shirt and skinny jeans) and match it up with different accessories, such as statement necklaces, bold scarves or Stassi's favorite recommendation: a cobalt bag: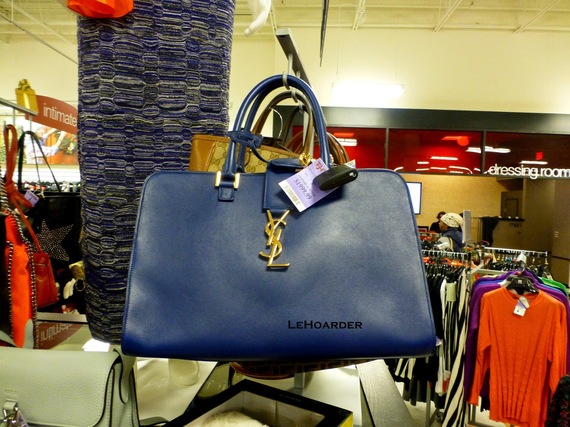 (Photo courtesy of up and coming fashion blogger, the beautiful and savings-savvy Michelle Blashka aka Shoppinggal)
Shoppinggal links to other great, economical finds on Le Hoarder and since she is a Vanderpump viewer herself, she has an eye out for the type of style that viewers would be interested in (and more).
I decided that it might help folks like me out to make some suggestions about spicing up one's attire despite a constraining budget. For the sheer lighthearted fun of it, I've culled together some tips based on some shows currently on Bravo and through Michelle's blog. Don't go shopping for new items if you can pull together what is currently in your closet. (Note to Stassi, check out Shoppinggal!)
It's All About the Basic:
Now that you see her, you know there is actually nothing basic or ordinary about Stassi, but she is able to refresh her own look via accessories that draw the eye. She could wear the same black dress every Monday and we'd never notice the pattern.
...Or Is It All About the Bold?...
Shoppinggal starts with one bold statement piece and works the more basic offerings around it. Apparently, blondes have more fun and it's certainly seasonally appropriate to add some red -- wait, what's that? It's actually "bright neon orange" -- to winter wardrobes.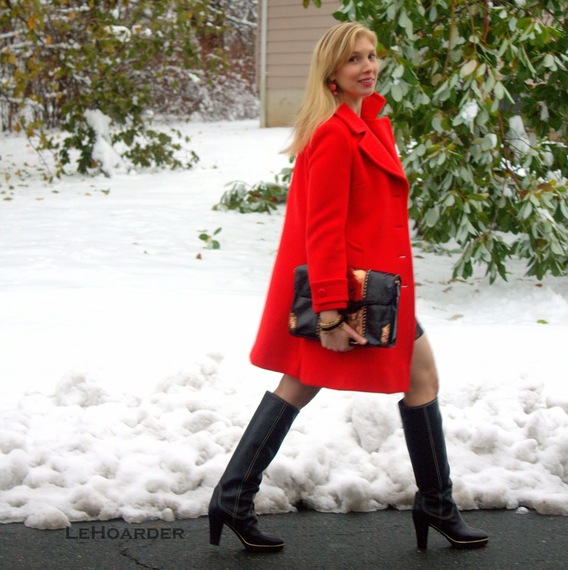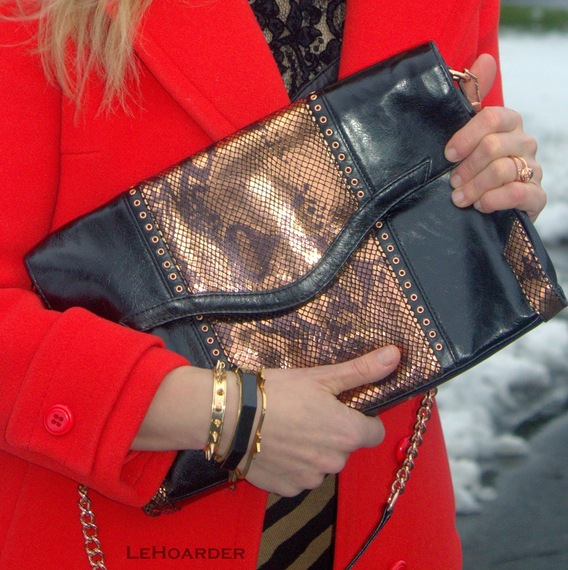 (All photos with permission of Michelle Blashka, AKA Shoppinggal)
No Boohoo to This Black and Blue
In high school, my very confident fashion-forward friend Inga wore a lot of navy with black and I often wondered if she "matched." Remember that term, "matching?" (Admittedly, I'm being hyperbolic, but "matchy matchy" is not a tease-worthy term without merit). My kids tell me that matching is passe and my son recently had a friend come over who was dressed in mismatched plaid. A few years ago, black and navy and a more royal blue-like shade of navy started making appearances on runways. I tried the trend myself with a jewel necked blue dress, black cardigan and black tights that I wore to numerous events and I received many compliments on the look. Now that hint of blue that peeks out of a gray or black suit from a man's tie is a flirtatious way to approach this style. David Parnes from Million Dollar Listing LA pulls that off looking low-key cool (plus, check out the snazzy shoes that bring a bit more color to the whole ensemble):
A Crown Fit for a Princess
Stassi's friends on Vanderpump Rules have referred to her in past seasons as "Princess Stassi" and three months ago, she posted a jeweled headpiece of her own craftsmanship on Instagram. Handbands are a great way for girls to incorporate "jewelry," brighten up hair in need of highlights and also pair with glasses and a bun for the sexy librarian look. Here's a trick for hair so thick (like mine): Instead of pulling all hair back in the headband, trap enough strands underneath to make the mane appear less full looking.
The chic chignon look also works well with a headband like these from Deepa Gurnani (all beautifully handcrafted by the Indian designer):
Nene Leekes, another Bravolebrity, wore a thick jeweled Deepa Gurnani headband at her wedding. Nene still wears statement headbands on The Real Housewives of Atlanta, but not quite as blingy as her wedding headpiece.
Personal confession: I own a Pottery Barn treasure chest filled with beautiful headbands and it also consists of three of the intricate Deepa Gurnani styles (I also have a Deepa Gurnani clutch bracelet). Jay Lakhani, who is the owner and designer alongside his wife Deepa Gurnani says:
Each season, Deepa and I do intense trend research and zero in on a direction we will pursue. We start sourcing our raw materials from all over the world and start conceptualizing our key pieces. We travel to India every six weeks to get inspired and be extremely hands on with the embroidery process. Since every piece is hand made, we need to reinvent ourselves each season.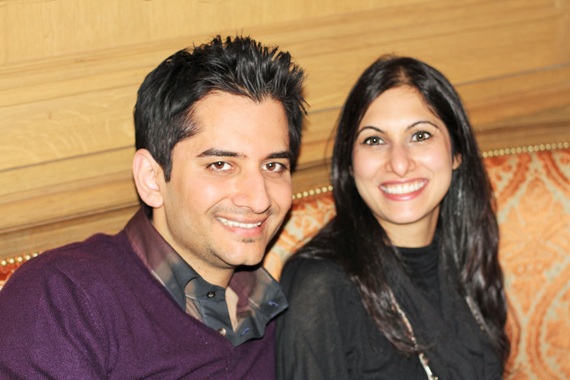 Leaders of the Band, Jay Lakhani and Deepa Gurnani, pictured above (photo provided by Melissa Rappaport).
For Winter's "Layered Look," a Better Sweater
You may not know this if you watch the social scheming on Vanderpump Rules, but playboy Jax Taylor works really hard in a professional capacity. In addition to mixing drinks, he has a clothing and accessories partnership with XCalibur Shoes and reportedly, is very committed to the brand. Due to the weather in sunny California, we don't get to see as much of the layered look on some of our Bravo shows as we do on the runway, but here, Jax models his own sweater and with this link, we see it's not just for guys:
Nailing It
There is a lot that I can say about this picture. For instance, Lisa Edelstein (who I love!) wears a lot of white, not unlike Kerry Washington on Scandal, and white is the new black in terms of new discoveries on its streamlining/slimming of the appearance quality. However, I must point out Janeane Garofalo's nails. Dark hues give a certain polish to nails, so if you've saved your "Wicked" by Essie, you can still use it this winter.
Here, Stassi does a "matchy matchy" of nails to jacket, which gives a together look for the whole outfit. The contrasts between light and dark shown on and off the runway this season signify that we currently have a wide range of options across the nail color spectrum:
Topping It All Off
We've made quite a jump from the tips of our fingers to the top of our heads, I admit, but isn't fashion also about creative license? That said, I am a big fan of a great hat and there's no greater mad-hatter on Bravo than Cynthia Bailey of The Real Housewives of Atlanta. Fedoras made a big comeback in the past couple of years and are now being considered as "classic." A good one may never go out of style -- although I wouldn't compare it to a white button down shirt. (Of course, the fact that Cynthia is a gorgeous model helps her pull it off!)
Related