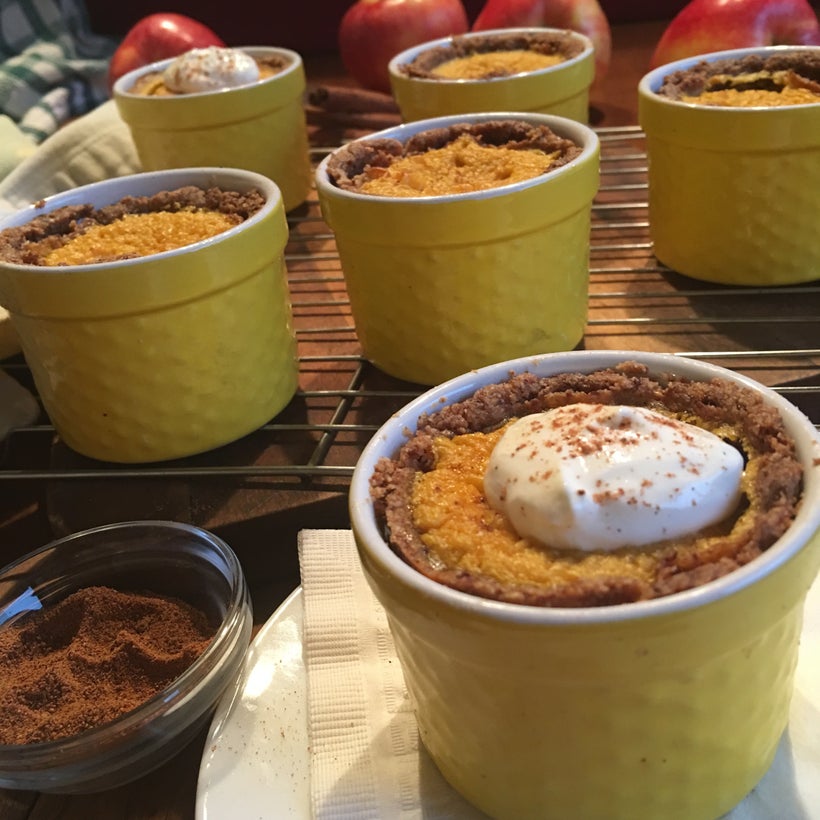 I love making custard cups ahead of time for a quick easy high protein, high fiber, low sugar breakfast. I've tried many different flavors using fresh fruit and natural wholesome, delicious flavors. With the holidays approaching, I was thinking about making something quite different to replace the usual pumpkin pie. The idea came to mind of cooking and pureeing cooked sweet red apple to replace the processed sugar. Pumpkin is naturally high in fiber and vitamin A. Apples are also high in fiber, potassium and vitamins A and C.
Combining the pumpkin and apple purees with their usual pie spices and a custard base of eggs and milk makes for a lusciously delicious custard cup breakfast. Baking the custard mixture in a pure almond meal and butter crust renders it perfect for single serving gluten free dessert pies.
Here is the recipe for my Pumpkin Apple Custard Cups with Almond Crust
For this recipe you will need 6-7 6oz. or 9-10 4oz. ramekins or ovenproof custard cups. Prep time 30 minutes. Cook time 45 minutes. Adjust the top oven rack to be about 10 inches from the top of the oven. Preheat the oven to 350°F.
2 cups of finely ground almonds (almond flour)
½ cup unsalted butter, melted
2 Tbs. Coconut sugar
1 Tbs. Mandarin orange zest
Pinch of sea salt
1. Whisk together almond flour, coconut sugar, Mandarin zest and salt.
2. Stir in melted butter and mix thoroughly.
3. Distribute the mixture evenly into each of the custard dishes.
4. Press the almond crust mixture all the way up the sides to the very top of the dishes forming even walls and bottoms. Pinch the tops of the crusts to compress the edges.
5. Bake for 15 minutes until firm.
6. Place the baked crust cups onto a cooling rack until completely cooled.
1 15 oz. can of organic cooked pumpkin puree
1 medium to large, firm red apple – peeled, cored and coarsely chopped
1 12 fluid oz. can of evaporated whole milk
3 large eggs and one egg yolk
¼ cup of freshly squeezed Mandarin juice
1 Tbs. apple cider vinegar
1 Tbs. ground cinnamon
1 tsp. ground ginger
½ tsp. ground nutmeg
½ tsp. ground cloves
¼ tsp. sea salt
Sour cream or Greek yogurt to dollop on cooled custard cups when serving (optional)
1. Simmer the apples pieces, spices and salt in the vinegar and juice on low heat until very soft.
2. Puree the apple mixture and in a food processor until smooth.
3. Add in the pumpkin, eggs, and milk, continuing to blend until completely homogenous.
4. Evenly distribute the custard mix into the baked almond crust cups within ¼ inch of the top of each crust.
5. Place the filled cups on a foil lined cookie sheet to catch any drips and prevent the oven from smoking.
6. Place the pan into the middle of the 350°F oven and bake for 25 – 35 minutes, until a pick comes out clean.
7. Let cool completely on a cooling rack.
Serve with a dollop of sour cream or Greek yogurt. Garnish with a sprinkle of nutmeg or cinnamon.
Tip – Use at least 2 oven thermometers to make sure your oven is reading the correct temperature while baking. Oven thermometers can be a bit inaccurate, so using 2 that agree will help ensure the temperature reading is accurate.
REAL LIFE. REAL NEWS. REAL VOICES.
Help us tell more of the stories that matter from voices that too often remain unheard.
This post was published on the now-closed HuffPost Contributor platform. Contributors control their own work and posted freely to our site. If you need to flag this entry as abusive,
send us an email
.