Pumpkins are not just for baking into pies, displaying on your stoop, or carving into jack-o-lanterns. There are many unexpected ways to use pumpkins that can actually help boost your mood and fight the fall slump. Getting creative with pumpkins is both fun and a great way practice to mindfulness... and you just may end up with some unique gifts and seasonal décor that will transform your home into a fall oasis.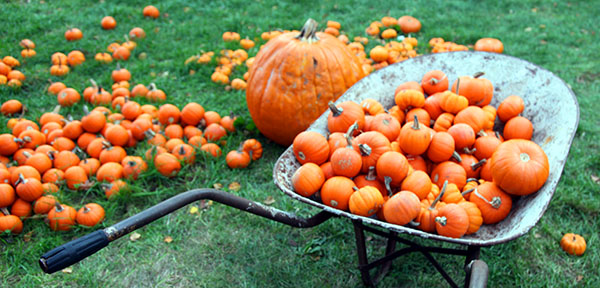 Skin cream - Pumpkin is not only filled with beta-carotene, antioxidants, and vitamins C and A, it is also a good exfoliator. Pumpkin puree, when combined with natural ingredients like cinnamon and coconut milk, can create products that are good for your skin, and also smell delicious. Soothing scents such as pumpkin can help you relax and sleep better, especially if you add a touch of vanilla or calming lavender.
Pumpkin vase - Create a unique fall centerpiece using a pumpkin. Cut a hole in the top of a medium to large pumpkin and clear out the pulp and seeds from within. Place a bowl or glass inside the pumpkin filled with water. Insert and arrange fall flowers, branches, etc. Make sure the bottoms of the flowers are submerged in the water so that they will last longer. Your pumpkin flower arrangement will be a reminder of the beauty of fall, and a great conversation piece.
Seeds - Pumpkin seeds are not just for tossing. You can bake them with spices for a yummy treat on their own or mix them with oats, nuts, cranberries and more to create a delicious granola. You can also use them with your kids to make fun projects. You can color the seeds with markers and glue them on paper to create 3-dimensional flower petals and tree leaves. Pumpkin seeds can also be used as a fun tool to practice counting with the little ones or math concepts with older kids.
Dinner presentation - Mini pumpkins make great place cards or place card holders. You can write directly on the pumpkins or tie the names of your guests or table numbers to the stems with string. Larger pumpkins can be emptied out and used as bowls to serve soup.
Candle holder - Take a small or miniature pumpkin and remove the stem. You can snap it off or cut it off, but make sure that the top is smooth or evenly indented. Place a votive candle where the stem used to be. You can leave the display as is, or add a glass hurricane shade over it. Try grouping several together or spreading them across the center of your table to create the illusion of a glowing runner.
Cooking - Pumpkin pies and pumpkin bread are delicious, but try thinking outside the box this year. Cooking is a fun way to get creative. Make pumpkin pancakes, pumpkin soup, pumpkin ravioli or cannelloni, or even a pumpkin smoothie. Pumpkin can be used to spice up any meal, not just dessert.
Photo baby prop - Take a large pumpkin, cut a hole in the top wide enough to fit your child, and empty the insides. On the "front" of the pumpkin towards the bottom cut two holes for the child's legs to go through, large enough that they will not feel squished. Make sure all cut areas of the pumpkin are smooth so that they do not irritate the child. Insert baby, and snap away. This is an adorable and unique way to capture baby's first (or second) Halloween, and taking photos is a great way to stay mindful and in the present moment.