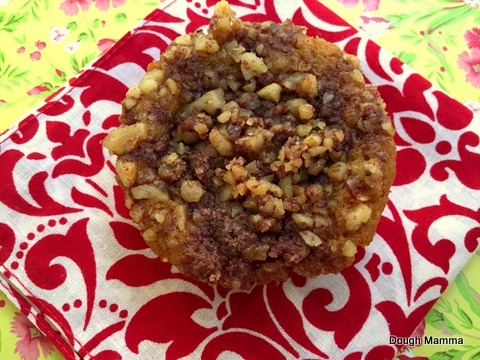 If you are a pumpkinphile like myself, a trip to your local Trader Joe's this time of year, is as excitable as Celine Dion's (NSFW) persona. Aisles are lined with all things pumpkin: beer, cereal, oatmeal, trail mix, chips, pastries, bread and frozen pumpkin waffles. Yes, I am a pumpkin lover and T.J.'s in Autumn is my temple of edible inspiration.
Pumpkin pie has been a loyal Thanksgiving dessert and I have no intention of discontinuing our relationship anytime soon. However, I may be ready to date around a bit, see what else is out there. It's just temporary Mr. pie, put down your whip cream, couples' counseling isn't on the horizon yet.
By the time December rolls around, pumpkin pie is about as appealing as shopping on Black Friday. These muffins however, offer a lovely alternative to the redundancy of pie. They have an exquisite subtle pumpkin flavor, a "sticky-date-cake" consistency, ooey-gooey chocolate chips and a crisp nut topping. Even more appealing: they are easy to transport, they're already individually "packaged" and they are slightly more gentle on your waistline.
So, if you find yourself with a roaming eye this season and are ready to play the field, these flirty little desserts are the perfect companion, sure to leave you feeling satisfied, full and free of regrets.
Enjoy!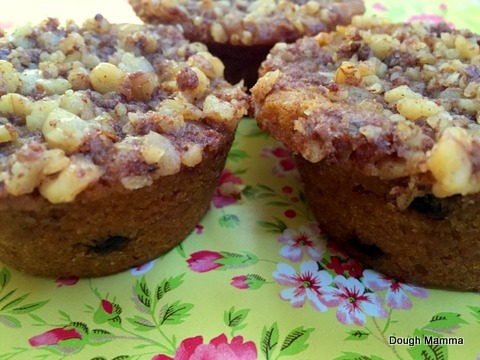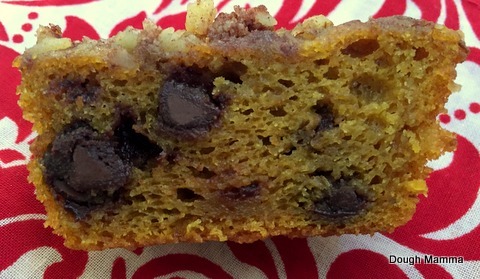 Title: Pumpkin Pecan Crumble Muffins
Author: Doughmamma
Prep time: 25 mins
Cook time: 23 mins
Total time: 48 mins
Serves: 20

Ingredients
7½ oz All-Purpose Flour
1 tsp baking powder
½ tsp baking soda
½ tsp salt
2 tsp pumpkin spice
1 can (15oz) of pumpkin puree
1 cup of granulated sugar
⅓ cup canola oil
1 large egg
¼ oz applesauce
¼ tsp almond extract
1 tsp vanilla
¾ cup of semi-sweet chocolate chips
Topping
1½ cup chopped walnuts
3½ Tbsp of very cold butter - small diced
3 Tbsp sugar
1 tsp cinnamon
Instructions
Heat oven to 350 F. Spray muffin tin lightly with non-stick spray.
In a medium bowl, whisk: flour, baking powder, baking soda, salt and pumpkin spices.
In a large bowl, whisk: pumpkin puree, sugar, oil, egg, applesauce, almond extract, and vanilla extract.

Add the dry ingredients to the wet ingredients. Mix well. Stir in your chocolate chips. Divide among 20 muffin cups about ¾ full.

In a food processor pulse walnuts, cold butter, sugar and cinnamon about 5 times. Take 2 tsp of nut mix and place on the top of each pumpkin cup.

Bake for about 15 minutes. Check the color of your nut topping, if getting dark, cover loosely with tinfoil.