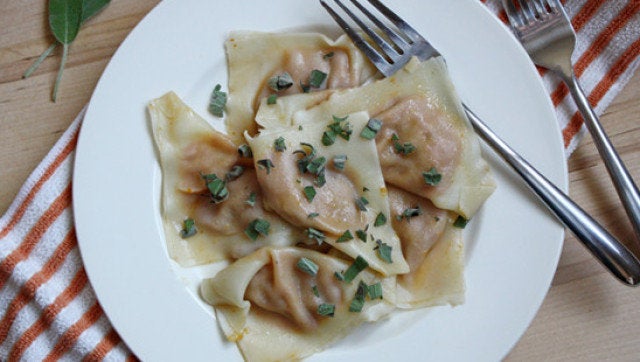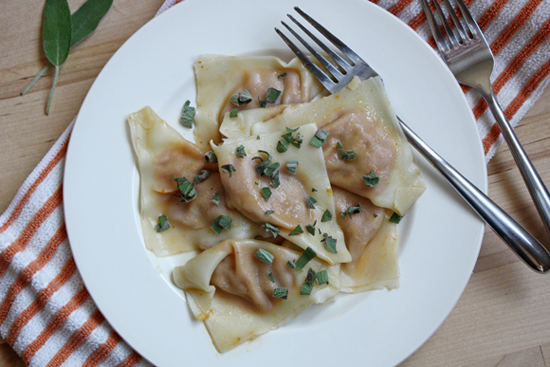 In addition to my other commonplace talents as an Amateur Bird Watcher, Inside-the-Lines Colorer, Professional Eavesdropper and Excellent List Maker, I also like to consider myself a Fall Foods Enthusiast. It takes great ambition and skill to master this practice of inexhaustible excitement for seasonal flavors the moment the first leaf changes color on the tree. I quickly store my pantry with every gourd, root vegetable and apple variety imaginable; my house emits a constant aroma of earthy, sweet spices; and my refrigerator is chock-full of more pumpkin puree than at which you could shake a fallen maple leaf. (I'm also a great Imbiber of Pumpkin Spice Lattes and therefore, thanks in part to the amount of espresso I've consumed in recent days, a Fantastic Exaggerator).
While I'm usually wont to use up all the pumpkin puree I own in pumpkin pies, quick breads and cake rolls, this season I've discovered a new, savory use: Pumpkin ravioli. It's a strange concept to behold at first, I know -- especially when you combine the bright orange pulp with a heap of grated Parmesan cheese, thereby blowing out of the water any preconceived notion that pumpkin is solely reserved for pairing with sweets -- but bear with me. Because if you do, one bite and I promise you, too, will become a Fall Foods Enthusiast.
The filling, a combination of sweet and savory with Parmesan cheese, pumpkin puree, salt, nutmeg and cinnamon, is unlike anything I've tasted. Sure, I've had pumpkin in other forms of both the sweet and salty variety, but combining the two was new to me and well worth the risk. Plop a dollop or so of the stuff into the center of a won ton wraps and seal it closed with a brush of egg wash and the swipe of a finger and you've just made ravioli (another concept which, until recently, I thought was best left to the professionals. Turns out won ton wraps equal the home cook's easiest way to make delicious ravioli). In case you need more convincing, you can either boil the ravioli and have it on the table in less than 30 minutes or freeze it for later (meaning it's not only a tasty meal, it's time-saving). Finally, though you toss it with a buttery sauce at the end, it's actually mighty healthy (thanks to that nutritious pumpkin replacing traditional ravioli fillings like meat and fatty cheese).
If nothing else seems to whet your autumn-loving appetite these days, let this be the recipe to reignite your passion for pumpkin. And if not, I'd be happy to take the stuff off your hands. If I'm not a Great Convincer, I'm definitely a Good Eater.
Pumpkin Ravioli with Brown Butter-Sage Sauce
Yield: About 4 servings
Ingredients:
1 cup pumpkin puree, canned or fresh
1/3 cup fresh grated Parmesan cheese
1/4 teaspoon ground cinnamon
1/4 teaspoon ground nutmeg
1 pinch salt
1 pinch ground black pepper
28 won ton wraps
egg wash (1 egg beaten with 1 tablespoon water)
1 teaspoon salt
1 1/2 tablespoons unsalted butter
1/2 cup vegetable broth
chopped fresh sage, for topping
Directions:
In a small bowl, combine pumpkin puree, Parmesan cheese, cinnamon, nutmeg, salt and pepper. Place a won ton wrap on a clean surface and brush edges lightly with egg wash. Place a heaping teaspoon of filling in the center of the wrap. Fold over wrap into a triangle and pinch edges tightly to seal. Repeat with remaining won ton wraps and filling.
Bring a large pot of water to a boil. Add 1 teaspoon salt. Boil ravioli until soft and cooked through, about 6-7 minutes. Drain in a colander and set aside.
Meanwhile, make the sauce: In a large saucepan over medium heat, melt butter and cook, stirring often, until it begins to turn a deep golden brown. Add vegetable broth and bring to a boil. Toss cooked ravioli with sauce. Serve immediately, sprinkled with chopped sage.
(To freeze ravioli for later: Place uncooked ravioli in a single layer on a baking sheet and freeze 1 hour. Remove ravioli from baking sheet and place in a sealed plastic bag. Freeze for later use. When ready to use, cook as directed above.)