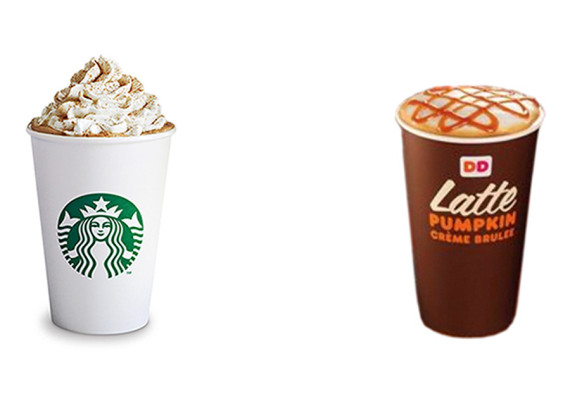 It's a confusing pumpkin-spiced place out there, so we put both of these seasonal drinks to the test, setting versions from Starbucks and Dunkin' Donuts' side-by-side to compare accessibility, cost, nutrition and taste. The results may help you decide on a particular cup the next time your tastebuds are tingling for caffeinated gourd.
Let's start with access. According to the State of Chains report, there were 515 Dunkin' Donuts locations and 283 Starbucks locations across the five boroughs of New York in 2013. Starbucks locations are concentrated in Manhattan: 212 of these 238 shops are on the island. Dunkin' locations are more saturated: Of its 515 stores, 143 are in Manhattan. Even still, city-based consumers should experience little struggle to find either seller.
Indeed, we had no trouble pinning down either of the chains in Manhattan's East Village. Both happened to be on the same block on 1st avenue.
If, when it comes to your coffee, nutrition concerns you, you might consider ordering it black. Both lattes from Dunkin' Donuts and Starbucks are brimming with calories, sugar and fat. The following nutritional statistics are for a 20-ounce-serving ("venti" at Starbucks, "large" at Dunkin') made with whole milk.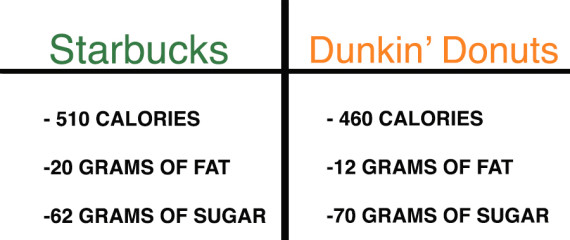 *Note: Starbucks' version includes whipped cream, as this is how the original drink is served.
Even if you lightened up the drinks with skim milk, you'd still be drinking a beverage containing more sugar than a Snickers bar. Blech.
If you want to keep your wallet as fat as your pumpkin-spice-drinking waistline, buy Dunkin'. Starbucks' pumpkin offering costs an extra buck and change. Here's the pre-tax comparison in Manhattan:

If neither location nor price makes your decision any easier, perhaps it's time to dissect taste. We asked HuffPost editors to participate in a blind taste test of the two competing pumpkin drinks. The tasters were told they'd be sipping on something "pumpkin spice." Neither brand was disclosed to the tasters. Here are their thoughts: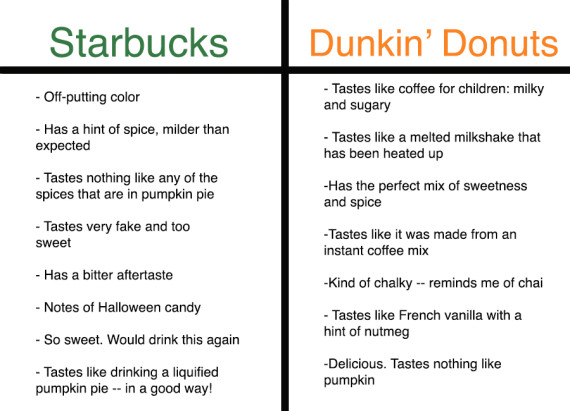 The conclusion? Individual preference certainly trumps all else in the Pumpkin Spice Latte game. If you're craving that sweet, fake pumpkin taste, our testers agree Starbucks seems to have it perfected. If a sugary, milky sip that's heavier on the "spice" is more your style, DD's crème brûlée might be the better bet. Good luck, latte lovers.
Related
Before You Go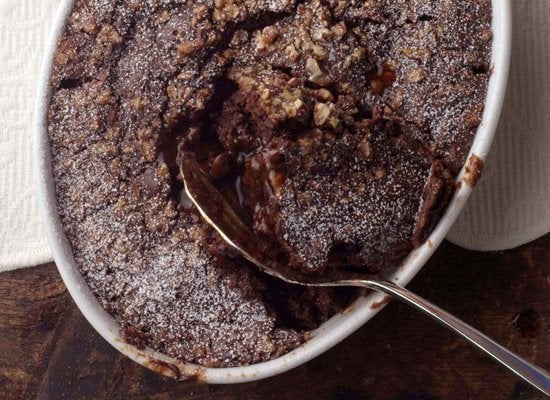 Coffee Desserts