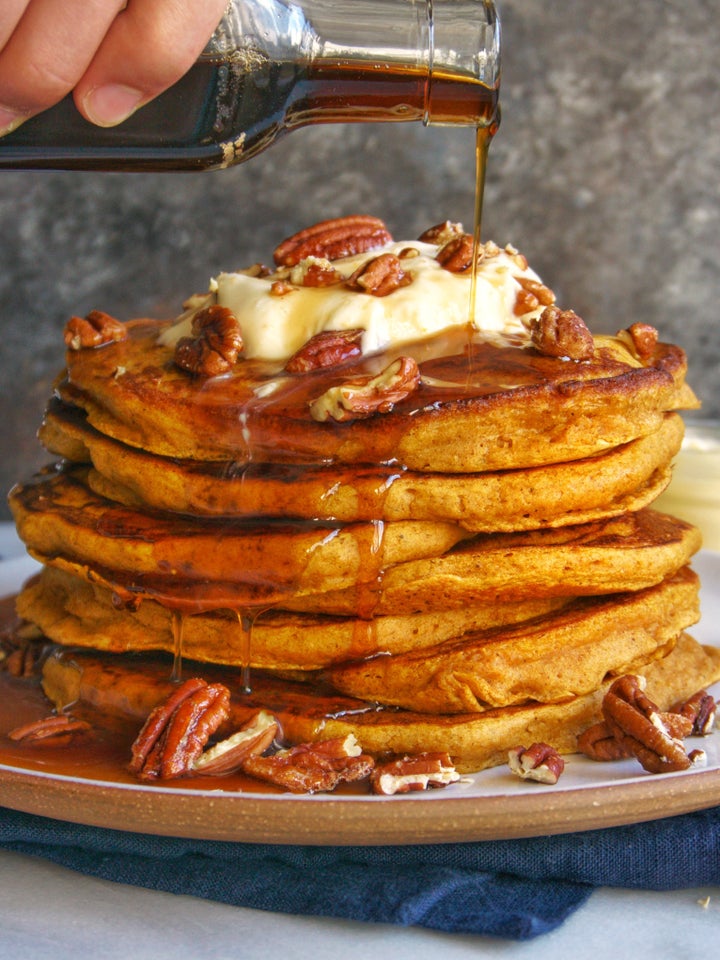 Cuffing season is upon us and with it comes all the magical glory of fall foods. From apple pies and roasted root veggies to just about anything turned pumpkin spice-flavored, every dish is filled with the warmth and comfort to help prepare our bodies for the hibernation of winter.
Naturally, my bulking-up diet for the colder months begins as soon as I wake up, trading the açaí bowls of summer for bodega sandwiches and just about anything I can drench in maple syrup. To get you really into the autumnal spirit, I present to you these pumpkin spice pancakes (now with actual pumpkin!).
A fluffy stack of pumpkin-laced flapjacks is topped with honey-roasted pecans and whipped orange creme fraiche. The result is an indulgent dish that's the perfect way to get your pumpkin pie fix for breakfast without getting shamed by the internet for eating pie before 10 a.m.
Now, let's chat about how to make sure you get the fluffiest pancakes you've ever seen. I'm always going to be a fan of buttermilk pancakes, but especially when you're adding a dense ingredient like pumpkin puree to the batter. The acid content of the buttermilk is higher than what you'd find in regular milk or cream, so you're able to get a little extra push in leavening when it reacts with the baking soda and baking powder.
All you've got to be careful of is overmixing. You want to stir, and not whisk, the batter until it just comes together. This way it stays nice and tender while not releasing all the little bubbles of carbon dioxide that help with rising.
Then, when you start making them, just be aware of the ugly pancake rule: Whether it's a flapjack, crêpe or French toast, the first one is always the ugly duckling. This is because the pan is still acclimating to the right temperature and you're getting a feel for how fast the batter cooks. While not picture perfect, this first one is always my favorite for snacking (or burying at the bottom of the stack).
And while this is a pretty damn-near-perfect recipe, the best part is that you can customize it to your liking. If you're more of a nuts-in-pancake kind of person, feel free to chop up these caramelized beauties and fold them into the batter. Don't have all the spices in your pantry? Don't rush out and splurge ― play around with different combinations (I love throwing in some cardamom and black pepper), just being cognizant of how much you're adding.
This weekend when you wake up and slip into your favorite turtleneck, embrace the fall feels with this recipe. 'Tis the season to (pumpkin) spice up your life.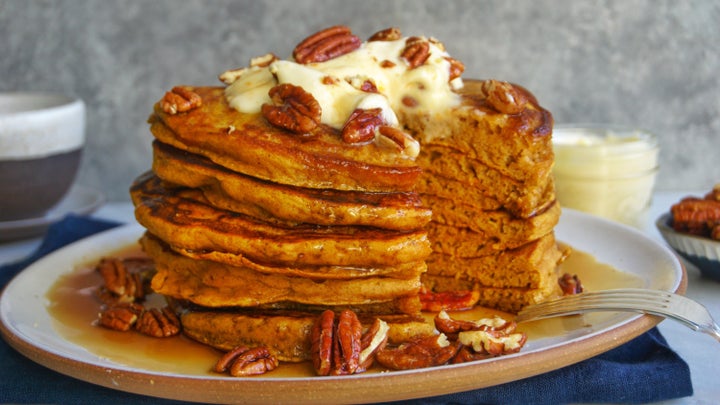 Pumpkin Spice Pancakes with Candied Pecans and Orange Creme Fraiche
1 cup pecans

2 tablespoons honey

Pinch kosher salt
For the Orange Creme Fraiche
1 cup creme fraiche

2 tablespoons honey

1 teaspoon orange zest

Pinch kosher salt
2 cups flour

3 tablespoons brown sugar

2 teaspoons cinnamon

2 teaspoons baking powder

1 teaspoon baking soda

1 teaspoon ground ginger

1/2 teaspoon ground nutmeg

1 teaspoon kosher salt

1/2 teaspoon ground allspice

1/2 teaspoon ground cloves

2 cups buttermilk

3/4 cup canned pumpkin puree

4 tablespoons melted butter

1 teaspoon vanilla extract

2 large eggs, lightly beaten

Vegetable oil, for greasing

Maple syrup, for serving
1. Make the candied pecans: Preheat the oven to 350 degrees Fahrenheit. On a sheet pan, toss the pecans with the honey and salt. Bake until toasted and caramelized, 6 to 8 minutes. Let cool completely, then lightly crumble.
2. Make the orange creme fraiche: In a medium bowl, whisk the creme fraiche with the honey, orange zest and salt until it holds soft peaks, then set aside.
3. Make the pancakes: In a large bowl, whisk together the flour, brown sugar, cinnamon, baking powder, baking soda, ginger, nutmeg, salt, allspice and clove.
4. In a medium bowl, whisk the buttermilk, pumpkin, melted butter, vanilla and eggs until smooth. Using a wooden spoon or spatula, stir the wet mixture into the dry until a relatively smooth batter forms.
5. Heat two medium nonstick skillets over medium heat and grease each with vegetable oil. Scoop ½ cup of batter in each pan and spread into a 5-inch round. Cook, flipping once, until golden and risen, 2 minutes per side. Repeat with the remaining batter, greasing with more oil as needed. You should be able to make 8 pancakes.
6. Divide the pancakes between plates and top with candied pecans, orange creme fraiche and maple syrup, then serve.
Support HuffPost
A No-B.S. Guide To Life
Before You Go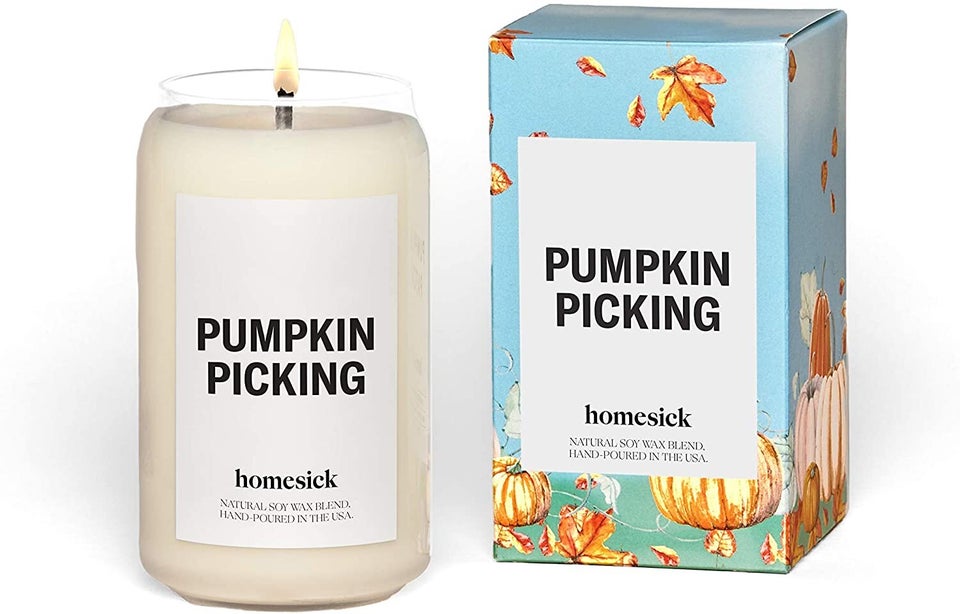 Pumpkin Spice Products That Aren't Obnoxious
Popular in the Community