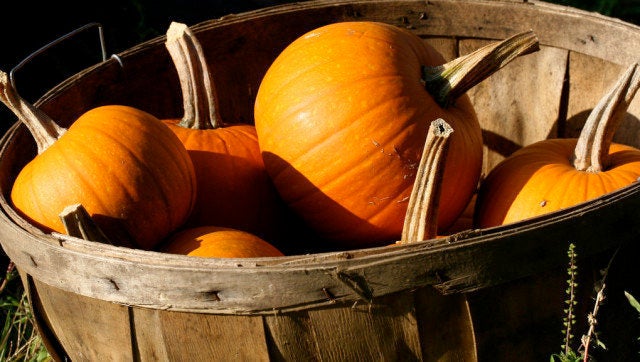 Pumpkins play an important role during fall's festivities, especially in Thanksgiving menus. While enjoying pumpkin dishes, you may very well be protecting yourself against cancer and heart disease. This is because pumpkins are packed with the powerful carotenoid and antioxidant beta carotene, a precursor to vitamin A.
Seeds from your pumpkin are not only tasty, but also provide prostate health benefits. Current research reports that pumpkin seeds can help treat the symptoms of enlarged prostate (benign prostatic hyperplasia, or BPH). According to the National Institutes of Health, many men over 40 and more than 90 percent of men over age 80 will experience some signs of BPH.
Pumpkin Seeds Relieve BPH Symptoms
A double-blind placebo-controlled study, published in Nutrition Research and Practice, found that pumpkin seed oil can improve BPH symptoms.
Korean researchers administered daily either sweet potato starch (group A, placebo), pumpkin seed oil (group B), saw palmetto oil (group C), or pumpkin seed oil plus saw palmetto oil (group D) to 47 men with BPH for 12 months. International prostate symptom score, quality of life, serum prostate specific antigen, and prostate volume measurements were obtained from the participants.
The researchers found that international prostate symptom scores were improved in groups B, C and D. Furthermore, maximal urinary flow were improved in groups B and C, with the most significant improvement after six months in group B and after 12 months in group C.
"From these results, it is suggested that administrations of pumpkin seed oil and saw palmetto oil are clinically safe and may be effective as complementary and alternative medicine treatments for benign prostatic hyperplasia," the study authors concluded.
Save the seeds when carving a pumpkin and roast them for a deliciously healthy treat.
Ingredients
1 cup pumpkin seeds, rinsed well and rolled in a towel to dry
2 tablespoons olive oil
Half a teaspoon sea salt
1 teaspoon of your favorite seasoning such as ground ginger, cinnamon, paprika, maple syrup, or rosemary (optional)
Directions
1. Preheat oven to 350 degrees F. In a medium bowl toss pumpkin seeds with olive oil, salt, and optional seasoning.
2. Spread seeds on a rimmed baking sheet.
3. Roast, stirring occasionally, for 20 minutes or until golden brown.
Support HuffPost
A No-B.S. Guide To Life
Related
Popular in the Community