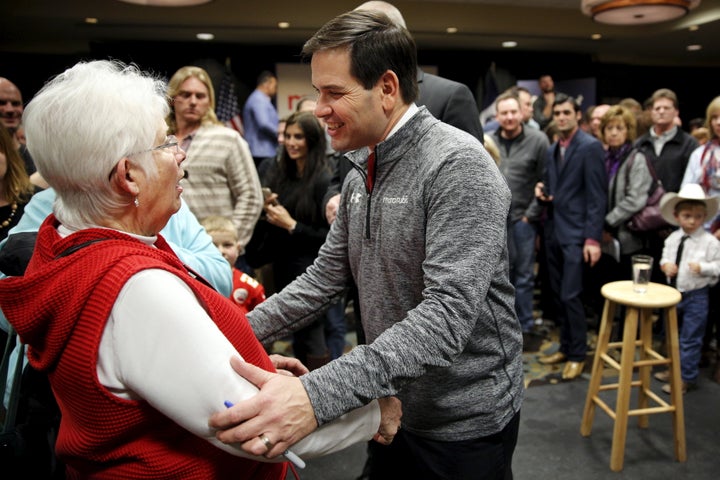 DES MOINES, Iowa -- Donald Trump showed some rare humility following his defeat in Monday night's Iowa caucuses. The same cannot be said, however, for the Beltway pundit class, which promptly settled on yet another narrative to explain the chaotic 2016 Republican presidential race after the latest conventional wisdom of an impending Trump victory was once again laid to waste.
The new storyline is that the Republican presidential contest is now a "three-man race" heading into New Hampshire, with Iowa victor Ted Cruz and third-place finisher Marco Rubio rounding out the list of the only GOP candidates who matter anymore. 
Now would seem like a good time to step back for a moment to reflect on a glaring if somewhat unsettling fact about how the race has been covered thus far: Just about everyone has been wrong about just about everything.
And yet, there remains precious little self-reflection within the insular and self-certain realm of political prognosticating.
The "three-man race" decree is precisely the storyline preferred by third-place Iowa finisher Sen. Marco Rubio (R-Fla.), whose campaign purports not to engage in process stories but is, in fact, every bit as involved in influencing the occasionally arbitrary "expectations game" as any other.
On Tuesday morning, for instance, the Rubio campaign blasted out a press release featuring quotations from no less than 10 esteemed political commentators, who have determined that with one state out of 50 now in the books in a calendar that was purposely designed to facilitate a more drawn-out contest, the fight for the GOP nomination is already down to just three participants. 
But maybe -- just maybe -- things might look different a week from now.
There is no doubt that Rubio has a head of steam coming out of his stronger-than-expected showing in Iowa, but it was hardly the history-making triumph of a long-ago dismissed underdog that the candidate has attempted to portray it as. 
And there is at least one glaring problem with the conclusion that we are now safe to ignore any Republican candidate who's not named Trump, Cruz or Rubio: New Hampshire.
What the analysts who are now descending on Manchester might realize over the next few days is that the Florida senator's ground game in New Hampshire is not particularly robust.
They might also remember that there is another debate before next Tuesday's primary -- one in which Rubio is likely to face a barrage of incoming fire from several angles with the potential to once again upend who's up and who's down.
And they might even pause for a moment to consider that New Hampshire has a long history of ripping apart gleefully whatever pre-written construct the Beltway smart set has presented to the nation. 
There is little doubt that the results in Iowa will have some kind of effect on polling in New Hampshire. But there is a whole lot of doubt about what that effect will be and how long it will last, as the race's dynamic continues to evolve over the next week.
Longtime New Hampshire Republican operative Tom Rath, who is co-chairing for Ohio Gov. John Kasich's campaign in the state, acknowledged that voters there are interested in what happened in Iowa, but added that they've rarely shown any inclination to be controlled by it. 
"National types want a race that is tidy and predictable," Rath said. "This is not that race. New Hampshire is good at looking at all the options before it decides, and these final eight days are the most important of all. The investment that campaigns have made here over months is not suddenly lost by last night."
Kasich is among the Republican candidates who have made particularly significant investments in New Hampshire in time, money and organization. And while it may be easy to snicker at his chances -- or those of former Florida Gov. Jeb Bush (R) and New Jersey Gov. Chris Christie (R) -- all three GOP underdogs have shown recent signs of life in various New Hampshire surveys.
Until now, the overall landscape of the Republican race has been defined by one man: Donald J. Trump, who has held a big and consistent lead in every New Hampshire poll since last summer. That dynamic, however, may be about to change.
Cruz's success in winning Iowa the old-fashioned way -- through engaging with voters in small settings and turning them out with the help of a smart and methodical campaign operation -- could portend more concerns for Trump in a state that until now has looked like a lock for him.
"Clearly, retail politics does still matter, as proven by the Cruz/Trump/Rubio results in Iowa, so that should be manifest in New Hampshire as well," said former New Hampshire congressional candidate Marilinda Garcia, who's backing Carly Fiorina. "I think it is the beginning of the real campaign, and there is much to be learned before we get to the end. And I am not sure that the voters want this thing decided just yet. And the voters usually get their way." 
Perhaps the results in Iowa will indeed end up setting the Republican campaign on a path toward the "three-man race" that most wise men and women are now declaring with characteristic certitude to be inevitable. But the reality is that we're not there yet. 
And just maybe, the people who've gotten so much so wrong in this election won't just suddenly get it all right.
Calling all HuffPost superfans!
Sign up for membership to become a founding member and help shape HuffPost's next chapter