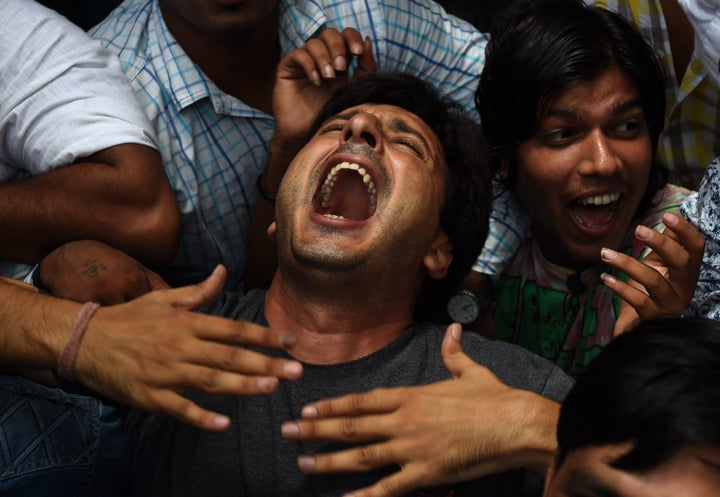 DINANAGAR, India, July 27 (Reuters) - Indian police overcame a group of gunmen dressed in military fatigues on Monday after a 12-hour battle that ended in a small-town police station near the border with Pakistan, and at least nine people were killed.
Police in the frontier state of Punjab killed three unidentified assailants who had pulled up at the police complex in a stolen car, automatic weapons blazing, at about 5 a.m. (2330 GMT Sunday).
Indian Prime Minister Narendra Modi and his top ministers have not made detailed statements on the attack, which came weeks after he met Pakistan's premier Nawaz Sharif in an attempt to revive stalled relations between the nuclear-armed rivals.
Pakistan issued a statement condemning the assault and extending condolences to the government and people of India, pushing back against suggestions by some Indian security sources that the assailants had crossed from Pakistani territory.
In the first such attack in Indian Punjab in more than a decade, the gunmen shot dead a barber and tried to hijack a bus before rushing the police station, witnesses said.
Shoe shop owner Amit Sharma, 43, was woken by the sound of gunfire at dawn.
"I thought someone was setting off firecrackers," Sharma told Reuters. Instead, he saw three men with assault rifles "spraying bullets everywhere."
Throughout the day, regular bouts of small arms fire echoed across the town of Dinanagar and the surrounding paddy fields, some 15 km (10 miles) from the international border, Reuters witnesses said.
"VERY SERIOUS TERRORIST ATTACK"
Regional police chief Sumedh Singh Saini told reporters at the scene it was "too early to say" where the gunmen had come from.
They were equipped with automatic weapons, ammunition, and grenades. Two GPS satellite location devices found on the men would be examined for clues, he said.
Three policemen and three civilians were also killed, according to the home ministry.
Police sources said the attackers entered from Pakistan two days ago a short distance to the north in the state of Jammu and Kashmir, where separatist guerrillas are seeking independence from India.
India's National Security Adviser, Ajit Doval, called it "a very serious terrorist attack," according to the Times of India.
Jitendra Singh, a junior minister in Modi's office, said he did not rule out Pakistan's involvement.
"There have also been earlier reports of Pakistan infiltration and cross-border mischief in this area," said Singh, whose constituency in the Jammu region borders the Gurdaspur district of Punjab where the shootout took place.
Kashmiri separatist leader Syed Salahuddin, who is based in Pakistan, denied his men were involved.
"They are not Kashmiris ... According to my information definitely not... They could be home-grown militants," he told Reuters by telephone.
Attacks on security installations by militants dressed as soldiers or police are common in Jammu, but Monday's was the first such assault in Punjab in 13 years, according to data from the South Asia Terrorism Portal, which tracks militant violence.
India and Pakistan have fought three wars since both nations gained independence in 1947.
Pakistan has denied any involvement in insurgencies in Punjab and Jammu and Kashmir, which has a much heavier security presence to deal with operations by gunmen who attack security posts and often fight to the death.
Some analysts speculate the attack could mark the reappearance of Punjabi separatists who battled the Indian government in the 1980s, including the assassination of Prime Minister Indira Gandhi at the hands of Sikh bodyguards in 1984.
India's Federal Home Minister Rajnath Singh said he had spoken to the head of India's Border Security Force and "instructed him to step up the vigil" on the border.
Five bombs were also found on a railway track in the state, in a possible sign of an attempted coordinated attack.
After the dawn shooting in Dinanagar, attackers seized a white Maruti-Suzuki at gunpoint. The car was abandoned next to the police station with its windshield peppered with bullet holes, broken glass and bullet casings on the passenger seat.
Hours later, once the police station was secured, police moved cautiously to clear a red outhouse to its rear. A cheer went up from onlookers as police carrying automatic weapons emerged on the roof, signaling the end of the day-long battle.
The family of snack shop owner Amarjit Kumar, 50, who was killed near Sharma's shoe shop, gathered at his village home to bewail the death of its sole breadwinner.
"They have destroyed our lives. What point do these people think they have made by killing a poor, helpless man?" said his son Ranjit.
 (Additional reporting by Krishna Das, Krista Mahr, Manoj Kumar, Sanjeev Miglani in New Delhi, Fayaz Bukhari in Srinagar, Katharine Houreld in Islamabad and Abu Arqam Naqash in Muzaffarabad; Writing by Frank Jack Daniel; Editing by Douglas Busvine, Mike Collett-White and Raju Gopalakrishnan)
Calling all HuffPost superfans!
Sign up for membership to become a founding member and help shape HuffPost's next chapter