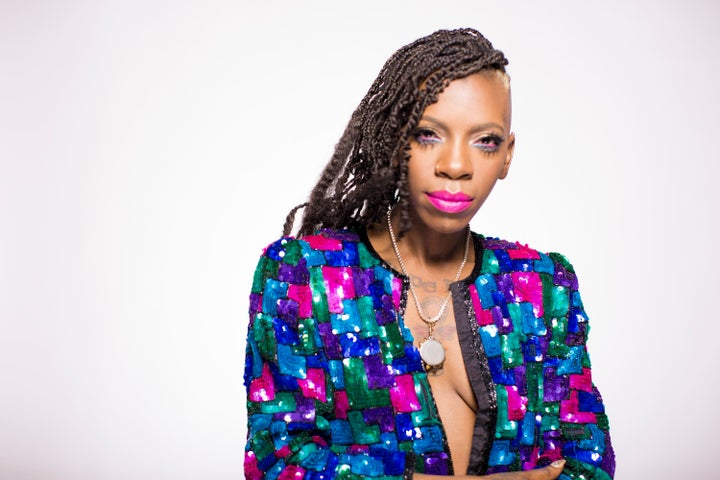 The self-proclaimed "punk empress of African Rock," Cole Williams, is a New Orleans based musician/model/storyteller and all around badass cultural ambassador for the city's thriving music scene. Today she has partnered up with me to premiere her brand new single, "Free" here on Huffington Post. The song is a soulful and rhythmic slow burner of a song that encapsulates the powerhouse vocals of Williams and her empowering lyrical stance:
"Don't tell me how to think, don't tell me what to do, cause I'm not in captivity. I am only human...I just wanna be free."
Cole Williams talked about the track and it's convincing message of self-empowerment:
"That song is a collaboration between myself and French producer/musician Pierra VEUILLOT while I was working in Paris. It was an incredible experience to create music with someone I could barely have a conversation with. This song is about me and my right to express my voice as a woman, Jamaican-American, musician, educator and human. At times, the music world can feel more oppressive than the "real" world, and you feel like you are fighting to be heard. This song is my statement, my personal mantra and my gift to everyone that wants to be free."
A gift to be sure—fans of India Arie, Erykah Badu, and others will fine plenty to love about Williams' unique blend of rock, soul, blues, and R&B wrapped up in one singular touching performance.
More than a singer/songwriter/producer/composer, Cole has expanded her repertoire to reflect an increasingly eclectic assortment of creative endeavors. Originally from Brooklyn, NY, Williams moved to New Orleans in recent years and has taken the city by storm. She is a radio host on the world famous WWOZ in NOLA, an active model, owner of an online boutique jewelry store, and works for a community non-profit as director of outreach. Her strong passion for community has allowed her to inspire thousands as a facilitator for enrichment in after school programming and career development within New Orleans and NYC.
Recently, Williams has been performing and hosting various storytelling workshops at the New Orleans Jazz Museum, where she performs and talks about the art of storytelling, "African Rock" style. In addition, Cole Williams and her band will be performing Saturday night residencies at Marigny Brasserie where songs like "Free" will be given a full and organic live performance Cole is known for.
In her early years, Cole attended Brooklyn Technical High School (known for its breadth of alumni, including Nobel Laureates, as well as Mos Def and Talib Kweli) before studying classical voice at New Jersey City University. This rich background coupled with Cole's foundation in classical piano (trained from ages 4-17), church upbringing, and childhood love affair with her parents' record collection provided her with the foundation to eventually broaden her artistic output, and become a diverse force in the entertainment industry.
Popular in the Community