A guy walks up to me and asks 'What's Punk?'. So I kick over a garbage can and say 'That's punk!'. So he kicks over the garbage can and says 'That's Punk?', and I say 'No that's trendy!'
~ Urban Dictionary.com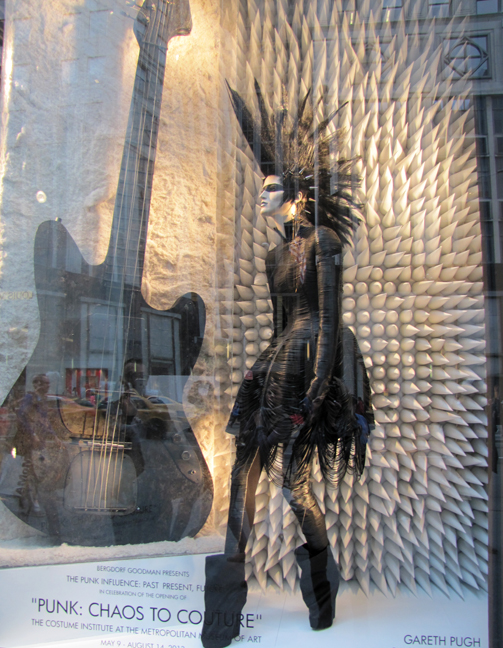 Trendy or not, Punk's ethos is alive and well. I recently saw the Metropolitan Museum of Art's Punk: Chaos to Couture exhibition and was amazed at the wide and pervasive influence this 100-day movement (according to Clash guitarist, Mick Jones) still has on our culture (Bergdorff's window above). On the surface, Punk and couture seem to be the antithesis of one another -- but at their core, they are both are about being inventive and one-of-a-kind! Inspired by early Punk goddess, Vivienne Westwood and later-day saint, Alexander McQueen, I thought it only appropriate that I co-opt Punk to create a unique wedding experience. This would be perfect for the couple that loves DIY, breaking the rules and flouting convention. Punk is all about reinvention, found materials and repurposing, while couture is all about signature luxury. Let's turn them both on their heads and combine them for the perfect, hybrid mash-up that will be unique to you and your partner. Let's call it Punk Luxe! Here are 5 easy projects for a Punk Luxe Wedding. Will you be accused of being trendy? Who cares -- it's all about attitude. Channel your inner reactionary and have some fun!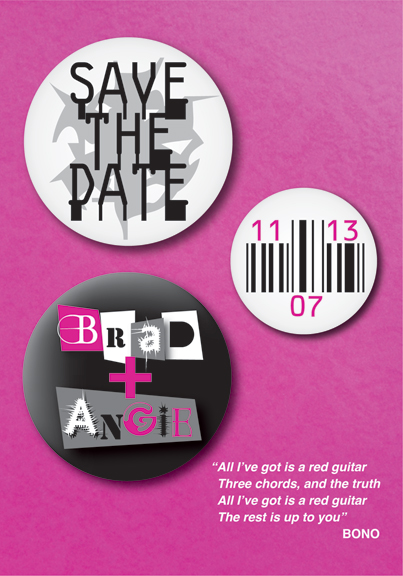 What's More Punk Than Pins? - Create custom pins for your Save the Date. Pin them on luxe cardstock and mail them in a padded envelope. Create your own custom postage stamp while you are at it. You can make your own rubber stamps as well. Then, you can reuse all of the leftover pins and the rubber stamps on your programs.

Faux Fanzine - DIY a Fanzine for your invitation. Create a few collages from old magazines, maps, tickets, etc. Take them to your local copy place and Xerox® them. Then cut or tear them up, place the pieces on a blank sheet, and Xerox® them again. Bring a Sharpie® and graffiti on top of your copies. Repeat until you like the design. Use this as the cover of your invitation. I took my collage copy and created a one-page book and bound it with safety pins and some old beads that had come with a blouse I had purchased. I then lined Crane envelopes with black and white pages torn from magazines. Another option would be to mail the invitations in a vinyl envelope like the ones found at Uline.
VIP Passes to the Event - Using a typewriter (or typewriter font) create 7" record sleeves for fictitious Punk bands as your table number cards. Then make matching, backstage VIP passes for your guests. Place them in badge sleeves with lanyards (or laminate and create your own lanyards out of cord, beads or other found material) and hang them from a cool, old piece of pegboard. Create a table diagram that has the look of a stadium seating chart.

Jewels + Punk = Junque - Repurpose a necklace or bracelet by adding safety pins. I took a favorite necklace by DanniJo® and added pins of different sizes for a new look.
Fashion Statement - Pair your couture dress with an old pair of pumps redesigned with Duct Tape and graffiti. Craft a duct tape bowtie to complement your partner's Tom Ford tux, or sew a secret message into the lining á la Mr. McQueen.