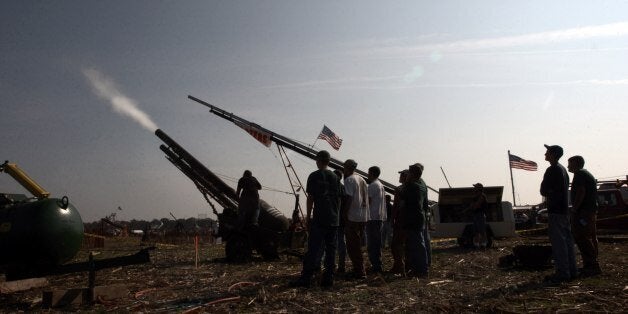 One mile. 5,280 feet. In the words of "Mythbusters'" Tory Belleci: "Really, really, really far."
If you live in the Northeast, you know Punkin Chunkin, the annual Delaware event that pits the everyman against the physicist to see who can launch a pumpkin the farthest. This year, though, it's all about the mile.
Man has landed on the moon. Nobody has ever fired an intact pumpkin an entire mile.
It's the holy grail of Punkin Chunkin honors, dubbed the "Lord of the Gourd." Did someone finally squash the feat?
Not even our sleuthing on Google could answer the big question. All of the 2013 results on the Punkin Chunkin website are labeled "unofficial," presumably in anticipation of the Science Channel special. In 2012, the record to beat was 4,929.37 feet, set by an air cannon team out of Virginia.
"Bad To The Bone is an old rusty truck body with a tower of steel -- a giant, violent, angry merry-go-round -- on its side, it's vertical," he said. The "merry-go-round" spins at high speeds, and at the peak of its revolutions per minute, it "sends a pumpkin screaming, thousands of feet into the air."
"I can't believe I got into that death trap," Byron added.
All the competitors and their machines will be featured in the special and all of their winnings -- which go to charities -- will also be announced.
Until then, watch the video we found of Byron dancing at Comic Con (below) or, on a more serious note, read our interview with Belleci from Nov. 1, when he and Imahara were within earshot of the shooting at Los Angeles International Airport. The two said they were on their way to the Punkin Chunkin competition, and instead, found themselves among the first to release information about the horrendous attack.
Related
Popular in the Community