 They were hidden behind a row of motorbikes lined across the street side, like so many streets in Ho Chi Minh. Both stood behind a little clay charcoal stove with tiny holes that fit a little clay pan each. They wore the same kind of ubiquitous mask that their motorbikers had on, except they wore sunhats. They needed no distractions. A scoop of seafood flavoured batter was placed on each of the mini clay pan with a prawns, a rings of squid and some greens. Then the show began. She lifted up the stove to see just where heat was concentrated and began the "Puppet Dance Show of the Banh Khot, a baked seafood pancake served wrapped in lettuce with a spicy/sour peanut dip.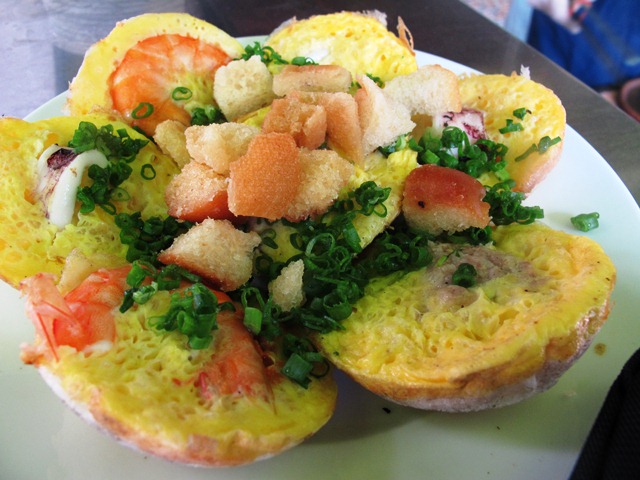 bake seafood pancake bahn khot in ho chi minh vietnam for world street food congress
Each little clay pan was shifted to and fro for balance in heat distribution. She probably knew each of them intimately, perhaps had names for them. Each Bahn Khot came out perfectly baked and roasty outside and soft within. There were no queues yet they were frantically finishing up orders. All the customers barked their orders at them and sat in the cool comfort of the café behind. The whole operation was well greased and diligent. The food was not greasy and moreish. You wrap it in lettuce, dip it in three special sauces and chomped in. "They began very humbly by the streets, and when you are this good, success follow naturally", said Mr Vo Quoc, a comfort street food commentator, restaurateur, publisher and food stylist in Ho Chi Minh city.
How could we not select them to participate at the Jamboree food festival component our World Street Food Congress? We see this as craft, not just diligent and good street chow, something we celebrate at this event.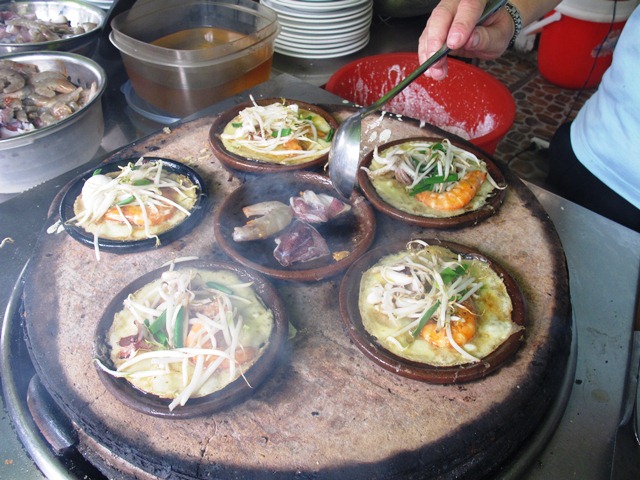 bahn xeo is another very popular fried seafood pancake in Vietnam
Then there is a hawker in Indonesia expertly dishing out Kerak Telor, a what seems to be a fast disappearing Betawi street snack from Indonesia. They parboiled sticky rice grains, drained them then pan grilled the moist grains over wood fire to coax the rich and extreme roastiness (think bottom of a paella rice pan) out of each grain. Eggs are then layered over and it eventually is flavoured by a sprinkling of savoury and spiced desiccated coconut and dried shrimps. They ensure further roastiness by grilling with the pan upside down, so the rice gets some open fire heat. It is so easy to like this one. This roasted rice pancake frittata must never leave the menu of the Indonesian snack heritage. We had to invite the masters of this dish over to participate too.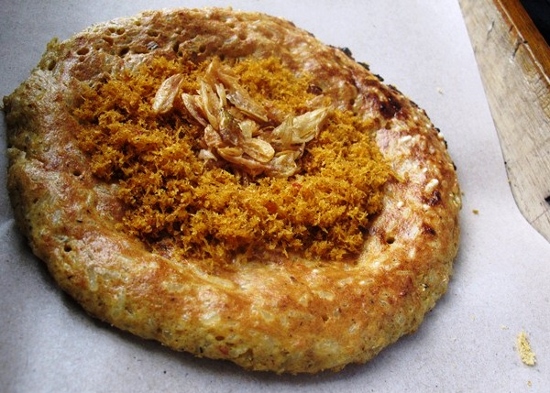 kerak telor is a fast fading traditional snack in Indonesia, due to the complex nature in making it
In India, we were so humbled by the efforts of an NGO group, dedicated to addressing legislation of the millions of itinerant street vendors in their country. They currently have close to 500,000 members in their fold, most of which are street food vendors. I asked them for their favourite and the better four to invite over for the event. Among them is a humble stall hawking Litti, a baked gram flour bread stuffed with spiced mutton or chicken with a greens and a spicy dip. He is one of the few who was awarded the cleanest hawker by the local authorities in Delhi. That man proudly feeds and provides for 8 in the family. They also suggested a top flight Chicken 65 street stall vendor- a kind of richly marinated and fried chicken dish that would make the Colonel wonder why he never thought of it.
All these and 37 more, from 10 cities worldwide, with a reputation for good street chow, will congregate at the inaugural World Street Food Congress in Singapore in JUne. Its designed not just as a world class street food feeding frenzy, but to also address the three key concerns facing this well loved food industry..the preservation, professionalization and to seek new possibilities (the 3 Ps if you must) of this multifaceted business and culture. We would also share Singapore style food hygiene and safety operational issues with them.
It would be an injustice if we did not also invite the captains of the industry, the advocate celebrities, regulators, manufacturers, designers, entrepreneurs, social enterprise organisations to speak and present their stories alongside humble hawkers who will regale their trials and tribulations in this very fractured and un-institutionalised industry. They will do so at the World Street Food Dialogue, the conference component of the event. It is all about opportunities, preservation, continuity and tomorrow's problems of decay in this food culture, that many regard as a heritage unique to them in their own ways.