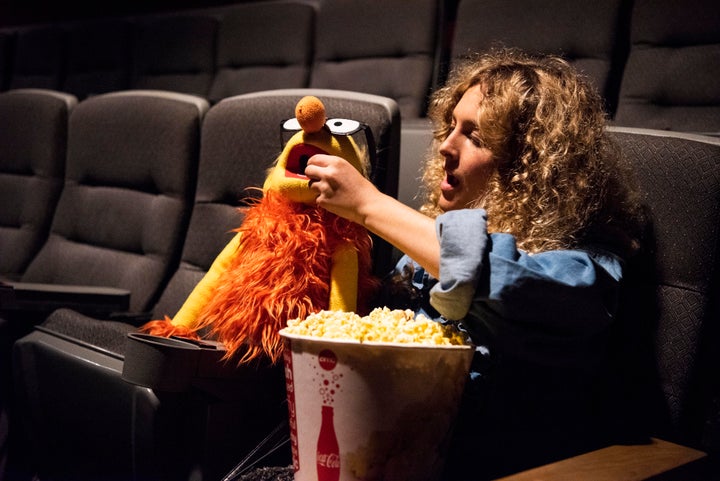 In 2008, The Jim Henson Co. announced it was developing a new film called "The Happytime Murders," to be directed and produced by Brian Henson, son of Jim.
The concept was simple: "The Muppets," but make it dirty.
If this idea strikes you as disastrous, you wouldn't be wrong. "Happytime" took no less than a decade to come to fruition. It had more than its fair share of complications, like switching production companies mid-project. Before Melissa McCarthy signed on to play the lead, Cameron Diaz, Katherine Heigl and Jamie Foxx all entertained the idea but dropped out. In May 2018, Sesame Workshop sued the production company because of the film's slogan "No Sesame, all Street."
It was as if the universe itself was committed to preventing this utterly distasteful movie from hitting theaters. And yet, through it all, the pervy puppets prevailed. "Happytime Murders" hit theaters on Friday.
I do not, myself, pretend to be above this unholy creation. In fact, if nasty puppets are wrong, I don't want to be right. After all, how could I defame the film that provided me the first opportunity to take my Puppet Boyfriend out for a proper date?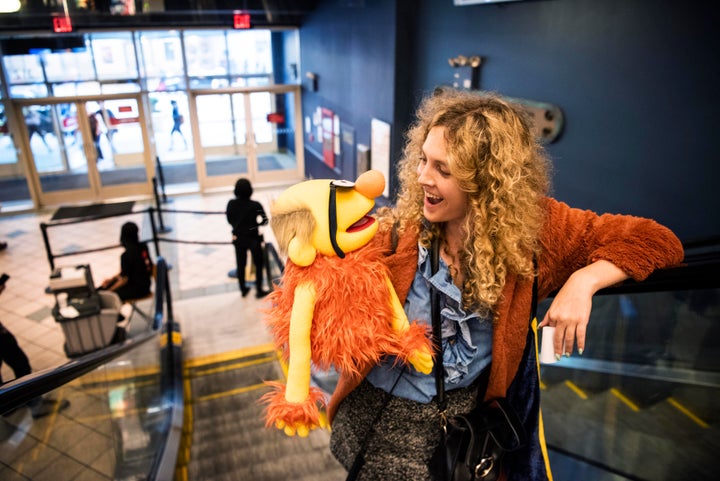 A few years ago, I ordered my boyfriend a make-your-own Muppet designed specifically to look like him. The gift was, in all honesty, as much for me as it was for him. I love his face. Why not get a second, and make it fuzzy?
My Human Boyfriend and Puppet Boyfriend have their differences. One is made of flesh, the other fleece. One has a pale complexion, the other a rubber duck yellow. One is chatty, the other demure. I can tell both are very smart (from their glasses), but until recently, only one of these boyfriends had ever taken me out publicly for a proper date.
That changed this week, when I learned of a screening of a raunchy comedy in which humans and puppets co-exist, solve crimes and have weird inter-species sex. It was the perfect opportunity to take Puppet Boyfriend on our first official outing.
On the day of the screening, I was buzzing with excitement. Like Cinderella prepping for the ball, I dressed in my fuzziest garments and shoved my date into a tote bag. (So ... not like Cinderella at all.) He remained there until my workday was over, at which point we made our way to the nearby movie theater, hand in hand. (And hand in body, because that's how puppets work.)
As the lights in the cinema finally dimmed, I wondered if our kind of love would finally be accepted in this pro-puppet environment. I reached for the popcorn and my hand brushed against his. Never before had I so fully understood the feeling of being felt up.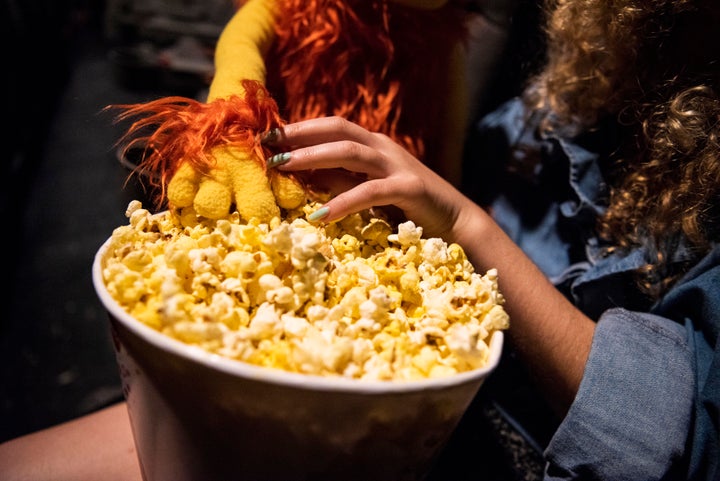 And then our movie began. "The Happytime Murders" takes place in a fictional Los Angeles where humans and puppets cohabitate in not-quite harmony. Demonized and discriminated against, puppets are posited as the ultimate marginalized group.
"Although it ain't a crime to be cute and cuddly," puppet private investigator Phil Philips (voiced by Muppet veteran Bill Barretta) says, "it might as well be."
Philips, we learn, was the first and last puppet to ever become a cop. His title was taken away after he missed a crucial shot during a hostage situation that led to an innocent puppet's death. The mistake spurred a pernicious rumor that puppets won't shoot other puppets, resulting in a ban that prevents them from joining the force.
Philips leads a dreary life as a private investigator thereafter. Until his lackluster day-to-day is shaken up by a visit from a sluppet (slutty puppet) named Sandra White, who hires Philips to investigate a blackmail note she received. She is gorgeous ― for a puppet ― with waist-length red hair and a body I can only assume feels like a Tempur-Pedic pillow. I jokingly warned Puppet Boyfriend "Don't look" while elbowing him in the side. He fell over.
On the case, Philips winds up in a puppet porn shop at the precise moment a masked gunman shoots up the spot. And ― gasp! ― one of the victims of the shooting is Mr. Bumblypants, a bunny puppet famed for his role in "The Happytime Gang," a classic "Sesame Street"-esque sitcom that's since been canceled. Bumblypants happened to be perusing pornos during his final moments.
(The bunny is voiced by Kevin Clash, who resigned from his tenure as Elmo on "Sesame Street" after being accused of having an underage sexual relationship, charges that were later dismissed due to the statute of limitations.)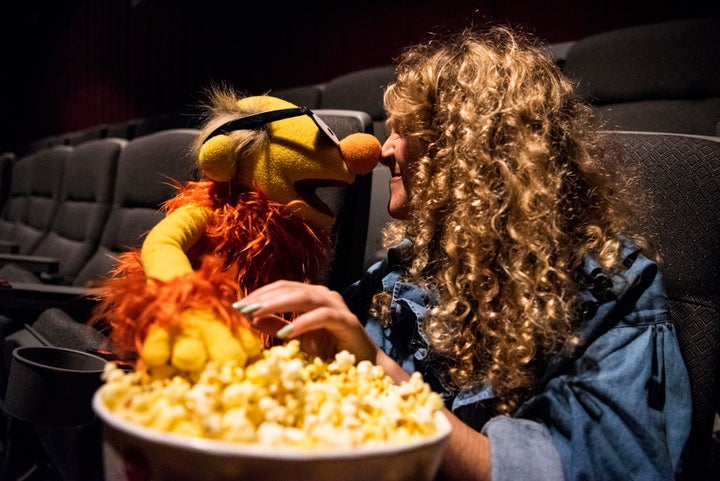 Turns out, Bumblypants is but the first member of the "Happytime" crew to reach an untimely end. Someone is killing the cast, one by one. After Philips' own brother is torn to fluffy bits by a pack of dogs, the PI begrudgingly teams up with his ex-partner, Detective Connie Edwards (McCarthy), to crack the case. In their journey to catch the killer, the two rekindle their relationship, proving once and for all that humans and puppets can get along.
In the midst of all the crime-solving, a ton of R-rated debauchery ensues. The cursing, the drug use, the references to and simulations of puppet sex, all of it made most audience members squirm in their seats with discomfort. Puppet Boyfriend, however, was glued to his seat ― barely blinking and mouth agape in wonder.
"Happytime" isn't the first film to explore the idea of puppets gone bad. In 1989, Peter Jackson ― pre-"Lord of the Rings" fame ― created "Meet the Feebles," an NSFW puppet musical in which the fuzzy friends do drugs, have anal sex and literally eat shit. But it seems Jackson's cult classic didn't quench our cultural thirst for weird puppet shit. The urge to defile childhood relics is, it appears, more powerful than most humans could possibly fathom. It's the force that makes us rip the heads off our Barbies, smash action figures together in erotic ecstasy, or draw a dick atop a "Minions" ad in the subway.
In "Happytime Murders," a stuffed cephalopod squeezes milk from a cow's udders as she squeals in ecstasy, an act described as an "eight-arm reach-around." A dominatrix Dalmatian whips a human firefighter while screaming "Bark for me bitch!" and "I will pee on you like a fire hydrant!" At their worst, such gags feel like puppet re-enactments of Urban Dictionary definitions.
At their best, they're kind of hot.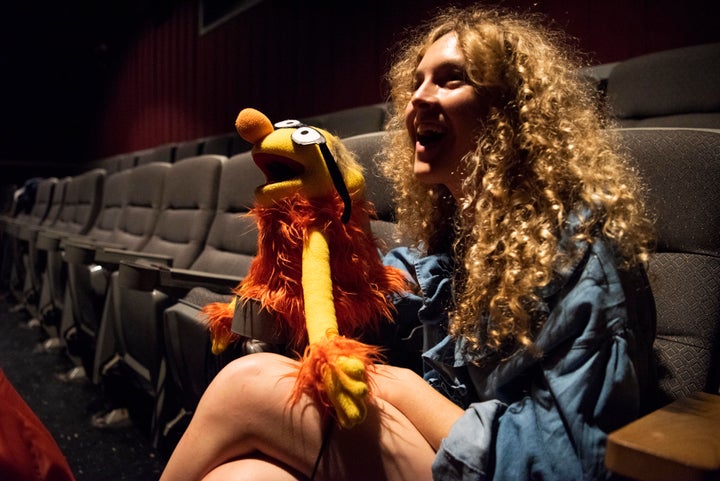 Just kidding!!!! (Am I?) But seriously!!!! (Unless you're not!)
I have never gotten weird with a puppet before, aside from sticking my hand inside one, which is standard puppet procedure. Yet, there's something titillating (to some people, I hear) about seeing the creatures who populated our childhood fantasies make cameo appearances in our adult ones.
Now, if the deafening silence permeating the press screening my Puppet Boyfriend and I attended was any indication, the film will likely fail to impress those readers who aren't big fans of puppet play. (Agree to disagree, Richard Lawson.)
But if puppets float your boat, "Happytime" could be your fleecy alternative to "To All the Boys I've Loved Before." Save for a few fine options on PornHub.com ― and not as many as you'd think! ― the film offers the unparalleled opportunity to see a puppet's hard nipples and purple pubes. (Who knew puppet jizz looked like silly string!?)
For me, I don't think the film pushed far enough. There was only one sex scene in the movie and it occurred between two puppets. Because, I guess, when it comes to puppet-human love, the world still isn't ready. So I must confess that "Happytime" didn't live up to my ― admittedly, very high ― expectations, but it offered something even greater: the chance to share a piece of pop culture with my Puppet Boyfriend.
Popular in the Community