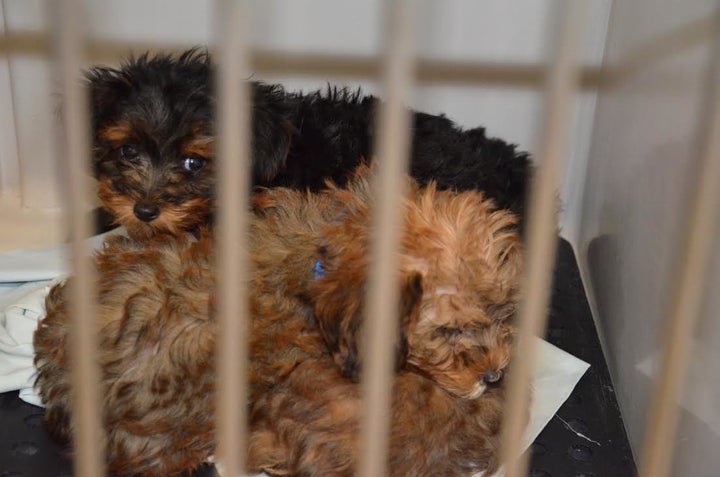 The sound of yipping and whining coming from a van parked behind a New Jersey pet store led to the discovery of more than 50 puppies packed in small cages inside, authorities said.
The startling find, amid freezing temperatures around 3 a.m. Monday, resulted in allegations of animal abuse, with some puppies described as found covered in feces and without food and water.
But the Paramus store's owner, who faces prior animal cruelty charges related to one of his four "Just Pups" locations, says he's innocent of all claims.
"There's no crime against us. There's no harm," Vincent LoSacco, 50, told the Huffington Post Tuesday.
LoSacco, who in February was hit with 267 animal cruelty charges related to his East Brunswick store, didn't deny that the puppies had been left overnight in the van, saying they had just arrived from Missouri. But he argued that the vehicle was specially designed for such extended stays and was equipped with a propane-powered space heater.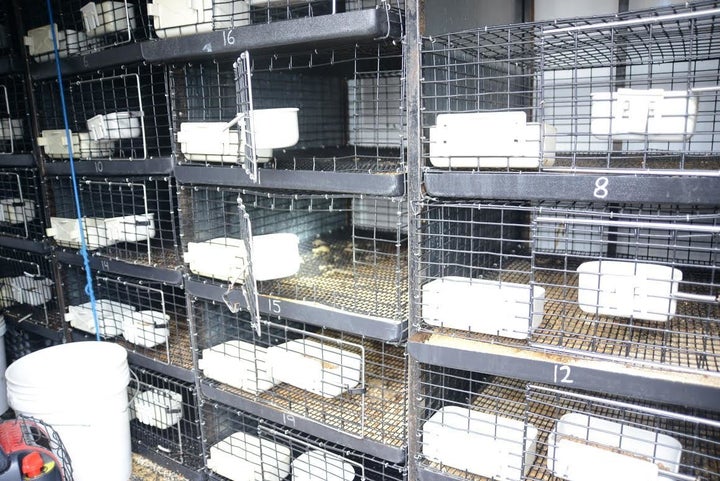 He further argued that the officers didn't take the van's internal temperature until after an unlocked side door was opened, causing the heat to escape.
"There's no law that says you can't leave puppies or dogs or an animal in a vehicle overnight. The law requires that you can't leave them in inhumane circumstances in a vehicle," LoSacco said. "The dogs prior to the driver leaving had full food, full water, and the independent heating unit running before the driver left."
Come 7 a.m., he said an employee would arrive to bring the puppies inside. A vet was scheduled to inspect them at 10:30.
Paramus police, who declined to comment Tuesday when reached by HuffPost, shared photos of the window-less van and the dogs' stacked cages.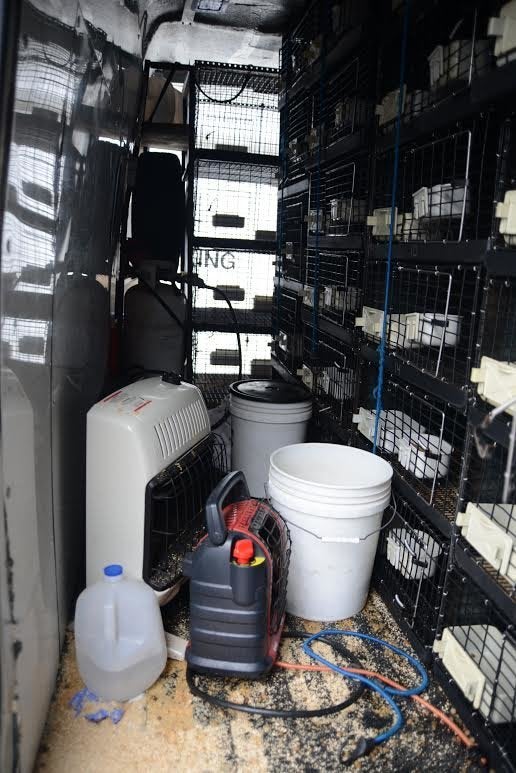 Police Chief Kenneth Ehrenberg, speaking to local media Monday, said authorities found the puppies packed two to four to a crate. Some didn't have room to stand up, he said.
LoSacco said the cages are designed to keep litters together and have ample room for movement.
As far as fecal matter covering some of the animals, LoSacco argued that when police hauled away his van, it was at one point slanted at a 45-degree angle — potentially causing puppies to slide into any fecal matter that hadn't fallen into pans beneath their wire cages.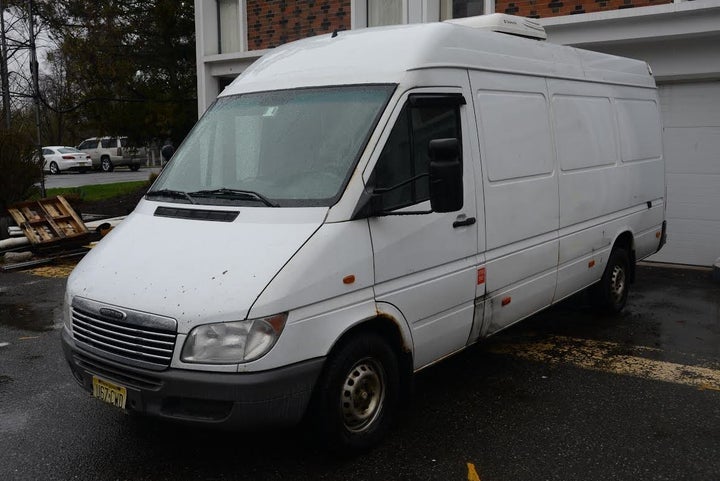 After later being called by police to unlock the van's back double doors, he said he personally watched officers remove some of the remaining animals.
"Those puppies were very clean, very vibrant, and just a little scared from their flatbed ride. Not from a regular ride," he said.
Carol Tyler, animal cruelty investigator of Tyco Animal Control Services, said the dogs were taken in by their shelter and that the majority are either doing "really well" or are on medication for kennel cough or "other puppy-related issues."
She said their investigation is still ongoing and that prosecutors plan to press unspecified charges. At this time, none of the puppies are up for adoption.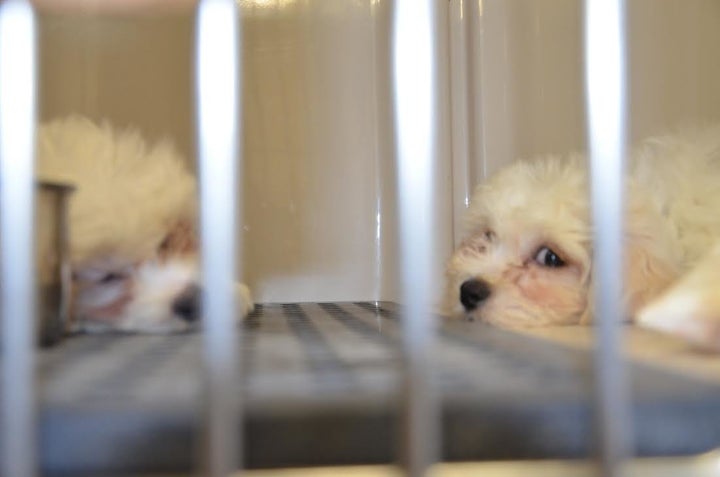 "If they go up for adoption, additional information will be released on who to contact on how to adopt," she said.
The Bergen County Prosecutor's Office did not immediately return a request for comment.
LoSacco's stores remained open Tuesday, with him saying that they have not been notified of orders to close, as local reports have claimed.
He said the Board of Health visited his Paramus store on Monday and checked 93 dogs "and didn't find any problems." There were three dogs whose bellies were described as a little big, he said, and he was instructed to have them tested for worms.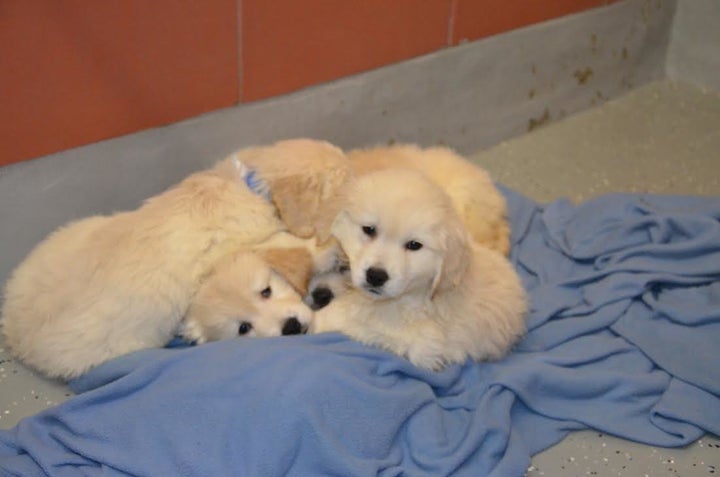 Amid the abuse allegations, LoSacco's son, Joey LoSacco, said the stores' employees are battling death threats.
On the store's Facebook page, some users suggest locking them in cages.
"All the stores, not just the owner," Joey LoSacco, who was running the Paramus store Tuesday, told HuffPost. "The store's Facebook has just been getting straight-up threats."
He added that he'd asked local TV news crews to stop filming the employees' faces for safety reasons. 
Calling all HuffPost superfans!
Sign up for membership to become a founding member and help shape HuffPost's next chapter
BEFORE YOU GO
PHOTO GALLERY
When Dogs Heal