It was like a sequence out of an action movie, says Annie Hart, founder of animal rescue group the Bill Foundation. There she was: speeding down a Los Angeles street in the wee hours of the night, racing against the clock to save a litter of puppies in a life-threatening situation.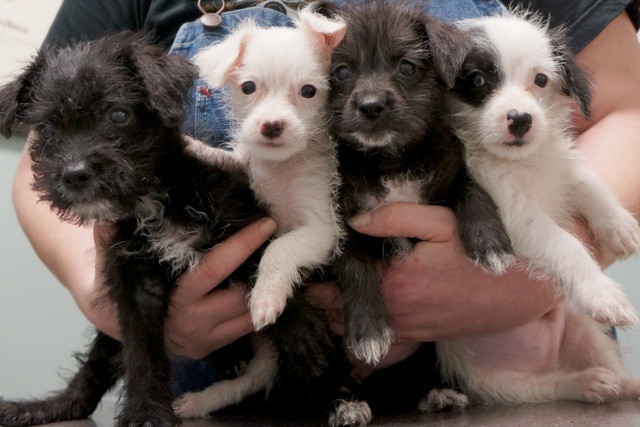 Puppies Logan, Luke, Raven and Elliott were rescued by the Bill Foundation's Annie Hart after a dramatic car chase (Credit: Annie Hart)
The drama began a few weeks ago when Hart got a call from Samantha Haas, founder of animal charity group WagAware. Haas had just met a homeless man who had four puppies stuffed into a Tupperware container.
"She watched him close the lid and knew they wouldn't get nearly enough air to stay alive for long," Hart told The Huffington Post of the encounter. "Sam tried her best to reason with him, without jeopardizing her safety, but he wouldn't give her the puppies. She called me in desperation, and in less than a minute, James, my husband, our dog, and I were in our car and dashing to meet her."
A few minutes later, Haas called back in a panic: The man had boarded a bus and was zooming away from where she was.
Desperate and still en route, Hart had to come up with a plan on the fly. It ended up being one that was "so insane," she says, she's "astonished it actually worked."
First, Hart told Haas to get into her car and to drive in front of the bus as slowly as possible to impede its progress. Incredibly, this tactic was successful.
"I hear the horn from the bus in the distance, angry with Sam for slowing it down," Hart wrote in a post last month for Dogster.com. "Half a mile back turns to a quarter mile and then, the glowing taillights and silhouette of a bus emerge in the night."
As Hart and her husband finally caught up to the bus, the vehicle came to a stop in front of them, allowing passengers to disembark. Hart writes:
James hits the gas and slides up behind the bus, I hop out and dash for its open door. It closes. Like a lunatic I am jumping up and down, calling for the driver to open the doors. Like a completely sane person, he drives away. I jump back in the car and we take off after it. James calmly driving, myself coordinating with Sam...

Another stop comes up and the bus pulls over, Sam stops in front of it and James stops on the side to sandwich it in. I run up to the doors and again they close in my face and I am shouting at the driver to please open the door. He looks at me with hesitation when I yell, "A homeless man has puppies on your bus! They are in a plastic container with the lid on and they could run out of air!!" To his credit, he opens the doors.
Stepping onto the bus, Hart looks for the man with the puppies. She easily spots him: a young man with a motorized cart and a Tupperware bin stuffed with pups.
"It wasn't until I was on the bus that I realized there were serious risks involved with what I was doing and just how careful I needed to be. For all I knew, this man could be dangerous, or have had a weapon and I could easily get hurt. With this in mind, I decided to go for a gentle and slow approach and try to befriend him," Hart told the HuffPost of the meeting.
Fortunately, the exchange was a peaceful one. After explaining what she does for a living, Hart convinced the young man to step off the bus. After lots of convincing and giving him all the cash in her pocket for the animals, the man handed Hart three of the four pups. (Her husband returned a short time later with more money for the fourth dog.)
"While many people have told me that I shouldn't have given him money and instead just grabbed the puppies and ran, I feel that kindness and compassion for all living beings is essential to being a rescuer. Who knows what this man had been through in his life that caused him to be homeless and with a Tupperware bin full of puppies? Who knows what would have happened had I been more aggressive? I am just grateful he was willing to accept my help, everyone walked away happy and that the puppies are now safe and thriving," Hart said.
The puppies -- dubbed Luke, Elliott, Raven and Logan ("The pups had a superhero rescue, so we named them after X-Men characters," said Hart) -- all had serious flea infestations and worms when they were rescued. Luke, the littlest of the group, was especially weak and close to death.
"All four lacked energy and nutrition, but after just a few days at the vet, they had bounced back and were happy energetic pups -- with Luke leading the way," Hart said. The pups are now 10 weeks old; in two weeks, they will be put up for adoption.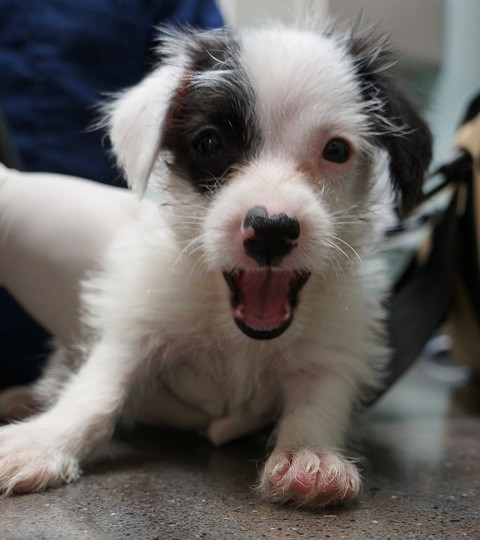 Elliott at the vet (Credit: Annie Hart)
"Never in my wildest dreams did I ever think I'd be involved in a high-speed chase down Santa Monica Boulevard at midnight, my husband behind the wheel while I direct my friends -- via cell phone -- to stop a bus by creating a road block with their car. But when I heard there where four lives in danger something instinctually kicked in, and nothing was going to stop me from trying to save these pups," Hart said of the dramatic rescue.
This week, Hart set up a live stream of the pups so that people from around the globe can watch the dogs' progress. Watch the live stream below, and visit the Bill Foundation's website and Facebook page to learn more about the puppies and the group that saved them:
Calling all HuffPost superfans!
Sign up for membership to become a founding member and help shape HuffPost's next chapter
BEFORE YOU GO
PHOTO GALLERY
Animal Moms