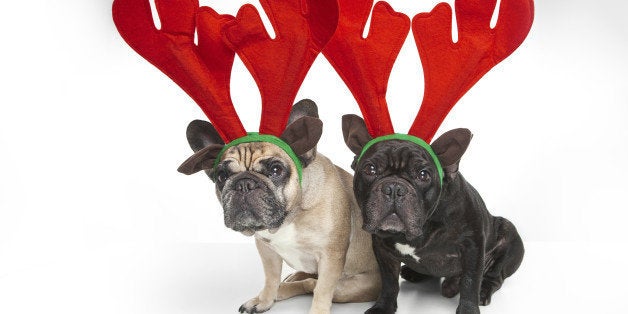 Just thinking about an airport at this time of year stresses me out -- but for some, air travel is unavoidable. Customer service is usually at an all-time low, and no matter how hard you try to prepare, there are bound to be delays, lost luggage, and grumpy passengers fighting for the armrest.
Luckily, United Airlines is making an effort to comfort weary and frantic passengers with the help of social media and some super special, super cuddly helpers. Their #UnitedPaws campaign aims to ease travelers with pet-therapy at some of the busiest airports this holiday season.
Already Instagram is flooding with thousands of images showing passengers de-stressing with dogs of all shapes and sizes:
Even just browsing the images, or checking out United's Periscope channel (a great social tool that can bring the event to those far away), helps me feel less anxious about the holiday chaos to come. If you're bound for ORD, DEN, EWR, IAD, IAH, LAX, CLE, save some extra time to play with the pups.
It's not just "cuteness" that makes us melt at the sight of a wagging tail. Veterinary Consultant Dr. Walter Woolf states that "just petting a dog releases oxytocin, the hormone associated with bonding and affection, and also decreases levels of stress...I've experienced this recently and think this is a wonderful idea for holiday travelers."
While I think this is mostly a brilliant and fun idea, a few people have made a good point: Those allergic to animals might find the service more stressful, especially those once on board their flights (where cabin pressure and dry air can turn even the slightest sniffle into an itchy, watery, congested monsoon).
The program runs until December 23, but if it is successful, I have a feeling United will employ it during other times of the year as well. Who knows? Maybe the key to dealing with a middle seat on a 10-hour flight is some serious pre-boarding cuddle time with Fido.
REAL LIFE. REAL NEWS. REAL VOICES.
Help us tell more of the stories that matter from voices that too often remain unheard.