He's not tumbling anymore!
A tiny shelter puppy named Tumbles, who was born with only two legs, is on the move after recently being outfitted with a custom 3-D-printed wheelchair.
A video capturing the pint-sized pooch's first steps last week, shows the little guy making big strides while in the care of Friends of the Shelter Dogs in Athens, Ohio.
Those monumental steps follow the local rescue group taking in the puppy when he was just 2 weeks old late last month.
"We thought he wouldn't make it," Karen Pilcher, who serves as the group's rescue coordinator and now Tumbles' foster mom, told ABC News.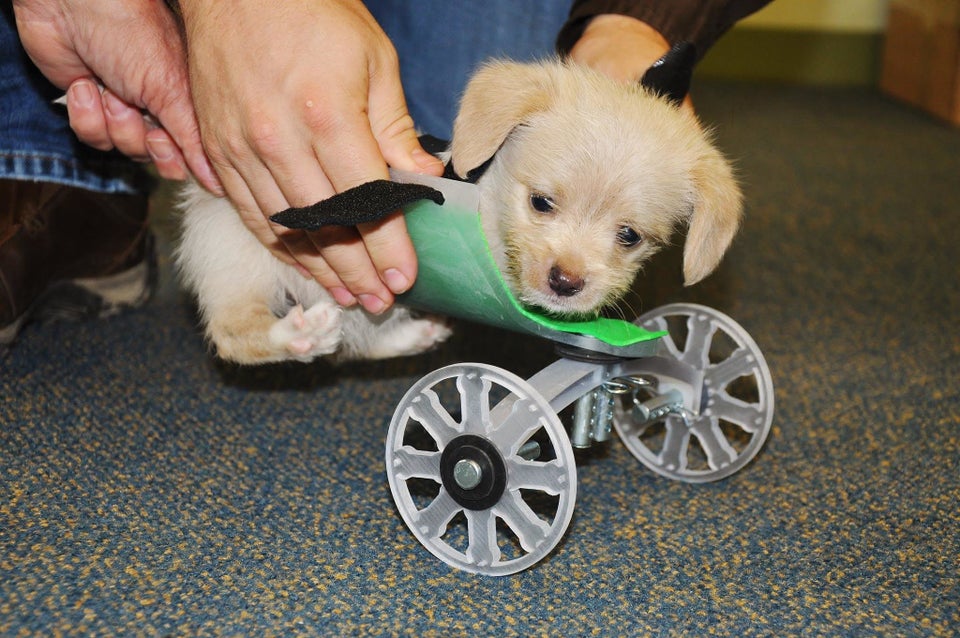 A friend of the group proposed crafting the wheels and submitted a design to the Ohio University Innovation Center, according to the center's lab director, Joe Jollick.
"The first go was last week," he said of their outfitting which followed about 14 hours of printing time. Once it was finished, he said: "we had the dog in the next day."
As an endearing video shows, Tumbles first wobbly steps were quite a feat. A photo taken of him after the big event, and posted to Facebook by FOTSD, shows him "all tuckered out" while passed out in his cart.
His next fitting is expected to be on Thursday with a smaller wheelchair currently in the works as Jollick said the first pair of wheels ended up being a little too big.
"I think we'll definitely be able to have a working model," he told The Huffington Post. "The challenge is getting the dog to use it and not try to sneak out of the straps and (him) learning to use his back legs correctly, because right now he's just pushing himself on his chin."