Millions of fans are going to be glued to their TV screens this Sunday, and there will be one important question on their minds: just who will emerge victorious -- Team Ruff or Team Fluff?
That's right, folks. The 11th annual Puppy Bowl is upon us, and it promises to be an afternoon of ultimate animal cuteness, as two teams of rescue pooches are pitted against each other in a game of puppy "football." Viewers can also look forward to watching the antics of "giggling goat cheerleaders," who will be rooting on their teams from the sidelines, as well as a kitty half-time show, featuring a bewigged rescue feline named "Katty Furry."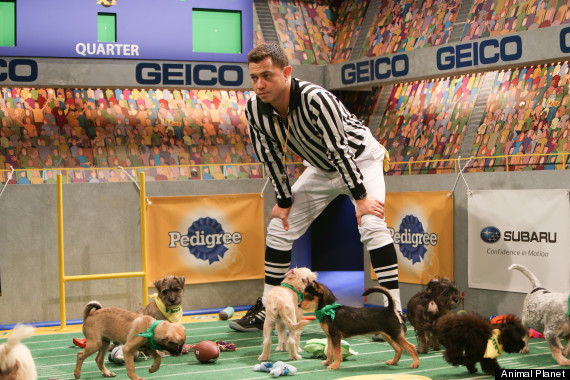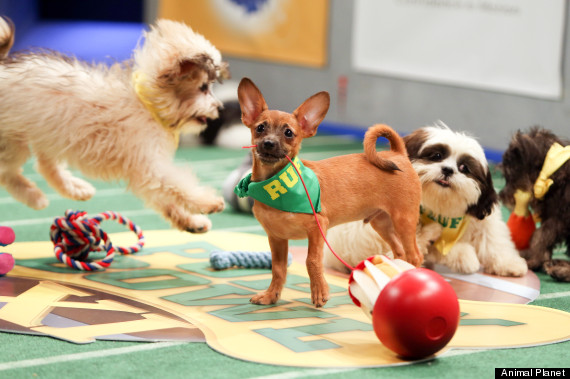 But though it'll certainly be fun to watch, the Animal Planet show isn't just about fun and games. The event hopes to encourage people to adopt shelter animals, millions of whom are euthanized each year.
To promote the upcoming Puppy Bowl event, which airs on Animal Planet at 3 p.m. on Sunday, the channel has partnered with local shelters and animal welfare groups across the country to highlight rescue adoptions.
"Everybody loves a puppy. The amount of attention that we've got has been fantastic," Chris Finnegan, a senior vice president at Animal Planet, told Reuters at the Phoenix adoption event. "People just can't get enough. They're so sweet. They're so cute, and we're excited because it's getting the word out about animal adoptions."
All of the dogs and cats participating in this year's Puppy Bowl are shelter animals. They include an adorable Shih Tzu named Cara, a wide-eyed Pekingese named Bowser, and Boomer, a fluffy 18-week-old German Shepherd mix. According to NY Daily News, each of the 85 Puppy Bowl players is up for adoption.
"[Raising awareness about pet adoption] is the whole reason we try to get the word out about Puppy Bowl," Dan Schachner, who will play referee at Sunday's event, told the news outlet. "These puppies usually get adopted very quickly, but there's so many more out there. You can find amazing dogs from your rescue center."
Last year, a record 13.5 million viewers tuned in to watch the Puppy Bowl. Animal Planet says it's expecting an even larger audience this Sunday.