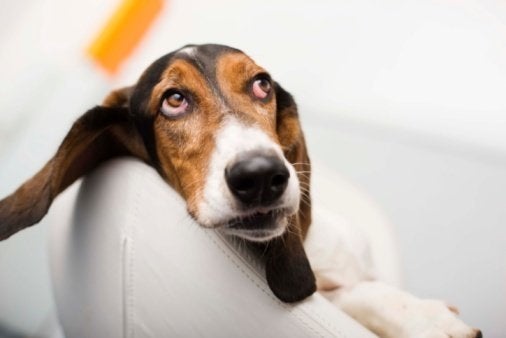 In an ideal world there would be a television channel devoted to broadcasting live streams of puppies and kittens all day. Is this an ideal world? Certainly not. However, thanks to Animal Planet's Puppy Bowl, we can get a little taste of that cuteness as an alternative to the Super Bowl. Now in its sixth year, Puppy Bowl is bigger than ever -- and I had the chance to talk to my friend Andrew Schechter, who happens to be the Puppy Bowl's charismatic referee. He humored my unconventional questions to give me some inside scoop on the behind-the-scenes happenings at this insanely adorable television event.
When you were a kid, did you ever think "one day I'm going to be the referee of a football game played by puppies."?
In a word, yes. I believe it has always been my calling to be the Puppy Bowl Ref. Some kids grow up wanting to be firemen. Others dream of becoming president of the United States. I wanted to referee cute, adorable puppies pretending to play football in a miniature football stadium. That's all. And you see, dreams really do come true.

Who (or what) would you say is Puppy Bowl's target demo?
To be honest, all species of all ages are our target demo. If for some strange reason you're not a dog person, there's the world famous kitten halftime show. If you're not a dog or a cat person, first off, weird. Second, this year's Puppy Bowl also features bunny rabbit cheerleaders and hamsters flying a miniature blimp. So, we cover our bases.

Do you get to keep any of the puppies?
No, although they are all so darn cute and they're all adoptable! Unfortunately, it would be unfair for me to bring a puppy back to my closet-sized Brooklyn apartment. It's actually unfair for me to bring anyone/anything back to my closet-sized Brooklyn apartment.

Tell me this - how bad does it smell out there?
Look, puppy "fouls" are the foulest of all fouls. Nonetheless, I like to keep a clean, orderly field. Puppy hygiene and Puppy Bowl Ref hygiene is of the utmost importance.

Favorite pet in history?
My favorite pet? A goldfish my sister and I named Nikolai Khabibulin (no joke). But favorite pet out there would have to be Comet from Full House. Remember that episode where Michelle kept sleeping in his doggie bed? I think Michelle was jealous of all the attention Comet was getting.

So what's next? Puppy Bowl VII? "Old Dogs" Bowl? Or are you thinking about getting in the people business?
My next order of business is to become the biggest Internet celebrity in the world... ever. The Puppy Bowl Ref will be bigger than that "Charlie Bit My Finger" kid. You'll see. I'm also ready for a spin-off show: Ruffin' It with the Puppy Bowl Ref. It'll be like Extreme Makeover meets It's Me or the Dog meets Legends of the Hidden Temple.

Why should people watch Puppy Bowl VI instead of the Super Bowl?
Collies are cuter than quarterbacks. Labradors are more lovable than linebackers. Pugs are prettier than punters. Scotties are sweeter than safeties. I can go on all day... with the same exciting alliteration. Pretty much, it's the most exhilarating, most adorable two hours of television on the planet... Animal Planet. And, there's a referee who kind of looks like a cross between Jimmy Fallon and Zach Braff. Kind of. But what's the Super Bowl?

Who do you want to win the Super Bowl?
For real, what's the Super Bowl? Sounds fun. Do they need a ref? I come with my own uniform.
Have you seen the new Keyboard Dog? How do you think Keyboard Cat feels?
Yes, I've seen them all. I'm sure the Keyboard Cat understands that he/she is the true "keyboarding" legend on the Internet. Nonetheless, it's important for cats and dogs to get along. If they need a mediator, I'd be happy to step in.

Who would you rather played you off?
Even though I'm a dog person, the Keyboard Cat is a classic. The Puppy Bowl Ref likes to stick to the classics: Sinatra, Bennett, Keyboard Cat.
Well, there you have it folks. Personally, I can't wait for those hamsters flying the miniature blimp. That is television gold, right there.
Watch Puppy Bowl VI on Sunday, February 7th at 3pm E/P on Animal Planet. And if my inane questions and his inspired responses have inspired you, become a fan of Puppy Bowl Ref Andrew Schechter, on Facebook.
Popular in the Community