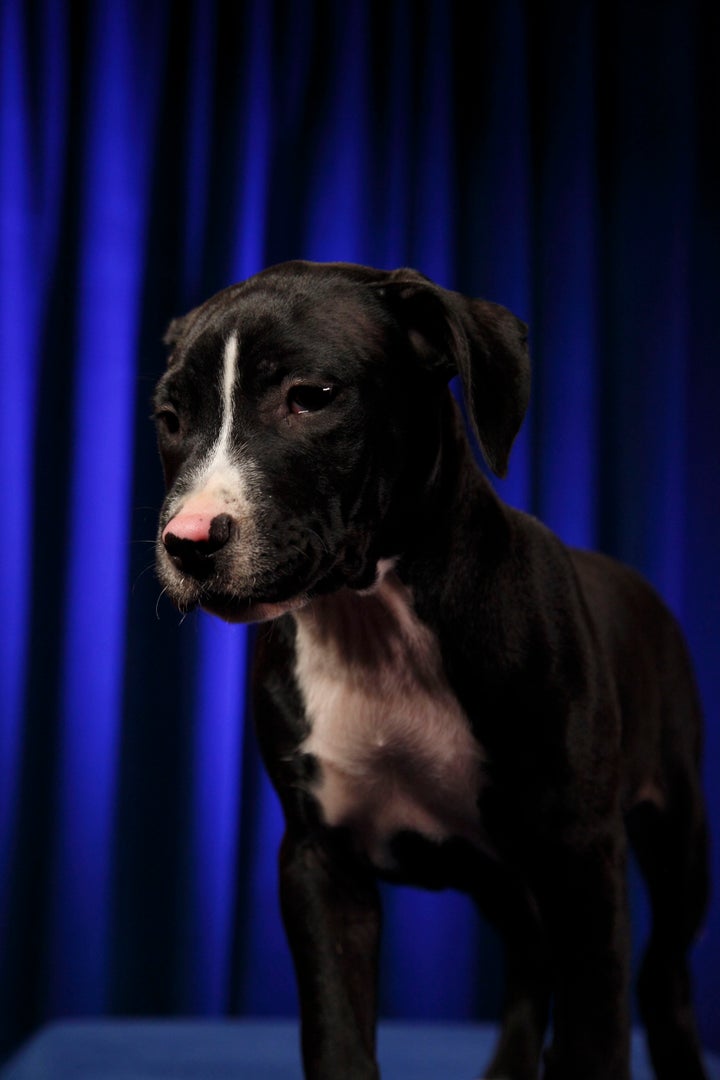 On Sunday, Feb. 5, the players will enter the stadium, line up, and prepare to ... catch a tiny plastic football. That's right, the 59 fuzzy MVPs of the sporting world's cutest event are gearing up for their shining moment: it's time for the 2012 Puppy Bowl.
The teammates hitting the field aren't just adorable, but they also come from humble beginnings. To find the purr-fect stars for this year's sporting spectacle, Animal Planet worked with website Petfinder.com to locate animals in need from 32 shelters and rescue groups across 20 states. The pups and kittens -- tiny stars of the Puppy Bowl Kitten Halftime Show -- come from a diverse array of states including Mississippi, Vermont, Rhode Island and Kentucky, and all returned home after the event to find families.
Anthony, a pitbull/hound mix from Linden, N.J., found his "forever home" after a roller coaster of a ride through the first few months of his life.
Donna Beach, owner of All Star Pet Rescue, found Anthony's mother in the woods and rescued her as she prepared to give birth to a new litter. A few months later, the shelter went through the process of applying for Puppy Bowl VIII and Anthony was among the three puppies included from the shelter, along with friends Ray and Gracie.
Karen Luberto and her 9-year-old son, Raymond, found their way to a Puppy Bowl preliminary taping on the urging of Karen's sister, Donna.
"We weren't ready for a puppy," said Karen. "But then my son met Anthony. They just bonded immediately. That was it."
Though Karen was resistant, the connection between Raymond and Anthony could not be denied. Raymond swore to take care of the tiny black puppy with the big brown eyes and she gave in.
Even though Raymond and Anthony had met at a previous shelter event, the two made their real connection at Puppy Bowl, and Karen followed through with the adoption process right away. Even though the pup had originated at a family-run facility, she had to complete the same paperwork as any other prospective owner through Petfinder.
Since then, Anthony -- who enjoys his new life under the name Gunther as the result of a family Facebook poll -- has become an integral part of the family, even sleeping with Raymond. And Anthony's 9 litter-mates? They've all found homes, including the mother dog, who enjoys a cozy life with Karen's sister, Donna.
While the rest of the world is choosing their football alliance, Anthony, Karen, Raymond and their close friends will be enjoying the dog's debut in the 2012 Puppy Bowl.
"It's kind of a big deal, we're planning a party!" Karen said. Beyond the cupcakes and banners you'll find one very happy puppy -- once a shelter dog, then a TV star, and now a family man.
Popular in the Community