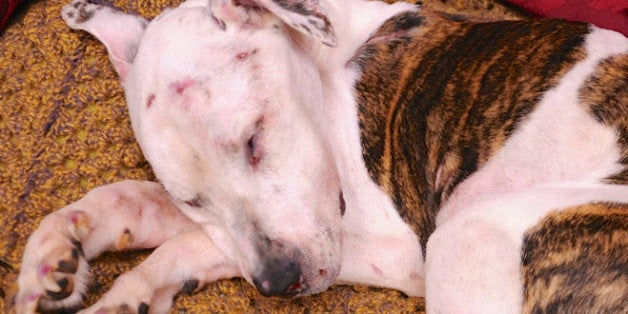 Internet users have united to get justice for a dog so brutally tortured that she had to be euthanized.
On Aug. 31, a female pit bull was found on Carrolls Lane in Quincy, Mass., near a playground, according to Boston's Animal Rescue League, or ARL. The dog, who was likely 1 to 2 years old, weighed half what she should have. She had suffered starvation and abuse "sadistic" in nature, including stabbings to the eye and a sliced tongue. Her injuries were so severe that she had to be euthanized.
Veterinarians working on the animal, named Puppy Doe, were sickened by her state.
"They're a freak, a total freak," Dr. Martha Smith-Blackmore, who performed the autopsy on the tortured pup, told Boston's WBZ of the alleged abuser. "Splitting her tongue, burning her nose, stabbing her eye, it's the totality of the types of injuries. Not only was she beaten, she was stabbed [and] she was burned. It's all kinds of injures. It's a sick mind that can do this to an animal."
The Quincy Police Department and animal rescue groups are asking for help. The ARL is offering a $5,000 reward for information leading to the prosecution of the perpetrator. Animal groups Misty's Journey and Second Chance Rescue NYC have already raised more than $11,000 on YouCaring.com toward a reward for information provided.
A Facebook group titled "Justice for Puppy Doe" already has more than 25,000 likes and has attracted support from as far away as Brazil.
"We need anyone who knows who owned and abused this dog to contact authorities," District Attorney Morrissey said, via the ARL. "The injuries cataloged in the post-mortem examination are grotesque and indicate consistent starvation and abuse over an extended period of time. It is highly unlikely that this level of sadistic cruelty could be shown to one animal and not be part of a pattern involving other animals or perhaps vulnerable people. We need to find the person who did this and see what else they are doing."
Meanwhile, the dog's alleged original owner, Laura Hankins, has come forward. Hankins told the Boston Herald she and her boyfriend bought the pit bull mix last December for $200 on Craigslist. But her landlord eventually told her the dog had to go. So, she put the dog back on Craigslist.
She gave the animal to a woman from Grafton who "seemed wonderful," according to the Herald. The new owner sent updates, but those stopped in July.
It's beyond words that this sweet, innocent dog, that once knew love had to suffer this violent, evil fate, but at the very least, if ... "giving away" of pets was banned on Craligslist there would be a small amount of justice in her name.
The petition has nearly 20,000 signatures.
Anyone with information, is asked to contact the Animal Rescue League at 617-226-5610 or Quincy Police Det. Thomas Pepdjonovich at 617-745-5774.
Related
Popular in the Community