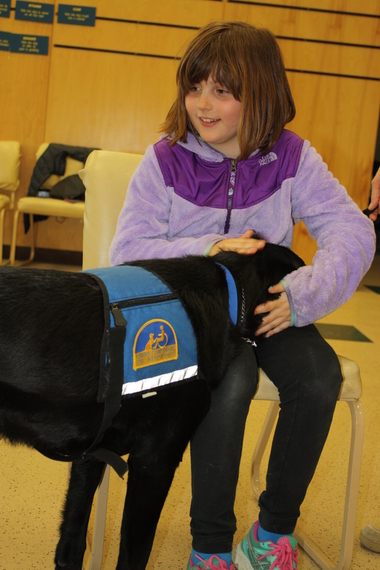 Canine Companions for Independence is an extraordinary organization that provides highly trained service dogs free of charge to children and adults with disabilities.
They recently gave Lysander, a two year old Labrador retriever, to a Norwalk resident, eight-year-old Merrill Moccia, who has Asperger's Syndrome. Merrill loves ballet and swimming. She is a member of the Ballet at Conservatory of Dance in Wilton. The dog represents a huge social bridge for her among her peers.
Lysander has been trained to respond to more than 50 commands, including turning light switches on and off, opening and closing doors and retrieving dropped objects. One of his most important jobs will be to provide constant companionship for Merrill. Canine Companions also has a great track record of pairing its dogs with servicemen and women.

Behind every one of these great dogs is a puppy raiser, someone who takes the dog into his home at eight weeks of age and gives it up at 18 months to a child or adult with a disability, whose life will be changed for the better.
There is an urgent need for puppy raisers. The person must be over the age of 18 or have their parent sign a consent form. Puppy raisers must submit monthly reports, attend obedience classes, and provide financially for the puppy's food, medical and transportation needs. The puppies need daily socialization, so ideally a puppy raiser who is employed full time should ask their employer if the dog can come to the office. At the same time, the puppy needs to know how to behave when left on his own.
The dogs are bred by Canine Companions and are either Golden Retrievers or Labradors. In some instances, they are a cross of the two breeds. Katrina Winsor, director of the puppy-raising programs, said: "Our puppy raisers are incredibly dedicated. It is an amazing gift to help others by providing the training for a future service dog."
If you think you can raise a puppy for Canine Companions, go to their website to fill out an application. Your request will be answered promptly.
Calling all HuffPost superfans!
Sign up for membership to become a founding member and help shape HuffPost's next chapter