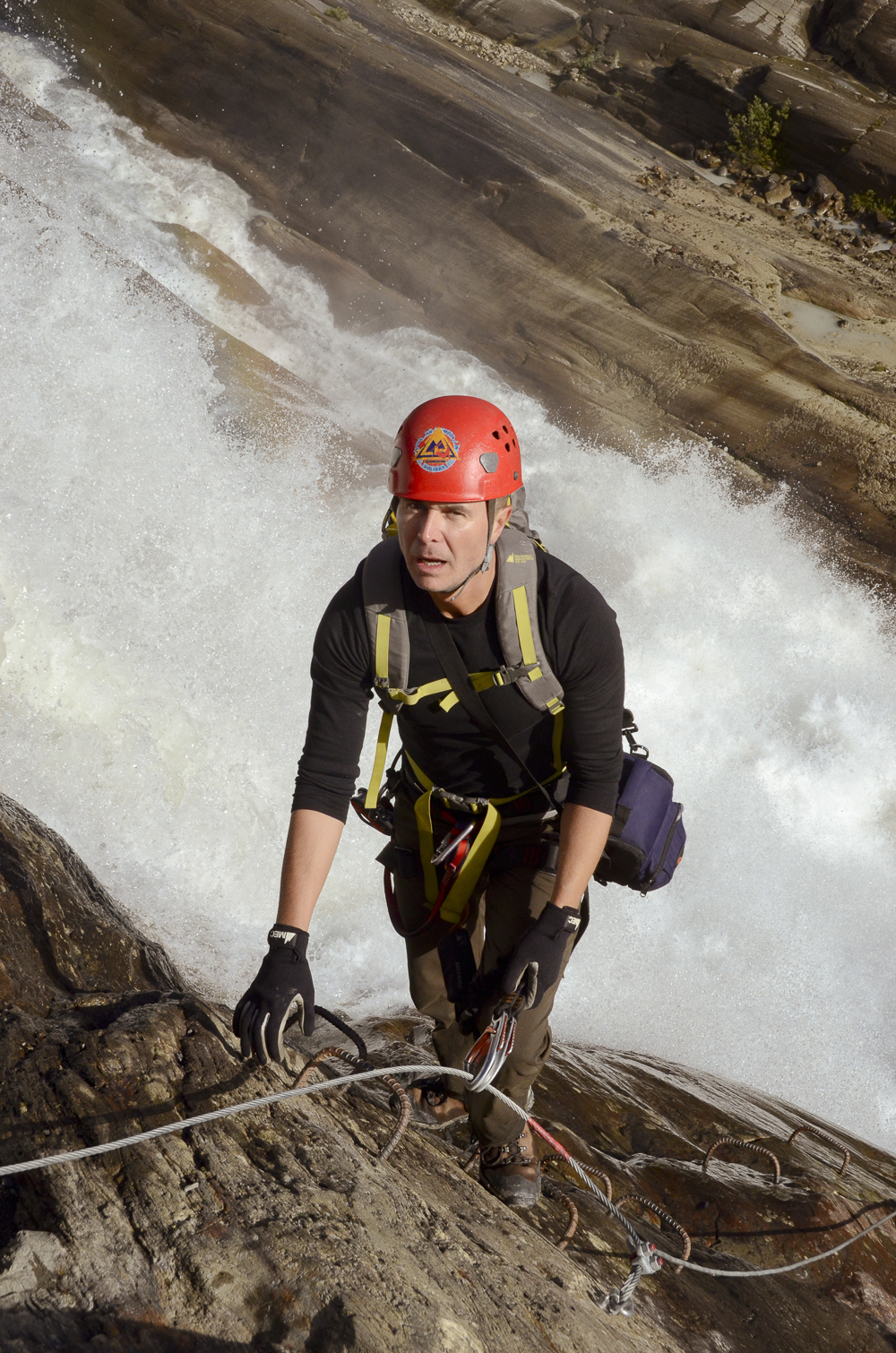 Clinging like a giant gecko to the sheer face of a giant rock slab, I reckon there's no better time to practice mind over matter. As in, it won't matter that much if I make a tiny misstep and plunge off this cliff because I'm wearing a safety harness attached to a fixed steel cable. Unfortunately, my racing heart isn't entirely buying into this logic, plastered as I am to a seriously technical big mountain wall with an icy waterfall to my right and the gnarly claws of a massive glacier stage left.
To reach this precarious spot, I've flown in a twin-engine, 11-passenger, jet-powered Bell 212 helicopter into timberline terrain between the rugged peaks of British Columbia's remote Purcell Mountain Range. Then navigated a wild canyon using bridges and rungs, ascended multicolored rock slabs alongside roaring waterfalls, ziplined over foaming whitewater streams, traversed slippery rock walls, and scaled dizzying patches of near vertical rock. Yet I'm still only midway through what has been dubbed the wildest new outdoor adventure in North America. And so far, Canadian Mountain Holidays' new Conrad Glacier Experience has more than lived up to its promise of a thrilling, adrenaline filled day of high alpine hiking and climbing.
Redefining the adrenalin hike
Six years ago, CMH's Bobbie Burns Lodge guides upped the ante of wilderness adventure experiences in North America by installing the Mt. Nimbus Via Ferrata. That's Italian for 'iron road,' a term used to describe vertical pathways through mountainous terrain otherwise inaccessible to non-climbers using a system of iron rungs, swinging bridges and safety cables. The Italian army built via ferratas to safely ferry large numbers of troops through the Dolomites during World War II.
Those same guides, led by longtime Bobbie Burns manager Bruce Howatt, then began designing an even more spectacular high flying adventure. More than just a via ferrata and way beyond the boundaries of a traditional hike, their new baby, which they've christened the Conrad Glacier Experience, defies categorization and promises to rock the adventure travel world.
"I don't know of any place on Earth where you could find a trip like this combined with North America's fullest via ferrata, a two level ropes course, a zipline canyon and wild and beautiful hiking all from one lodge," says Howatt. "I think it's in our DNA as humans to explore. It shows in how popular slot canyons, waterfalls and wild settings are becoming. So it seemed natural, since we have access to such a crazy wild place, to go right into the heart of it."
An alpine jungle gym
I set out to complete this full-on day of alpine thrills without fatal spills, confident that I'm relatively safe as long as I remain secured to cables strung along the entire route. The worst that can happen if I slip? Banging myself up a bit on the rocks -- a price I'm more than willing to pay for the chance to play in this scenically spectacular alpine jungle gym.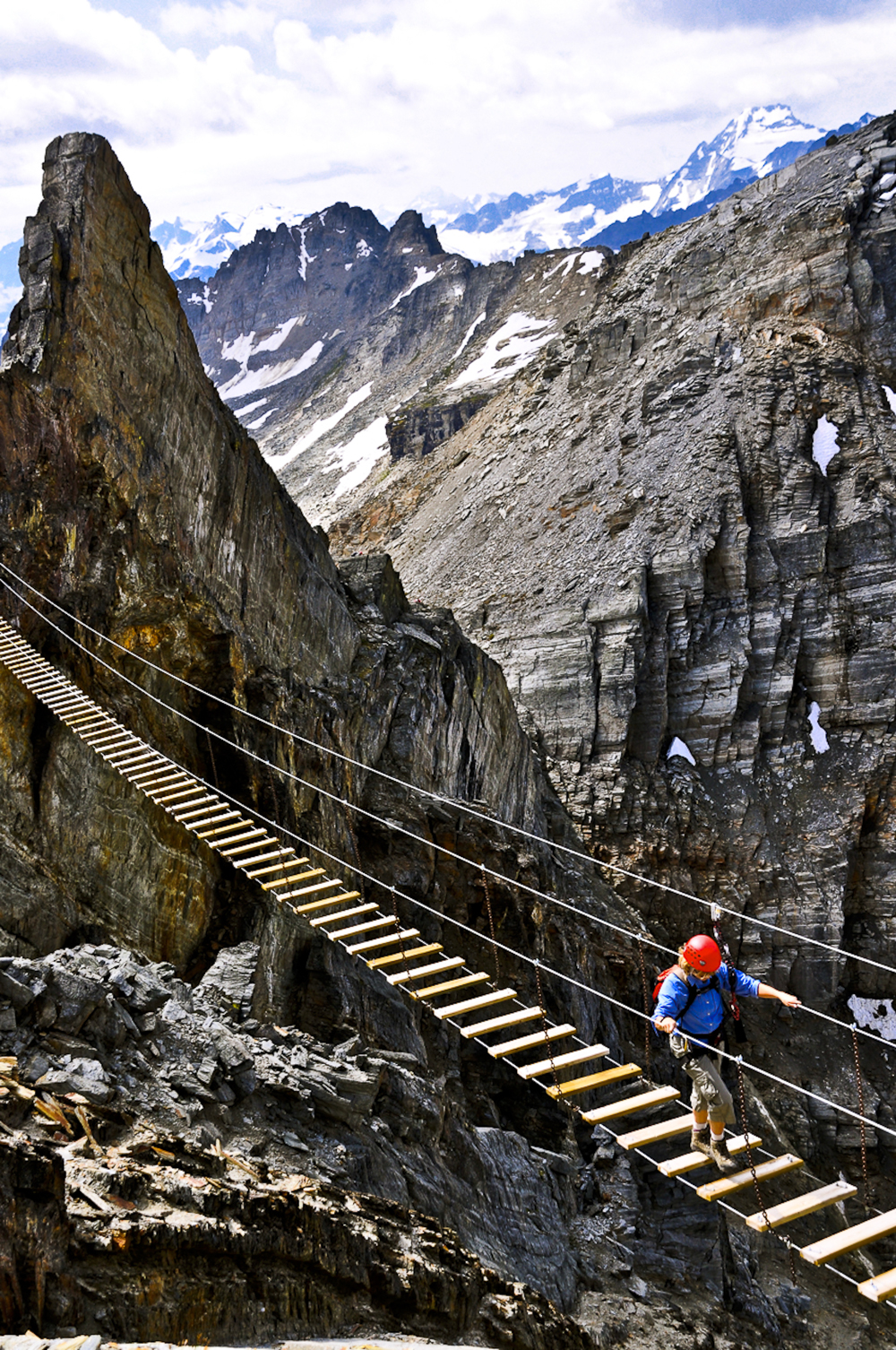 Based on the constant high fiving, whoops of delight and breathless grins on their sweat soaked faces, my companions are also feeling my Rocky Mountain high. Most have little or no mountaineering experience. Just a lust for outdoor adventure and the determination to push physical and psychological boundaries.
"This course certainly challenges you and takes you to places you never thought you could go," says Bill Nevill, a dentist from Southern Ontario who came here with his teenage son, Andrew. "There were plenty of times where I thought 'crap, I didn't think I could do that.' But you just focus on the next rung and where you're going."
Of course it can be difficult to keep your attention on that next rung when you're constantly distracted by some of the most scenic wild mountain scenery imaginable. Blue glaciers, burnt orange rock and cerulean glacial lakes, like the one I plunge into for a bracing dip when we break for a well-deserved picnic lunch.
The route resumes along a narrow path to the top of a steep ridge, from where we get our first breathtaking views of the dazzling Conrad Glacier reaching far down the canyon walls. By mid-afternoon we come to within a few yards of this crevasse pocked icefield as we traverse a long steep section of adjacent rock. But it's far too perilous to walk upon the glacier's jagged surface without proper equipment and crevasse survival training. Yet according to Howatt, the next stage of the Conrad Glacier Experience will also include a section of actual crevasse navigation, akin to a safer version of the Khumbu Icefall on Mt. Everest, but without the crowds.
Avoiding the void
The final stage of our adventure is a 300 foot high vertical rock wall. By now we are all adept at hauling ourselves up from rung to rung, careful never to entirely unclip from the safety cables. I'm even eventually able to look down into the void yawning between my boots and terra firma without acrophobic butterflies swelling up in my stomach on the last vertiginous push for the top.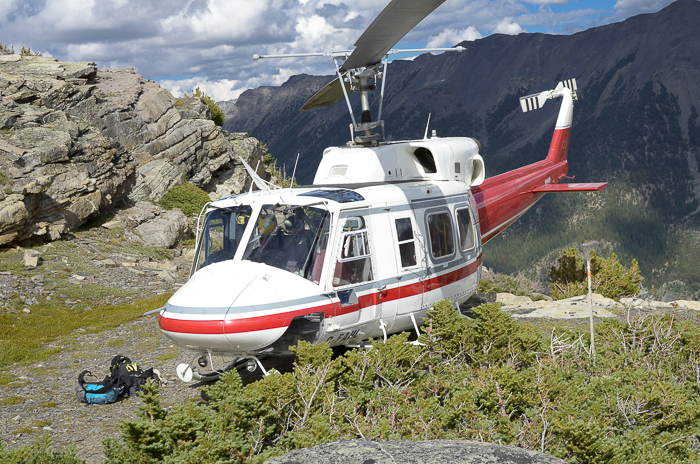 There, our helicopter awaits, ready to whisk us home to the lodge in a matter of moments. No blistered feet and pounded knees from an otherwise hours-long descent for this group of mountaineering newbies -- just one of the many pampered pleasures of heli-hiking with CMH.
Back at iconic Bobbie Burns lodge, we indulge in well-earned spa treatments and relaxing hot-tub soaks after our unforgettable day of adventure, vigorous exercise and fresh air. Tonight we'll all tuck into the lodge's hearty gourmet cuisine with added gusto, swapping impressions of our memorable day playing in the mountains.
"This experience was far beyond what I imagined it would be," says Simon Gan Teow Hooi, an interior designer from Malaysia, as we relax over sunset beers on the lodge's deck. "It's one of those experiences that you just have to try at least once in your lifetime. It wasn't easy but I always felt safe. As long as there is a clip and a cable, you can take me as high as you want and it just feels damn good."
Conrad Kain, the legendary mountain guide who shares a name with the great glacier at the center of today's self-propelled thrill ride, would likely have agreed. In the spirit of this pioneer who injected such passion and imagination into the sport of mountaineering, the Bobbie Burns team has created an intense alpine adventure that's still well within reach of mere mountain mortals. They've also given me a whole new appreciation for geckos.
If You Go
Guests of Canadian Mountain Holidays Summer Adventures at the Bobbie Burns Lodge can now choose to tackle the Conrad Glacier Experience as part of any two, three or four-day High-Flying Adventure trip from July through September. No mountaineering or high alpine hiking experience is required, although participants should be reasonably fit.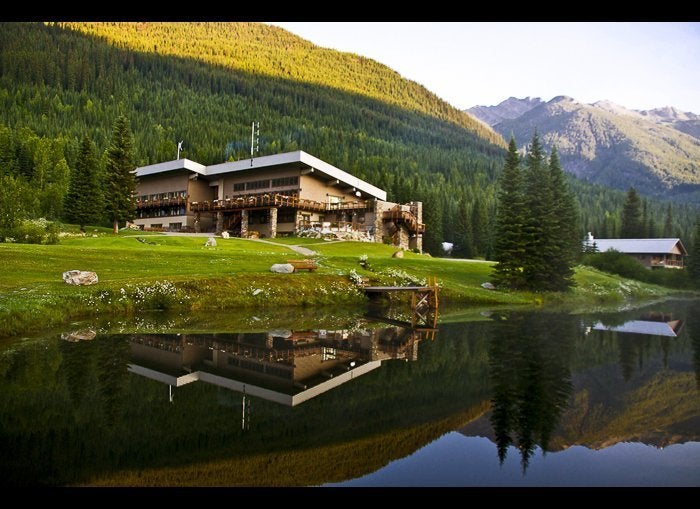 Canadian Mountain Holidays' Conrad Glacier Experience