This is Patricia, a paralyzed pig who lives at the Spanish animal sanctuary, Santuraio Gaia.
Born on a factory farm, it was Patricia's mother (who like millions of other pig mamas was trapped inside a cruel gestation crate) who fell on top of Patricia, accidentally paralyzing her own piglet.
The farm wanted to kill the baby, though fortunately Santuraio Gaia stepped up to give the 25-day old youngster a loving happy home.
Take a look at just How Happy:

I think I've watched this video a hundred times already - as have over half-a-million people.
Watch it to see how love between species should truly exist as well as the range of joyful emotions and intelligence pigs have.
And when you're having a bad day, look at this video. When you hear of horrible animal abuse, look at this video and remind yourself that we humans can all be like this gentleman who respects animals as they should be respected.
Here is a picture of her as a wee-one in her spify wheels... and a page where you can read more about Patricia, who interestingly is an hermaphrodite...
You can also donate to her - and the other animal's -- care.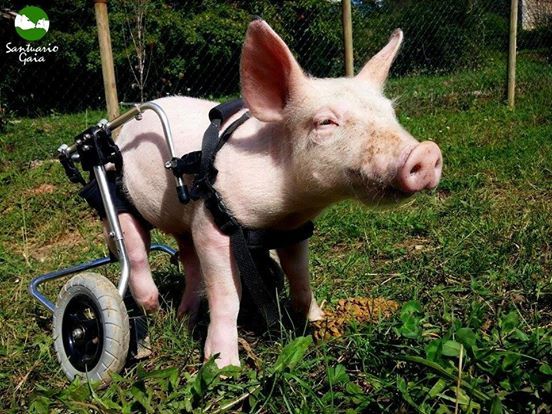 REAL LIFE. REAL NEWS. REAL VOICES.
Help us tell more of the stories that matter from voices that too often remain unheard.