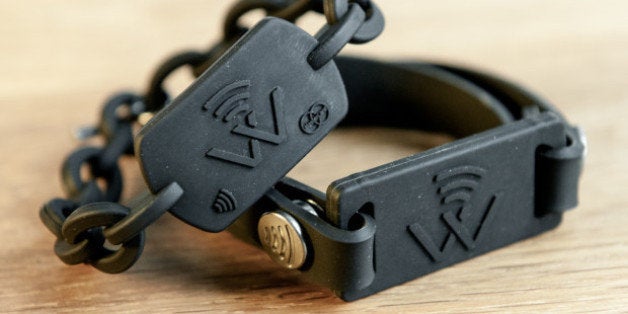 It's easier than ever to pay for things. There's Apple Pay, Google Wallet, PayPal, Square, Venmo and a litany of other tools that all basically do the same thing: Take dollars from your bank account and give them to someone else.
But how would you feel about a bracelet that could pay for things and give to charity at the same time?
That's PureWrist in a nutshell. It's a wristband that contains near-field communication technology that syncs up to a special debit card, allowing you to tap the bracelet at compatible vendors to make purchases. This is basically the same idea behind things like Apple Pay, and plenty of stores already accept MasterCard Contactless, the technology PureWrist will use. Hey, that's even easier than pulling your iPhone out of your pocket to pay with Touch ID -- and profits generated by the device via fees from retailers will go to a good cause.
"Watches and accessories have meaning," Ari Gardiner, a PureWrist co-founder, told The Huffington Post. "Why can't bracelets be enhanced and used to do something?"
That very question is one that the biggest tech companies are grappling with today. If you're going to wear something on your wrist, why not wear an Apple Watch that can call you an Uber, or an Android Wear device that can send text messages? But PureWrist is several orders of magnitude simpler. The founders compare it to the Livestrong bracelet, those rubbery yellow bands you may have worn before organization head Lance Armstrong was nailed in a massive doping scandal.
"Lance evaporated and no one picked up on that advocacy," Eric Gardiner, PureWrist co-founder and Ari's father, told HuffPost.
The PureWrist is light, fairly unobtrusive and gives part of its profits directly to the The Leukemia & Lymphoma Society. The senior Gardiner is a three-time leukemia survivor, which is a large part of what motivated the founders to parter with that organization. Later this year, users will be able to select the charity they give to, his son said.
Each time you use a device like the PureWrist, money changes hands behind the scenes. Basically, you may go to the drug store and pay $5.99 for a toothbrush, but the store isn't getting every penny. PureWrist will get a cut, 20 percent of which will go to charity.
Of course, it's worth mentioning that PureWrist isn't the only payment service that has a charitable component. Venmo has allowed users to give to select charities using its platform, and PayPal, in partnership with eBay, has also offered a similar program. But admittedly, none are quite as convenient as tapping your wrist to buy something.
To the Gardiners, PureWrist solves a major problem nonprofits face: continuous revenue. Ideally, anyone who has PureWrist will use it all the time, which means charities could accrue many small donations over a large span of time.
That all sounds great, but there's a minor catch: The PureWrist requires a monthly fee. In order to use the bracelet, you have to get a special debit card called the Gratitude card, which requires a $4.99-per-month subscription, 20 percent of which goes to charity. More on that here.
PureWrist recently reached its $10,000 funding goal on Indiegogo, and the devices are scheduled to be delivered in September. "Early bird" funders can get the band for $30, which will sell later for $40. The crowdfunding campaign has less than two days left, in case you want to get in on the ground floor. You can search for participating vendors here.
Calling all HuffPost superfans!
Sign up for membership to become a founding member and help shape HuffPost's next chapter