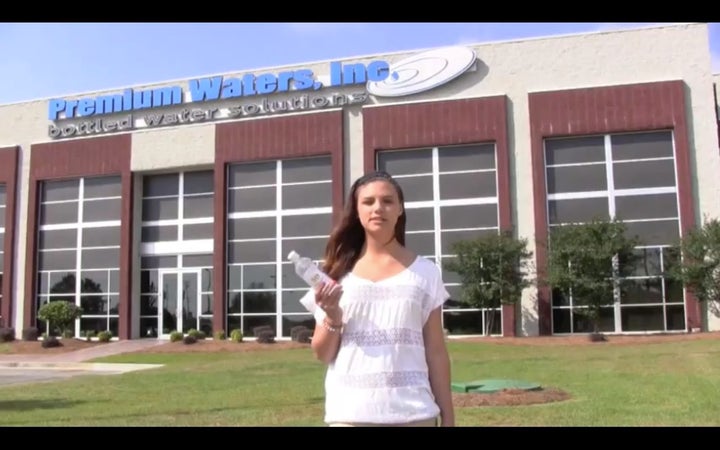 The International Bottled Water Association on Wednesday took on what it described as a "a myth repeated by some anti-bottled water activists that bottled water which comes from municipal water sources is just tap water in a bottle."
At least one group opposed to bottled water, however, shrugged at the public-relations gambit, suggesting that no matter how much processing is involved, bottled water is, on its face, an unnecessary product.
The young woman -- who independently approached the organization as a fan of bottled water, according to IBWA spokesman Tom Lauria, and who has been paid a small stipend for her efforts -- takes viewers on a guided tour of a plant belonging to Premium Waters, Inc. in Douglas, Ga.
"The real story here is how much work it takes to turn municipal tap water into a food product that can legally be labeled 'purified water,'" Lauria said. "What you're seeing is a huge effort at compliance with federal regulation."
Bottled water comes from a variety of sources, including springs, artesian wells, and yes, municipal water sources -- that is to say, from the tap. But according to the video, it's a long road from tap water to purified water -- a road involving several stages of filtering, reverse osmosis, ultra-violet light purification and other processing and testing before the product is ready for market.
"Some people insist that bottled water that comes from public water systems is just the same as tap water in a bottle. They make it seem like it just comes from a hose, but that's not true," explains the young video hostess, whose identity is not revealed, Lauria said, in deference to a request from her parents. "The process of producing bottled water using a public water system, is more complicated than people realize. The final product is quite different from regular tap water."
WATCH:
Whether being different means that purified water is better than tap water is an open question, and one that has repeatedly been raised by environmental groups. They say that -- even setting aside the environmental footprint of millions of unnecessary plastic bottles going to landfills, or into waterways, or along sides of roads -- regulation of the bottled water industry remains woefully inadequate.
The Food and Drug Administration regulates bottled water, while the Environmental Protection Agency monitors public drinking water.
"I think this is just another example of them feeling the need to respond to some of the consumer backlash against the bottled water industry," said Emily Wurth, director of the water program at the group Food & Water Watch. "They're not really dispelling too many myths."
"FDA's bottled water standard of quality regulations generally mirror the Environmental Protection Agency's (EPA) national primary drinking water regulations," the GAO noted. But the "FDA's regulation of bottled water, particularly when compared with EPA's regulation of tap water, reveal key differences in the agencies' statutory authorities. Of particular note, FDA does not have the specific statutory authority to require bottlers to use certified laboratories for water quality tests or to report test results, even if violations of the standards are found."
"Among GAO's other findings, the state requirements to safeguard bottled water often exceed FDA's, but still are often less comprehensive than state requirements to safeguard tap water," the report said. "FDA and state bottled water labeling requirements are similar to labeling requirements for other foods, but the information provided to consumers is less than what EPA requires of public water systems under the Safe Drinking Water Act."
A report compiled by the Environmental Working Group in January was the latest to assess the transparency of bottled water makers on the sourcing, processing and purity testing of their products. In that analysis, the group found that 18 percent of brands do not reveal the geographic source of their water. Another 32 percent offer no information on purity tests, EWG found, while 13 percent "publish 'water quality' reports that lack any actual testing results."
The International Bottled Water Association responded to that report in detail, asserting among other things that the characterization of tap water being more tightly regulated than bottled water was false. The group noted that the GAO found that "no evidence that bottled water caused any illnesses during the previous five years."
Still, Wurth said the solution is to make sure that doesn't happen, rather than create a market for disposable bottles of water. "The way we see it, we should be putting our efforts into protecting our water sources," Wurth added, "so people aren't in a position where the feel they have to use bottled water."
Echoing the GAO report, Wurth also noted that 75 percent of water bottles produced U.S. are still discarded rather than recycled. And while those bottles represent less than 1 percent of the total municipal waste stream, according to government data, producing bottled water is far more energy intensive.
A ballot initiative in Concord, Mass., that would have made that city the first to issue a blanket ban on bottled water sales was narrowly defeated in April, although voters approved an educational initiative aimed at curbing bottled water use. The IBWA had threatened to sue if such a measure had passed.
Last month, the trade group reported that consumption of bottled water was up 3.5 percent in 2010, after two consecutive years of decline attributed to "poor economic conditions."
Total bottled water consumption hit 8.75 billion gallons last year, up from 8.45 billion gallons in 2009, while per-capita consumption increased 2.6 percent in 2010, according to the IBWA. That amounts, on average, to every person in America guzzling about 28.3 gallons of bottled water last year.
Related
Popular in the Community