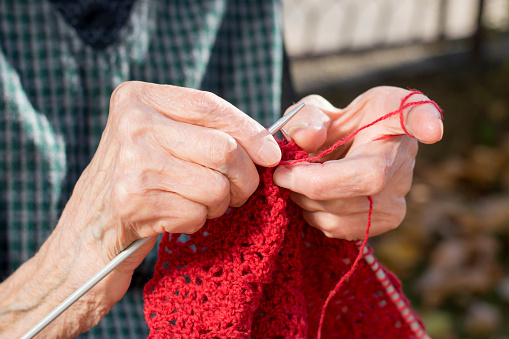 On Dec. 4, millions of TV viewers got a glimpse of an up-and-coming purse company with a unique business model -- the bags are all hand-knit by residents in an assisted living community.
San Francisco Bay Area entrepreneur Sarah Oliver pitched her one-of-a-kind business idea on an episode of ABC's Shark Tank. During the appearance, she got a $250,000 investment in her company, Sarah Oliver Handbags.
But it's the 15 pairs of seasoned hands behind the chic bags that have earned much of the spotlight. A group of residents at The Redwoods retirement home in Mill Valley, CA have been meeting weekly for about 10 years to help knit the purses.
Called the "Purlettes+2" (the +2 represents the group's two male members), the knitting circle of 70- to 100-year-olds knits shells of the bags based on Oliver's designs. Each purse is decorated with a brooch and includes a card with information about the person who made it. The bags are sold online and in numerous brick and mortar stores nationwide. The knitters are paid per stitch for their handiwork.
But Hector Richards, the first male member of the Purlettes, says he's not in it for the money. He donates all of his earnings from the business to The Redwoods' annual college scholarships for local high school students. Since joining the group, Richards' work has yielded $10,000 in scholarships.
"It's very rewarding for me," says Richards, who learned to knit in middle school.
Plus, the prostate cancer survivor says knitting has a unique calming effect, calling it "my meditation."
Richards and his fellow Purlettes meet weekly to receive new bag designs from Oliver and to knit. When the group isn't knitting together, they knit while watching TV or listening to music. Sometimes, members sit down together somewhere on The Redwoods' campus to knit, chatting as they go.
Over the years, the Purlettes have formed something of a family within the larger Redwoods community, not just among themselves but with Oliver and her children, who sometimes come to help out with the business, Richards says. That closeness has made seeing Oliver's success that much more exciting.
"We're all over the moon because we never thought the business was going to grow the way it has," Richards says. Seeing their story told on national television was something the group never expected.
"It's wonderful," Richards says. "I've been emailing all my friends telling them to watch."
Though Shark Tank raised their profile, the Purlettes aren't the only retirement community residents to make knitting sessions a regular part of their routine.
On the opposite end of the Bay Area, a group of knitters dubbed the "Busy Bees" also meets weekly to knit with fellow residents in their senior living community, Merrill Gardens at Campbell.
Group leader Trilma Lehman, 88, has literally had her hands full this holiday season helping to knit hundreds of scarves and caps. The Busy Bees donate their comfy knits to local veterans suffering from Post Traumatic Stress Disorder and to newborns and cancer patients, Lehman says.
The 20 or so Busy Bees range in age from the late 70s to 102 years old, with varying levels of mobility. For many in the group, it's an important form of physical therapy, and a chance to socialize, says Lehman.
"We bring our knitting down to the (community) bistro and we'll all sit around and have coffee," she says. "We have a lot of fun."
Turns out, do-gooder senior knitters aren't unique to the U.S. In Australia, a 109-year-old senior living resident spends his spare time knitting sweaters for penguins rescued from an oil spill. In Scotland, a 104-year-old woman and her group of fellow senior knitters -- the "Souter Stormers" -- recently created unique outdoor art installations from their homespun creations in several Scottish towns.
Aside from the good they're doing in their surrounding communities, knitting is an excellent source of mental, physical and social stimulation for seniors, says Barbara Solomon, The Redwoods CEO.
"It's about dexterity and keeping your fingers moving as well as your arms, so it's actually a form of exercise," Solomon says. "It's like bridge or chess, or any of those activities where you're concentrating and remembering, so there's mental stimulation."
"And then there's the socialization that happens," she says. "It gives them opportunities to participate in different ways, to be mentally stimulated and physically active and get out of their apartments -- and it's a feeling of being very useful."
Research bears out the importance of activities like these for seniors.
A 2011 Rush University study revealed that more socially active older adults suffer from fewer cognitive declines than their more isolated peers and are less likely to develop dementia.
Luckily for today's senior living residents, most communities aren't skimping on social activities.
During an average week at a typical senior living community in the U.S., residents might participate in organized Tai Chi, bingo games, or a community movie night. Some communities, like The Redwoods, get even more creative with activities such as "Rock the Ages," which brings residents together to perform hits from the 50s and 60s.
For assisted living residents like Lehman, these activities are a way to stay active while sharing special talents with their neighbors and friends.
"We have to do something other than just sit," she says. "You've got to be involved."
REAL LIFE. REAL NEWS. REAL VOICES.
Help us tell more of the stories that matter from voices that too often remain unheard.