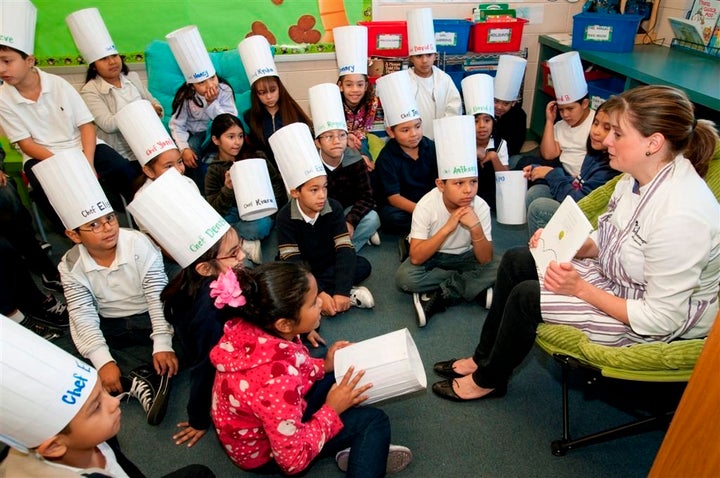 Six years ago, Melissa Graham was at a crossroads. She had made partner at McDermott Will and Emery, but to get to the next level of partner would require an enormous time commitment at the office. Meanwhile, she'd just had a son.
So she sat down with her husband, also a lawyer at McDermott, and, as she recollected in an interview, "I said to him, okay, well where do we go from here?"
The answer Graham settled on was following her lifelong passion for food. She started a catering company, and at the same time launched a program to introduce families and children to the pleasures of the table. "Slow food for families," is how she described it.
Now, that humble organization, Purple Asparagus -- of which Graham is the "head spear" -- is working in 17 Chicago schools and counting, teaching children in mostly underserved communities from Rogers Park to South Chicago about the pleasures of seasonal fruits and vegetables.
And on Tuesday, the nonprofit was honored with one of the Chicago Tribune's 2011 Good Eating Awards, which go out to "people in the Chicago food and beverage worlds who have made a difference through their passion, vision and commitment to quality." Other honorees included Mayor Daley, Chicago Chinese Cultural Institute President Z.J. Tong and Quentin Love of the restaurant chain Quench.
Graham described to Huffington Post Chicago the marquee program of Purple Asparagus, the Delicious Nutritious Adventure, a monthly hour-long program she brings to various schools. "We always start out with a tasting," she said. "We select a seasonal vegetable or fruit -- in September we'll do tomatoes, in October we do apples, November it's squash -- and we bring in a whole different variety of these things. If we bring in apples, we bring in 10 kinds; if we bring in citrus, we bring everything from navel orange to kumquat."
They don't force kids to eat everything, but they do ask that everyone tries at least one bite of each sample. And if you don't like it, you have to explain why not. "We don't want them just saying, 'eww!'" Graham said -- instead, it's an exercise in self-expression and helps build a new vocabulary around food.
After the tastings, which run up to half an hour as teachers explain the history and nutritional value of the foods kids are trying, students participate in a couple of short, hands-on cooking projects. One example she described was a "pear squared" salad: pear tomatoes with pears and an Indian yogurt dressing. "We give them the ingredients, and they make a big mess," Graham said, laughing. "But there's a lot of teamwork, there's mathematics, getting kids excited about trying new things."
Graham's catering company has all but fallen by the wayside as she devotes her attention to growing Purple Asparagus. And growing it is: on the heels of the Tribune award, four more schools contacted the organization about bringing programming in.
Demand is high, Graham said, but the one area they're short in is resources. She encouraged any and all who were excited about the project to consider volunteering, be it just for an hour or to teach a class. "We have volunteer educators, they don't have to be chefs or have a culinary background, we train all of our volunteers. It's just about being enthusiastic, loving good food, and getting the kids engaged."
Popular in the Community