You may have heard of blue lobsters, but how about purple crabs? Four new species of the colorful crustaceans were discovered in the hilly Philippine island of Palawan, according to a study published in the journal Raffles Bulletin of Zoology.
Why purple? "It is known that crabs can discriminate colors," said study author Dr. Hendrik Freitag of the Senckenberg Natural History Collections in Dresden, according to Phys.org. "Therefore, it seems likely that the coloration has a signal function for the social behavior, e.g. mating."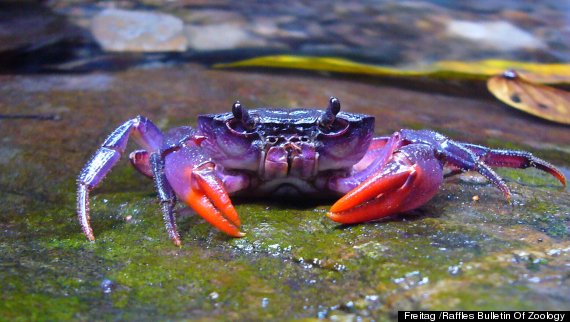 The Insulamon palawanense, pictured above, is one of the new species, all of which are in the same genus and all of which appear to be confined to rivers and streams on a particular inland region of the 5,600-square-mile island.
Palawan, located between the Philippines and the Sundaland region that includes Malaysia, Borneo and Sumatra, "combines two of the world's most important biodiversity hotspots," according to a written statement released by Senckenberg.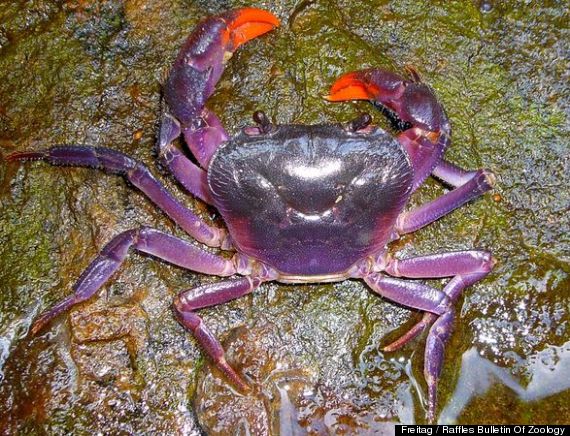 Given all the variety of species in the area, it's no surprise that the crabs have taken this long to be studied; the largest specimen's shell is only 53 millimeters wide--about two inches.
But compared these other species, the Insulamon crabs have it especially tough. The crabs can't survive in salt water, and so won't be able to migrate to adjacent islands without human intervention, according to the Senckenberg statement.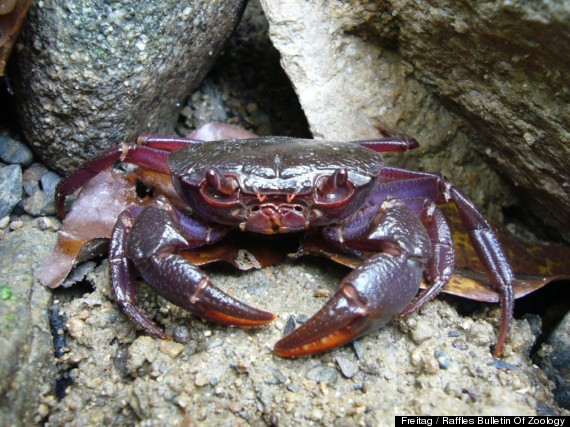 Insulamon magnum, another species described in Freitag's study.
Palawan's biodiversity has been threatened in recent years by destruction of habitats. The island's rocky southern reaches are one of China's main sources of nickel, a metal used heavily in technology manufacturing, and Al Jazeera reported in March on the mining initiatives that have threatened the region's fragile soil. Palawan animal and plant life depend on precise environmental conditions, and Freitag said that "Even minor environmental changes can lead to extinctions."
Calling all HuffPost superfans!
Sign up for membership to become a founding member and help shape HuffPost's next chapter
BEFORE YOU GO
PHOTO GALLERY
World's Most Extreme Animals