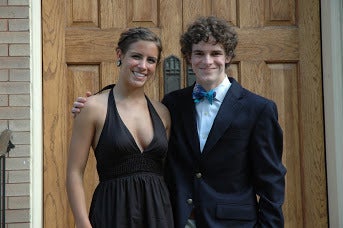 What do you do when eight years have past since an event that changed your life forever? don't know if I was ever fully able to grieve the loss of my friend Abbey because I was busy being a pastoral presence for others. I'm taking consolation this year in an obscure verse from Joel that I first heard the great preacher Sam Wells preach from years ago. The prophet Joel in the second chapter of the book says,
I will restore for the years that the swarming locust has eaten, the hopper, the destroyer, and the cutter, my great army, which I sent against you. You shall eat in plenty and be satisfied, and praise the name of the Lord your God, who has dealt wondrously with you. And my people shall never again be put to shame. You shall know that I am in the midst of Israel, and that I, the Lord, am your God and there is no other. And my people shall never again be put to shame.
This past month, on a beautiful September eve in my hometown, I officiated the wedding of my late friend's sister, Anna, and the love of her life Zach. God was in the process of restoring the years. We ate, we danced, we celebrated, and we remembered. Though we could never fully resurrect in this life that person we loved so dearly, we could restore and redeem the situation through our livelihoods and the gift we've been given to stay on this earth and live out Abbey's legacy.
Life is a struggle, that much is certain. But the saints remind us that "we feebly struggle and they in glory shine." (to borrow from the great hymn) and that is the greatest hope we have. I've learned so much since Abbey left this world for the hereafter and there is so much I wish I could tell her. But the hope of the resurrection is one day I will be able to tell her these things. She'll hear of Stephanie, my wife, she'll hear of the debacle and drama I've found myself in. She will laugh at the things that we used to laugh at.
I pulled down my yearbook from the year before Abbey died the other day, and scribbled in iconic purple ink were these words, "Roberto, let me just tell you I have no idea what I would have done without you this year! I mean who would I have to pick on, and who would pick on me? I'm so glad we've gotten to know each other, these next few years will be great, but it's only the beginning of something crazy, I love you, Abbey."
I don't know if a young 16-year-old named Abbey knew that our friendship and her death would change my ministry in my hometown forever, I don't think it was that obvious to anyone. But God has restored the years that the locust has taken away. And I stand as a testament to the awesome grace of God because of saints now gone from our sight like Abbey.
So this week, the week of the anniversary of her death I am remembering her… I am not letting go. I know it may seem odd to cultivate a moment that was 8 years ago on a fateful Halloween but I know that in the end all we have are the stories and events that transpired in our lives. We offer them to God in the hopes that they will be transformed into something restorative.
I will never understand these things, I will never understand why a bad thing could happen to such a beautiful person, but in the end, I will remember this week and the anniversary of her death for as long as I have breath in my lungs and a pulse in my body. That is one of my gifts to this world and I refuse to let it be forgotten.
Rest well Abbey, and rise in glory.