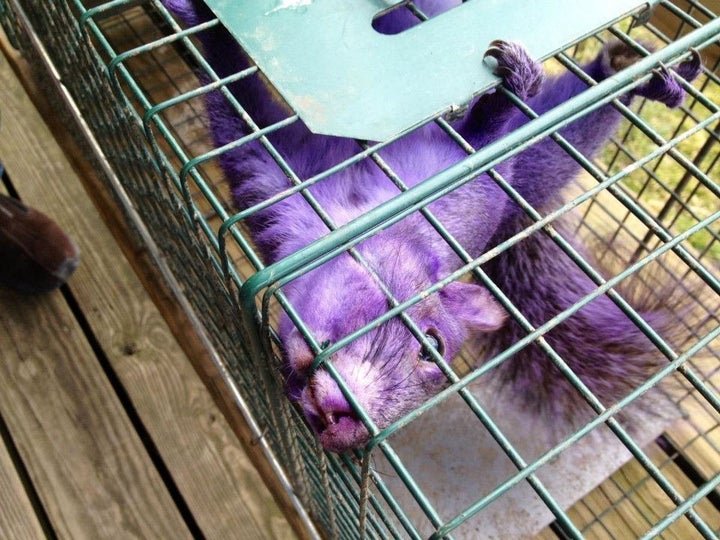 Jersey Shore residents Percy and Connie Elmert found the squirrel in a humane animal trap they had set in their backyard to catch the pesky critters. Percy would later release the squirrels far from the house so they wouldn't return to the property and get into the birdfeeders.
"I kept telling my husband I saw a purple one out in the yard. 'Oh sure you did' he kept telling me," Connie Emert told Accuweather.com. "Well, he checked the trap around noon on Sunday and sure enough, there it was."
After keeping the squirrel around for a few days so neighbors could take a look at the strange creature -- who now has accounts on Twitter and Facebook -- Percy Elmert released the squirrel back into the wild Tuesday night.
But the squirrel's uniform color would seem to rule out the paint theory. Krish Pillai, a professor at Lock Haven University of Pennsylvania, commented on Accuweather.com that the squirrel's color should not be taken lightly:
This is not good at all. That color looks very much like Tyrian purple. It is a natural organobromide compound seen in molluscs and rarely found in land animals. The squirrel has too much bromide in its system possibly from all the bromide laced frack water it's been drinking. I would raise the alarm. This could mean bladder cancer for humans down the road.
Bromine is found naturally in seawater and is mostly harmless by itself, Matt Fair explained in the New Jersey Times. But when combined with chemicals like chlorine, it can form dangerous compounds called brominated trihalomethanes, which studies have linked to cancer and birth defects.
Unfortunately, high levels of chlorine and bromine have been recorded in drilling wastewater created by hydraulic fracking, which is practiced throughout Pennsylvania, according to the Scranton Times Tribune.
In Pittsburgh, about 200 miles from the city where the purple squirrel was found, high trihalomethane levels are already a problem.
"Suffice it to say, [trihalomethanes] cause cancer and (can cause genetic mutation)," Conrad Volz, director of the Center for Health, Environments, and Community at the University of Pittsburgh, told the New Jersey Times. "We have a problem here in Pittsburgh already that the trihalomethane level in finished drinking water is now about ready to go ... higher than the drinking water standards. That's been happening in many areas of western Pennsylvania."

Related
Popular in the Community