Purpose driven businesses bring a focus to their projects that fosters collaboration, innovation and inspiration. No industry shows this more clearly than construction, where complex projects require all three qualities across multiple disciplines. Shared goals are essential to sculpt not only the structural "bones" of a building—its skeleton and skin—but to give it heart.
A project's purpose is key in construction industry building partnerships; it fuses corporate cultures and drives innovation and inspiration. A clearly articulated purpose motivates teams to address creative and technical challenges and develop groundbreaking solutions. These inventive solutions breathe life into buildings, bringing occupants closer and inspiring them to embrace the notable goals that match their surroundings.
The drive to innovate across sectors makes a clear case for the importance of purpose. Columbia Business School research from 2016 finds companies with a clear mission achieve superior profit and stock performance. And a 2015 Harvard Business Review survey finds that companies with a clear purpose were more likely to grow at a pace of 10 percent or more. Executives of purpose driven businesses found a clear link between their mission and their ability to transform and innovate.
Collaborative projects such as the Broad Art Museum in Los Angeles and the National Museum of African American History and Culture (NMAAHC) in Washington, D.C. show how purpose driven companies can reach beyond a building's physical confines and touch the soul. The Washington Post noted that the Broad's purpose driven building design allows "the mind to rebirth itself into a state of greater focus and spiritual expectation," while the Wall Street Journal remarked on the NMAAHC's palpable "spirit of inclusion, celebration and even spiritual uplift."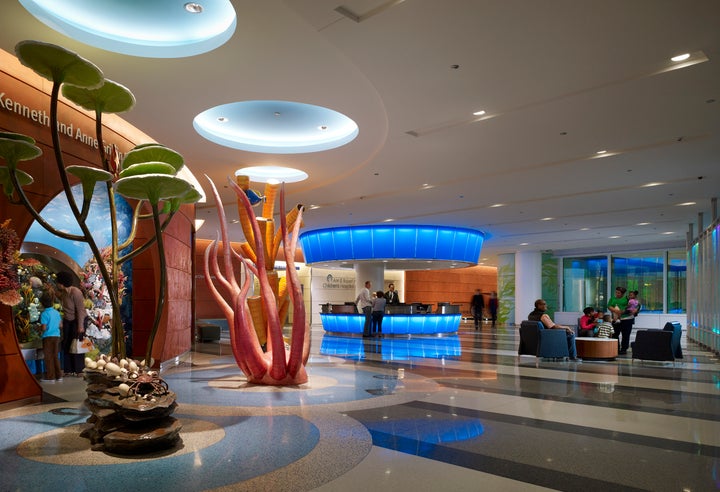 Part of the marvel of these public places is how they come together. Many hands work as one to create purpose driven buildings. The Broad and NMAAHC both required coordination between multiple design and construction firms, plus a diverse range of consultants and federal and local agencies.
Similarly, our companies—Power Construction and Mortenson—have collaborated with peers to erect major public buildings; this experience offers special insight into complex projects that are designed for a higher purpose. We have found that four elements are essential to construct a purpose driven building that both tells a story and lifts the spirit:
Purpose driven construction starts with a clear design vision that communicates a project's mission and unifies the many professionals involved.
At Chicago's Lurie Children's Hospital, designed by ZGF Architects and built as a joint venture between Power and Mortenson, evidence-based hospital design helped unify team members' goals to create a structure dedicated to family-centered care. This approach also yielded practical and pioneering results, from a cardiac-care unit that can be adapted to patients' conditions to the sunlit Crown Sky Garden, which transforms a towering atrium into a landscaped playground.
At 23 stories, Lurie is the tallest children's hospital in the world. Yet despite its scale, it puts children and their families immediately at ease. Its soaring spaces inspire rather than intimidate because they spring from the hospital's caring mission. The design, expresses a very human sensitivity during an anxious time for patients and their families, and establishes an energy that promotes healing.
Public places build community in both the building and its surroundings. A purpose-driven project taps into a building's ability to inspire both visitors and passers-by, create vibrant community spaces inside and out and anchor further development.
With multiple performance and exhibit spaces that make multiple presentations in myriad media possible at once and widely accessible, the Walt Disney Concert Hall made the community central to its mission. Pritzker Prize-winning architect Frank Gehry called his design "a living room for the city."
High profile urban projects like this are opportunities to engage communities in both the short and long terms. As part of construction, Mortenson managed a series of outreach events and public forums to build business interest in the project and fulfill significant workforce diversity goals. Since opening, Disney Concert Hall has attracted new residents and businesses to the area, including a high-rise residential tower and The Broad museum. All have brought new energy to downtown L.A.
Problem-solving Technology
Inspired by emerging 3D prototyping technologies in the manufacturing and aerospace industries, virtual design and construction tools and building information modeling introduced a new era for the construction industry.
At Lurie's, virtual design and construction enabled partners to work directly with models rather than rely on traditional shop drawings. It allowed the entire team to be in sync and enabled us to run clash detection tests on a work in progress, heading off potential issues at a potentially sensitive early stage.
At the Walt Disney Concert Hall, software tools first built for the Mirage fighter jet were used to break down Gehry's undulating surfaces into smooth stone and metal panels and generate hand-cutting and machine-tooling instructions to fabricate them efficiently. And constructing the concert hall's signature ceiling, with acoustical clouds that billow like a ship's sails, could have required scaffolding that would rival a Renaissance cathedral. Instead, computer-aided design re-imagined the ceiling as 80 acoustically engineered paneling units, simplifying assembly, cutting the production schedule by six months and saving $2 million in construction costs.
A Culture of Collaboration
Complex joint ventures often require teams from different companies and multiple disciplines to collaborate as one construction crew. The cultures of these diverse partners merge into a workable structure that aligns the interests of a wide range of specialists, and guides the management of contingencies and risks. Ultimately, a superior outcome is achieved through leveraging individual strengths across the project team to reach a unified goal.
The design and construction teams on Lurie were in the vanguard when they collaborated on a BIM Protocol Manual. As they modeled building systems interfaces and organized an integrated work plan, all design, construction management and contractor partners used this reference to gain a broad understanding of the vision and challenges of building a 1.25 million square foot hospital in a constrained urban environment. The result was an exceptionally well-planned and coordinated installation that anticipated future expansion and maintenance, while supporting ongoing cost-effective building operations.
Museums and hospitals aren't the only public buildings designed to serve and nurture a community. Airports, government buildings, sports facilities, schools, college campuses and even shopping malls should be purpose-driven places, built to start conversations with neighbors and visitors alike.
Purpose-driven construction resonates with visitors, workers and surroundings. But it takes a construction team with a clear vision, community focus, advanced technology and a collaborative spirit to work together to make a difference—and bring the shared sense of purpose in purpose-driven buildings to life.
Related
Popular in the Community