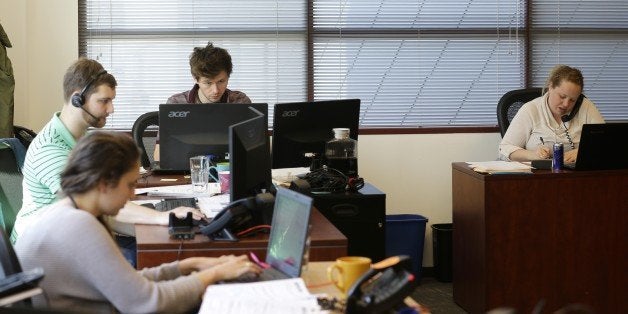 My 40-year goal is to create a world where values-based companies suck up all the oxygen and take over the economy. I don't mind if existing companies convert, but I want to send the ones that don't out of business.
You probably don't know of any corporations whose mission statements explicitly say they want to make as much money as possible at the sacrifice of others and the breakdown of society. But that is just what many businesses do.
It doesn't have to be this way. As Pope Francis put it during his September trip to the U.S.: "Harnessing the spirit of enterprise is an essential element of an economy which seeks to be modern, inclusive and sustainable... business is a noble vocation directed to producing the wealth and improving the world." In other words, when it comes to business, purpose is key.
We're all looking to be part of something bigger than ourselves. Purpose is something that rallies people in a way that profit never will. So how do you step up as a leader and power your business with purpose?
The secret is aligning your company's business model with your core values.
Identify Customers' Values as Well as Yours
In mapping out your company's values, the key is to not only think about your own personal standards, but also your clients'. In the case of my company, Gravity Payments, I spent several years talking with small business owners and trying to understand their pain points. Eventually, I noticed a common thread tying those conversations together: bad faith. Many small business owners felt they were being lied to as well as cheated and ripped off by people who promised better prices and service -- then didn't deliver. It made them skeptical of any business that offered them the world and, over time, it gave them the impression that my entire industry was shady.
They wanted honesty and transparency, and I wanted to change their perception of my sector. So I made honesty and transparency the foundation of my company. Eventually, that drew clients to us.
They were able to connect with us in a way they weren't able to with other payment processors. This focus on honesty and transparency continues to pay off: on average, we keep our customers five times longer than our competitors.
Seek Out the Best People Most Aligned With Your Mission
If your team isn't buying into your objectives, undoubtedly your clients will know. At Gravity, we hire for fit rather than experience. We want people with a strong sense of ownership, pride and responsibility, who go above and beyond and fix whatever needs to be. We want people who think like the business owners we serve.
To uncover these traits, we start with multi-hour interviews by different team members. As our potential hires tell their stories, we find out if they fit our culture, and if they're the kind of workers who will stay up late answering phone calls in their pajamas from merchants during emergencies, cancel dates to help a client whose terminals are down or drive out of their way to drop off receipt paper. We want to know if they're the kind of people who will bring our mission to life on a daily basis.
Find a Unique Way to Hold Yourselves Accountable
Historically, profit is the main -- and often the only -- scorecard for business. But if purpose is your goal, the quest for profit needs to be combined with some measure of how your team is living up to your company's values.
Ways to assess this include individual feedback sessions, weekly companywide surveys and annual team polls. At Gravity, we use TINYpulse, a service that allows each team member to provide anonymous feedback on how those in leadership positions are serving the company according to our values. It also helps us measure happiness and recognize employees who have gone above and beyond serving our clients.
One way I've been able to hold myself accountable is by incorporating a new wage structure at my company. The moment I found out I could afford to pay my employees a minimum annual salary of $70,000 was the moment I put my character to the ultimate test. Was I going to do what I said I believed in? I consulted with a few people, but ultimately knew it was a moral imperative. A few weeks later I made the announcement.
It's the best money I've ever spent. The move struck a chord with the media, prospective clients and potential new hires. Since then, we've received more than 10,000 resumes, had a dramatic increase in business, and have been a trending story in multiple social media platforms and publications.
We've grown tremendously over the past six months due to one simple action: holding ourselves accountable to our purpose. That has made all the difference in our success.
When I'm 70, I want to say I was part of completely reshaping the economy at a moment when it stopped being about making the most money possible and became about purpose, service and making a difference. It's not doing business as usual, but doing business better.