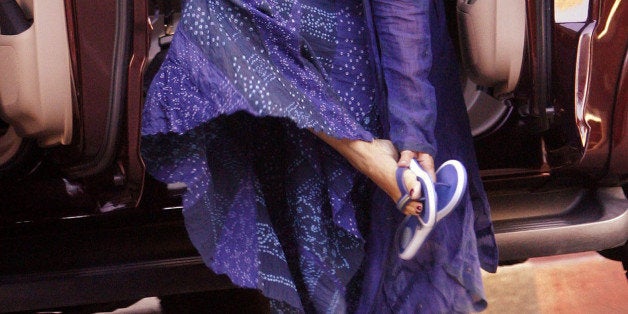 The only thing more annoying than wearing high heels is having to carry around a second pair of shoes to wear when the heels get to be too much. Cramming shoes in your bag makes it massive, heavy and overstuffed (not to mention a little filthy).
So we were pretty thrilled to stumble across SOLSAK bags, purses made with a special compartment for holding shoes. Genius. Georgina Agyekum, originally from Georgia, founded SOLSAK in summer of 2012 after moving from car-heavy Los Angeles to Washington D.C., a walking city. Like many other city gals, she soon discovered that her on-the-go life in the city was basically killing her feet. So she designed a handbag with a customized side shoe pocket, big enough for pumps or flats.
There are three SOLSAK styles, all inevitably on the larger side. But our fave is The Lombard, which is actually a structured oversized clutch -- yes, a clutch that fits your shoes.
Prices run from $350 to $485, which might sound steep. But for the knowlege we don't have to smush our shoes on top of our lunches, wallets and lipsticks in our already unwieldy bags, we might just consider ponying up -- if not for ourselves, than for our BFFs and sisters for the holidays. They'll love us forever.
These are probably less useful...