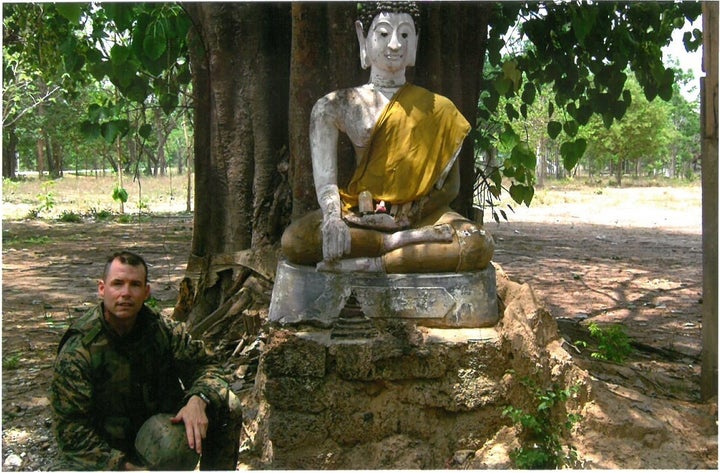 Contributed by Jean South of Hire Served
Sitting in the Wall Street office of a top US bank, Ted Studdard, Retired Marine Corps Colonel, found himself, as Marines like to say, on the horns of a dilemma. He was being offered a fantastic job. But something was wrong. It wasn't sitting right with him. With no backup plan in place, Studdard looked within and decided against this great opportunity. What his gut was telling him was that his values and life purpose didn't align to this organization and he couldn't put himself and his family through a life change he knew would take them in the wrong direction.
Enroute to the interview in NYC, Studdard stopped in Atlanta to meet with his mentor, who was a senior leader at The Home Depot. During the meeting, he saw something on the wall that caught his attention – The Home Depot Values.:
Excellent Customer Service
Taking Care of Our People
Building Strong Relationships
Respect for All People
Entrepreneurial Spirit
Doing the Right Thing
Giving Back
Creating Shareholder Value
The emphasis on people struck Studdard. It resonated with the ethos he'd learned in the Corps where leaders focused first on the success and well-being of their troops, last on their own needs. The posters on the wall were stuck in his mind and he needed to know if they were just words on paper or if the leadership at Home Depot truly practiced what the posters preached.
Through research, interviews, and conversations with employees, Studdard became more and more intrigued by the opportunities presented by a role at Home Depot. Throughout his application process, Studdard found what he'd been looking for: an organization whose values aligned with his own and whose leaders lived those values. Taking a job as a store co-manager and learning the nuts and bolts of the business from the sales floor, Studdard was given opportunities to mentor and be mentored. He has quickly transitioned into new roles with challenges he's excited to pursue.
The lesson Studdard learned is for all of us: your personal purpose and values must align with the organization you're working for or you will experience an internal conflict that drives hard decisions down the road. How do we protect ourselves against this internal conflict?
1. Self-Reflection to Find Your Life Purpose
Understanding your life purpose, what you were put here on this earth to do each day, what drives you to feel fulfilled, isn't just a "nice to have" for job satisfaction, it's a "must have." Purpose is the thing that wakes us up in the morning excited to get started on our work. That which drives us to excel. It's the thing which, if fulfilled can lead to joy and peace, but left unfulfilled can create dissatisfaction and frustration in all areas of our lives. In first understanding yourself, you can then begin to research and understand companies you are looking to join.
2. Research Every Opportunity for Purpose/Mission Alignment
Your life purpose and the company's mission statement don't need to match verbatim, but they do need to align. Your research to judge alignment should look like this:
Ask trusted advisors what companies they know of whose mission aligns with your life purpose (share that purpose with them). They may know of an organization you hadn't thought to explore that aligns perfectly with your values and purpose.
When deciding whether to apply at an organization, review its values and mission statement and ask yourself how those align with your purpose.
During the interview process, ask people internal to the organization (or those who have left) how well they live the words they display. Ask for anecdotes of when others have seen the values lived or seen the values drive decision-making.
When in doubt, listen to your gut. Our instincts tell us things our logical mind hasn't quite yet identified. When something doesn't feel right, don't fight through that feeling hoping it will go away. Instead, be mindful of that feeling and explore it. Perhaps in that exploration, you'll learn even more about yourself and what works for you.
Sometimes you'll need to take a position different from what you'd imagined for yourself in order to work for an organization to which you align. In Studdard's experience, that's ok. As your work fulfills your purpose, you'll find growth opportunities into positions you hadn't anticipated and as leaders in the organization notice how engaged you are each day, they'll look for ways to challenge and promote you to greater levels of responsibility. Bottom line - pursue purpose and you'll find success. Pursue success and you may or may not find purpose. Don't' take that chance.
_____________________________
Landmark Life Coaching's (www.landmarklifecoaching.com) Mission is to honorably and respectfully serve courageous groundbreakers and transitioning veterans to persevere in defining and executing their future by providing an atmosphere of comradery and trust that honors their dedication and commitment. This will empower our clients to feel whole, honored, respected and fulfilled in defining and living their life purpose.
Charlie Mike Podcast (www.charliemikepodcast.com) is where our Nations Combat Veteranpreneur's talk about how they transformed their combat experience into a groundbreaking entrepreneurial success. We will discuss their experience in relation to what I have defined as their VisualReality; their personal vision of building a successful business leveraging their combat experience to bring the core strengths of a combat veteran into the entrepreneurial realm.
Dwayne Paro - Veterans Coach/Podcaster/Blogger/Speaker
Popular in the Community