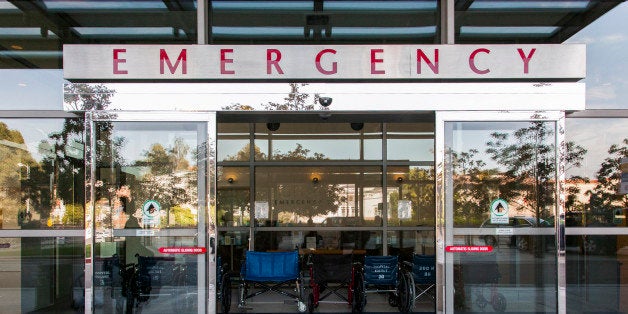 When you come to the hospital for medical help, you don't expect to leave in handcuffs.
But that's exactly what happened to Purvi Patel when she came to an Indiana emergency room seeking assistance in July 2013. Ms. Patel arrived at the emergency room with bleeding following a recent pregnancy, a situation many women may experience. She stated she had been pregnant, and had already disposed of the fetal remains. Ms. Patel's medical providers contacted law enforcement officers. She was then arrested on the charge of "neglect of a dependent." A month later, prosecution added the charge of feticide as well. On March 30, 2015, Ms. Patel received an unprecedented 20-year prison sentence for two implicitly contradictory charges -- feticide and neglect of a dependent. She remains incarcerated today.
On May 23, Ms. Patel's case came up for appeal. After a year of silence, the medical community needs to come to her defense, and ensure that such a series of events does not come to pass again. None of us can afford to stay silent when a woman is criminalized by her own providers for seeking urgent, necessary medical care in the setting of pregnancy.
One of the laws under which Ms. Patel was sentenced was a feticide law, which was passed with the intent to punish people who attack pregnant women. Historically, courts have been reluctant to extend these laws to apply to pregnant people themselves. That's just common sense. A pregnant woman's actions and decisions regarding her own pregnancy -- and therefore her own body -- are fundamentally distinct from the actions of a criminal seeking to do harm.
The decision to prosecute and convict Ms. Patel sends a clear message to women in Indiana and around the country: that hospitals are a place of judgment and suspicion, not refuge; that women's autonomy and physical wellbeing are not our system's first priorities; and that criminalization is an acceptable substitute for care.
That's a dangerous precedent. Medical experts including the American Congress of Obstetricians and Gynecologist agree that criminalizing patients in other contexts for the choices they have made about their pregnancies when constrained by illness or lack of access deters them from seeking necessary care, a major obstacle to ensuring better health outcomes for women and families.
Those who already experience a higher risk of being targeted for legal action as a result of immigration status, income level, or race are particularly hard hit by shifts toward criminalization. An analysis of more than 30 years of legal arguments for arrests of pregnant women found that low-income women and women of color were significantly more likely to be reported to state authorities by hospital staff, arrested, and charged. In Indiana alone, the only other woman in history to be penalized in a manner similar to Ms. Patel was Bei Bei Shuai, an Asian immigrant who was arrested while receiving psychiatric care for a suicide attempt that resulted in the loss of her pregnancy. Rhetoric against Asian American women has been rife in the state of Indiana and elsewhere, embedded, for instance, in rhetoric in support of sex-selective abortion bans.
As a physician, reproductive health researcher, and also as a South Asian woman, I am deeply disturbed by Purvi Patel's case. It is a great injustice that Ms. Patel has now spent a full year in prison. It is time to end the tragedy of her incarceration, and to use her case as incentive to bring about important and much-needed change.
My first hope is that the courts see that no one should be criminalized for seeking urgent and necessary medical care. The intent behind the laws we pass matters. The original intent of these laws, laws enacted by legislators that we have elected, should not be twisted to suit shifting political motivations. Nor should they be applied unevenly in ways that target and hurt the vulnerable.
Second, I hope that my own community of obstetrician-gynecologists and other providers of reproductive health care understand that our first responsibility is to the patient in front of us. Our personal beliefs and opinions simply have no place in the care, counseling, and recommendations we offer those who come to us in need.
When a bleeding woman visits an emergency room, I am trained to bear witness to her experiences with empathy, to assess the immediate danger present to her health, and to provide recommendations based on science and that patient's intentions and goals -- not my own personal beliefs. These moments occur in emergency rooms or on labor and delivery units, at all times of day. Patients may be scared or unsure, unstable or stable. Every person's circumstances and health situations are unique. My role is to provide quick, professional evaluation and support.
My final hope is that my patients know that I will always provide them with this non-judgmental, consistent, evidence-based, and confidential care, no matter their background. I will provide this care safely during the most critical and vulnerable moments in their lives. Decisions about reproductive care are best left to women and individuals, their families, and their medical providers. And we were never trained to heal with handcuffs.
Pooja Mehta, MD MSHP is a practicing OB/GYN and health policy researcher at Boston Medical Center and Boston University School of Medicine.
Popular in the Community