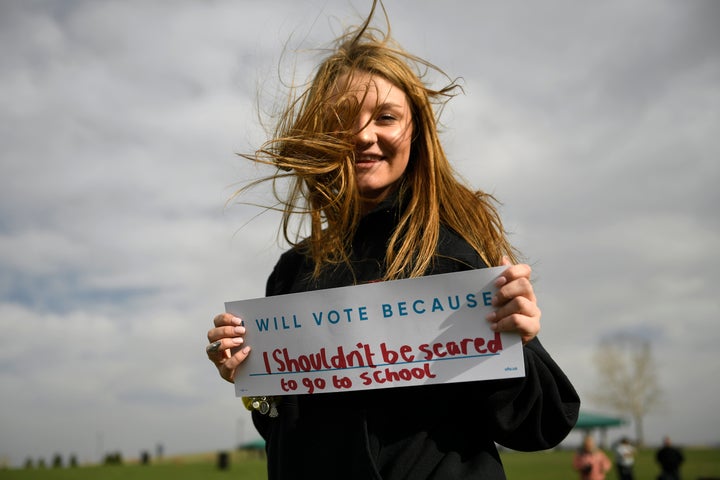 A push to register 50,000 high school students and recent graduates after the massacre in Parkland, Florida, is getting a digital shot in the arm, as the gun control and youth groups leading the charge partner with a progressive digital outfit.
ACRONYM, a progressive digital organization that helped power sky-high youth turnout in last year's Virginia gubernatorial election, is joining up with Our Lives, Our Vote in the effort to register 18- and 19-year old voters across 10 critical states. The partnership is set to be announced Friday.
The other major groups in Our Lives, Our Vote are the Tom Steyer-backed NextGen America; the gun control group led by former Democratic Rep. Gabby Giffords, the victim of an assassination attempt; and the Michael Bloomberg-backed Everytown for Gun Safety.
"Young people have grown up online and have grown up as their own brand marketers," said Tara McGowan, ACRONYM's CEO. "In order to reach them, we have to go where they are."
The effort, backed by $1.75 million, including at least $500,000 in digital spending, has already registered more than 27,000 voters. The groups are targeting 10 states with a mix of key congressional, Senate and gubernatorial races: Arizona, California, Colorado, Florida, Michigan, Minnesota, Nevada, Pennsylvania, Virginia and Wisconsin.
Past Democratic efforts to turn out young voters in off-year elections have been sporadic and half-hearted, and midterm electorates are typically heavy on retirees and voters over the age of 50. But Democratic strategists are cautiously optimistic students raised in an era of shocking gun violence will rush to the polls in November.
ACRONYM plans to roll out online voter registration tools – a majority of the states Our Lives, Our Vote is targeting allow online voter registration – and will target 18- and 19-year olds on their preferred online platforms: Snapchat, Instagram and Twitter. (The youths, it appears, do not use Facebook.)
The group will build up efforts leading to the final three days before the voter registration deadline in each state, when most new registrations occur. They'll also focus on empowering young activists with the tools to encourage their friends to register. The ultimate goal is to ensure students who have marched and spoken out about gun reform on social media are registered and ready to vote.
ACRONYM launched in March 2017, with a focus on building a new digital infrastructure for progressive groups and candidates. Its most prominent work so far came in last year's Virginia gubernatorial race, where its efforts to register new voters and motivate infrequent ones helped double youth turnout as Democrat Ralph Northam romped over Republican Ed Gillespie.
"Young Americans have taken to the streets and to the internet to call out inaction from their leaders who prioritize campaign contributions over children's safety," said Alexandra Farrington, the program manager for Our Lives, Our Vote, said in a statement. "ACRONYM will be a crucial partner in this program ― helping us translate the young voter energy we've seen online from tweets and posts to thousands of votes."
Our Lives, Our Vote grew out of the surge of activism around guns and school safety following the murder of 17 people at Marjory Stoneman Douglas High School on Valentine's Day. The group has already distributed $600,000 worth of grants to groups registering voters on the ground.
An analysis by the Democratic data firm TargetSmart found the registration rates for voters aged 18 to 29 has jumped by a little over two percentage points – a small but potentially significant increase. The increases were especially large in three states targeted by Our Lives Our Vote: Arizona, Florida and Virginia, all of which have House districts and Senate seats crucial to Democratic control of Congress.
"Young people can make a difference in a lot of really competitive races," McGowan said.
Popular in the Community