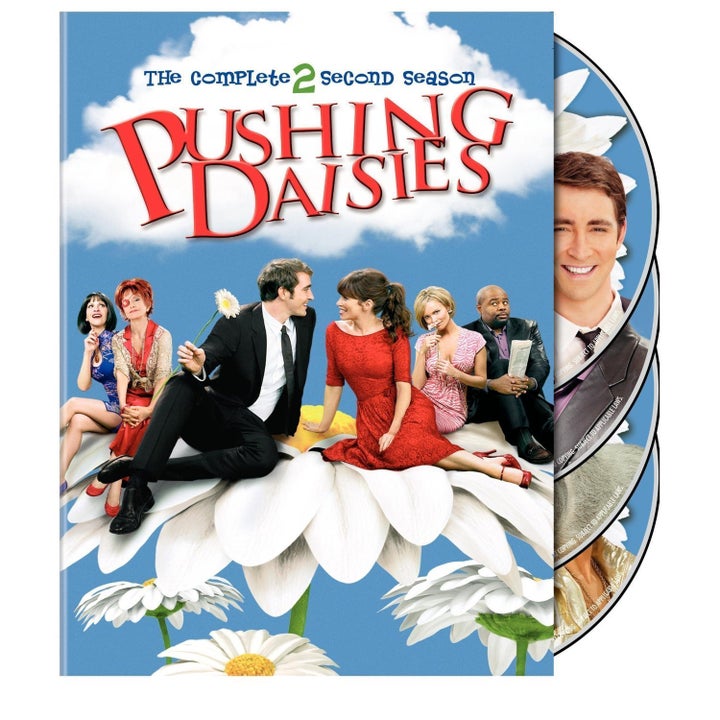 It looks like a "Pushing Daisies" movie could be next. In an interview with HitFix, "Mars" creator Rob Thomas said, "I did get an email from ['Pushing Daisies' creator] Bryan Fuller earlier today saying, 'Hey, can you jump on the phone with me at some point? I know you're busy, but I would love to talk to you about how this thing works.' And I know it was specifically for 'Pushing Daisies.'"
It looks like Fuller is really trying to make this happen for his late series that aired on ABC for two seasons from 2007-2009. "When I saw [the campaign] online, I said to my agent immediately, 'Can we do this with "Pushing Daisies" or "Wonderfalls"?' And he said, 'Pushing Daisies is going to take a lot more than $2 million to make into a movie,'" Fuller told The Hollywood Reporter. "For something like 'Pushing Daisies,' which is more elaborate visually and also would require extensive prosthetics and those sorts of complicating production elements, it's a little more daunting."
Nevertheless, Fuller told THR that "Veronica Mars'" success gives him some hope for a "Pushing Daisies" movie. "I never assumed it was a realistic option until Rob Thomas and Kristen Bell pulled it off," Fuller explained. "It's going to be easier to get in line behind 'Veronica Mars.' The question is whether that next show is going to be as well-suited to this process. I imagine that it's quite a bit of legwork and loopholes and legalities to navigate ... If I weren't in Toronto finishing up on 'Hannibal,' I'd be knocking on doors at Warner Brothers, asking, 'Is this a viable plan for "Pushing Daisies"?' "
Shawn Ryan, co-creator of the late "Last Resort" and "Terriers," tweeted the same sort of curiosity that the "Veronica Mars" movie spawned in Fuller.
"Veronica Mars," "Pushing Daisies" and "Terriers" all have cult followings, but none perhaps as robust as those of Joss Whedon's former series. The man behind "Buffy the Vampire Slayer," "Firefly," "Dollhouse" and more talked to BuzzFeed about the feat of the "Veronica Mars" movie.
"It was unfettered joy. A) I thought it was an awesome and ballsy move. B) I love V. Mars and want more of it. And C) It feels like a real game-changer. Like, not since Louis C.K. [selling his comedy special directly online]," Whedon told Buzzfeed. "My fourth feeling when I read about [the 'Veronica Mars' Kickstarter campaign] was a kind of dread. Because I realized the only thing that would be on everybody's mind right now. I've said repeatedly that I would love to make another movie with [the 'Firefly' cast], and that remains the case. It also remains the case that I'm booked up by Marvel for the next three years, and that I haven't even been able to get 'Dr. Horrible 2' off the ground because of that. So I don't even entertain the notion of entertaining the notion of doing this, and won't. Couple years from now, when Nathan [Fillion]'s no longer [on] 'Castle' and I'm no longer the Tom Hagen of the Marvel Universe and making a giant movie, we might look and see where the market is then. But right now, it's a complete non-Kickstarter for me."
Would you want to see a "Pushing Daisies" movie? What TV show would you next like to see get funding for a movie? Let us know in the comments!
PHOTO GALLERY
TV Reunions We Want To See
Calling all HuffPost superfans!
Sign up for membership to become a founding member and help shape HuffPost's next chapter
BEFORE YOU GO