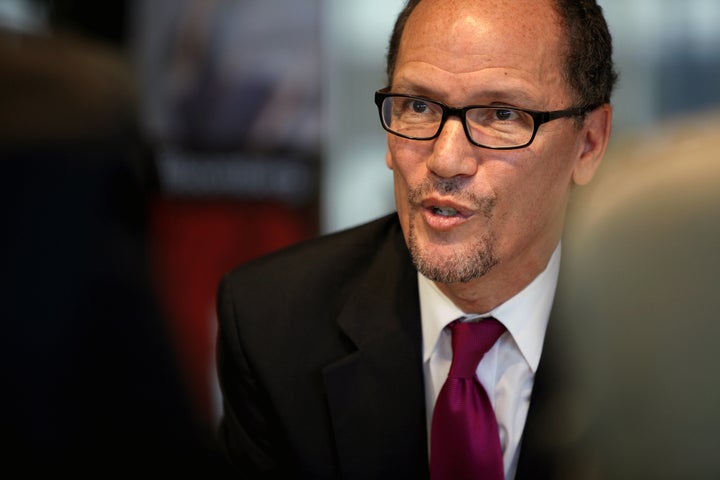 DETROIT -- After flying here from Baltimore on a late August afternoon, Labor Secretary Tom Perez hopped in a waiting SUV at the airport. He was headed to a Methodist church downtown, where he was set to meet with a dozen or so workers, all of whom make too little money to support their families without public assistance.
One by one, the workers rattled off their places of employment -- McDonald's, Wendy's, Checkers, Burger King, Dollar Tree -- and the meager wages they took home for their work. Almost invariably, the pay was $8.15 per hour, which was no coincidence; it's the minimum wage in the state of Michigan. Three of the workers ended up in tears as they spoke. One said she'd been evicted from her apartment two days earlier.
"Last night was the first night I've had to sleep in my car with my children," the woman, Alicia Roberson, told Perez, her voice breaking.
Perez told the workers he supported their cause, the union-backed Fight for 15 campaign, which is agitating for a $15 minimum wage and union recognition in the fast-food industry.
"You're talking about what the dignity of work is about," Perez told them. "The dignity of work means when you get a paycheck, you ought to be able to pay your bills … The dignity of work means when you go into the workplace, you're treated as a partner, not a fungible commodity."
After a photo op with the workers, Perez climbed back into the SUV.
"That's why you do house calls," he told The Huffington Post. "It just breaks your heart to hear this stuff. And unfortunately, this was not an unrepresentative sample."
Now in his third year at the helm of the Labor Department, Perez has been steadily barnstorming the country to stump for a higher minimum wage and laws guaranteeing paid leave, among other labor issues high on the Obama administration's list. He's traveled to more than 40 states as labor secretary and expects to hit the remaining ones in the coming months. 
Being a roving ambassador is typically part of a labor secretary's job, but Perez has embraced the role with particular gusto. Those around him say the Buffalo native feels unproductive if he sits still too long. Washington being a great place to feel useless these days, Perez prefers to hit the road, often fueled by Diet Coke, to meet with unions and business owners, and have one-on-one lunches with workers. The jaunt to Detroit marked his eighth visit to the Motor City during his tenure. It was part of a larger swing ahead of Labor Day that included stops in Nebraska, New Jersey, Missouri and Oregon.
We work on so many of the issues that people are talking about at night after the kids go to sleep.
"It's really informed my judgment about what we're doing," Perez, who previously served as head of the Justice Department's Civil Rights Division, said of the travel. "You can't sit within the bubble of the beltway and get a granular understanding of what ordinary, hard-working people and business owners are facing."
Labor secretary isn't among the more high-profile cabinet gigs, given the relatively few policy levers compared to, say, the secretary of state or treasury secretary. In another time, Perez's influence may have been relegated mostly to the bully pulpit, but over the past two years, the Labor Department has played an unusually central role in White House policy-making. Much of that is due to the gridlock over on Capitol Hill.
With Democrats unable to accomplish much in a GOP-controlled Congress, the White House has let loose a flurry of economic policies that it can enact unilaterally. Most of those rules and regulations have gone through Perez's agency. That includes a $10.10 minimum wage for federal contractors, new labor protections for home care workers, tighter regulations on 401(k)s, and, most notably, a more generous standard for who's eligible for overtime pay under federal law. In general, the measures have driven business lobbies batty.
There's plenty still to be done by his agency in order to please progressives. For instance, the Occupational Safety and Health Administration, which falls under the Labor Department, has proposed but not enacted a long-awaited, life-saving rule that would limit silica dust on worksites. The rule has been decades in the making, and its holdup has workplace safety advocates worried. But overall, the White House and Labor Department have become far more aggressive compared to the early days of the Obama administration.
"I think for a while they fell for the bait, 'Oh, you're regulating too much,'" Richard Trumka, president of the AFL-CIO union federation, told HuffPost. "Now they're starting to look at things and say, 'That needs to be done.' I wish it had happened earlier, but I'm happy that it's happening."
The overtime rule that Perez's Labor Department came up with -- in the face of heavy industry lobbying -- would extend time-and-a-half pay to millions more salaried workers when they work more than 40 hours in a week. The changes should bring those workers either more pay or a shorter workweek. Retail trade groups continue to fight it aggressively, saying it will reduce workers' flexibility.
The overtime expansion is arguably the most significant economic reform undertaken by the Obama White House without congressional approval.
"I don't think there's ever been a better time, in my life, to have the privilege of serving as the labor secretary," Perez said. "We work on so many of the issues that people are talking about at night after the kids go to sleep."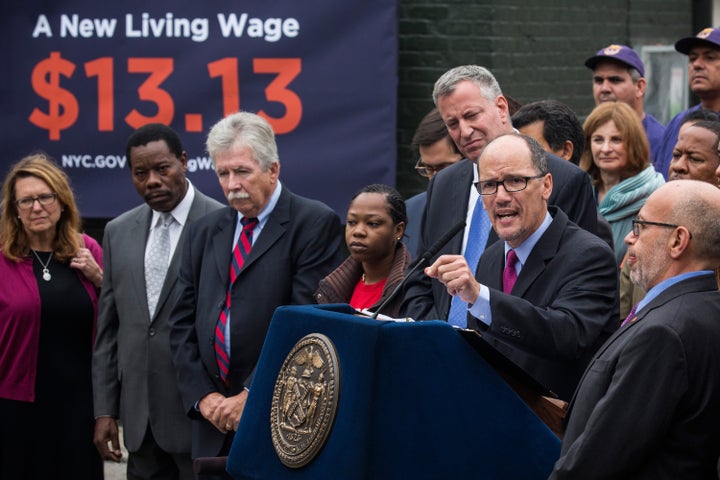 One of the privileges Perez has not seen is presiding over an increase to the federal minimum wage, which remains $7.25 per hour and hasn't budged since 2009. The White House first called for boosting the wage floor in 2013, but Democratic proposals to do so have gone nowhere in the Republican Congress. With just a year and a half left in office, it's quite possible Obama could become the first president of either party since Ronald Reagan not to sign an increase to the minimum wage.
Perez has served as the White House's top surrogate on the issue. With legislation not moving in Washington, much of his work has involved traveling to cities and states to encourage the passage of local minimum wage laws. He visited Seattle on April 1 to mark the day that city's minimum wage began its gradual climb to $15. Los Angeles and San Francisco passed similar $15 wage laws, though most other state and local laws have been far more modest.
Perez said he finds the minimum wage debate in Washington "colossally frustrating." A strong majority of Americans, including many self-identified Republicans, favor a higher minimum wage, he noted.
"What people tell me all the time is, 'I don't want to rely on food stamps to feed my family, I don't want to be on Medicaid. I want to be able to sustain myself, but I can't do it on seven-and-a-quarter an hour,'" he said. "You look at South Dakota, you look at Nebraska, you look at Arkansas, Alaska -- four [red] states that had referendums, and by the way they all passed overwhelmingly. This issue should not be a partisan issue."
The same goes for paid leave, according to Perez. The idea of a mandate on large businesses to provide workers with sick days has languished in Congress. And the United States' laissez-faire attitude on parental leave is an aberration from most developed economies, Perez noted. In polls, most Americans support requirements for paid leave, a benefit from which low-wage workers are disproportionately excluded.
"The thing about paid leave that is remarkable to me -- once again, only in the U.S. has paid leave become a partisan issue," Perez said. 
After his meeting with workers at the church, Perez had a one-on-one lunch with Mya Hill, who works at a Checkers and is helping lead the Fight for 15 in Detroit. He jotted down his email address and told her to reach out if she ever needed anything. After that, it was on to a meeting with the editorial board of the Detroit News, a dinner with Detroit Mayor Mike Duggan, and then a red-eye flight to Oregon, which recently passed a sick leave law.
As for what may come after his stint as labor secretary, Perez declined to speculate. For now, he's too busy checking each state off his itinerary.
"I see way too many people who take jobs like this and use too much time figuring out where they take it next," he said. "There's plenty of time to think about that later. I'm thinking about the 517 days until the weekend."
Calling all HuffPost superfans!
Sign up for membership to become a founding member and help shape HuffPost's next chapter