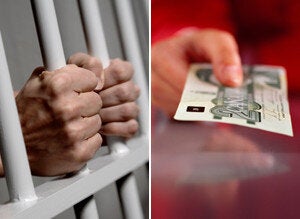 This piece is part of a series of blogs by leading NGOs to call attention to a range of issues that should be raised at the G8 summit at Camp David in rural Maryland from May 18-19.
In India more than 200 million people live without secure access to food, the most of any county in the world, the Wall Street Journal reported last month. As the report argued, this is not because India lacks the resources to provide for its population. On the contrary, India's domestic food production would be more than enough to feed its population of 1.2 billion. However, a lack of adequate infrastructure to transport and store harvested crops results in significant losses. And according to the Wall Street Journal report, corruption and inefficiency are among the main reasons why infrastructure in India is lagging behind, thus slowing down investments that could help feed millions.
Food security, especially in Africa, will be one of the main items on the agenda of the G8 summit this month in Camp David. This is welcome news as the countries with extremely alarming Global Hunger Index scores -- Burundi, Chad, the Democratic Republic of Congo, and Eritrea -- are in Sub-Saharan Africa, according to the International Food Policy Research Institute. These are the same countries that score at the bottom of Transparency International's Corruption Perception Index. If corruption is a significant factor in India's quest for food security, it is likely to be a factor affecting food security in African countries, in addition to civil unrest and other factors which undermine security.
As leaders of the G8 convene at Camp David, it is imperative they take corruption into account. Corruption underpins many of the summit's stated objectives -- such as promoting food security in Africa, but also ensuring stability during the transition in Afghanistan, advancing governance in the Middle East in the wake of the Arab Spring and tackling illicit financial flows. Investment is more efficient and effective in countries that have transparent and accountable systems in place to prevent public funds from being diverted into the pockets of corrupt individuals, at the expense of ordinary citizens. Similarly, G8 countries have a great degree of responsibility to enforce their own anti-bribery laws and encourage their own companies to act with integrity when operating abroad.
"Grand Corruption" by public officials is a problem that has received increasing attention in recent years, particularly following the Arab Spring. The 2007 report by the Stolen Asset Recovery (StAR) Initiative of the World Bank and UNODC estimates that money associated with bribes received by public officials from developing and transition countries to be somewhere between $20 and $40 billion per year. The same report underscores that these stolen assets are often hidden in the financial centers of developed countries. These illicit financial flows constitute a massive outflow of wealth from developing countries and undermine development and growth efforts in these countries.
The case of Teodoro Nguema Obiang Mangue (Teodorin), the son of the president of Equatorial Guinea and the Minister of Agriculture and Forestry for his country, provides an example of this problem. France recently issued an arrest warrant for him, and the U.S. also filed civil forfeiture complaints against him last year, to recover $70.8 million in assets located in the United States. The Department of Justice complaint alleges that Tedorin used his position and influence as a government minister to acquire criminal proceeds through corruption, including more than $1.8 million worth of Michael Jackson memorabilia, a $38.5 million Gulfstream G-V jet, a $30 million house in Malibu, California, and a 2011 Ferrari worth $530,000. This is while more than 70 percent of the population lives below the poverty line, according to the World Bank data for the country.
While these enforcement actions by France and the U.S. are commendable, anti-corruption activists are increasingly questioning why it is so easy for corrupt officials to access the global financial systems, and particularly the financial systems of OECD countries. How are so many politically exposed people able to use anonymous companies to cloak their identities and the source of their illicit funds? The G8 countries should take some concrete steps to deny safe havens to corrupt individuals and their illicitly-acquired assets by enforcing international anti-money laundering standards and "know your customer requirements," and collecting and making available beneficial ownership information to relevant enforcement authorities. All G8 countries should deny non-cooperative countries access to their financial systems.
G8 countries alone represent a significant portion of world exports, and therefore, through a renewed commitment and concrete actions, these countries can make a difference in the fight against corruption as well as set the tone for the G20 summit in June 2012.
Popular in the Community