The first of this two-part series examining and appreciating the photorealism of Yigal Ozeri tracked his career through his bold paraphrases of (art) historical manifestations of physical perfection. With the recent opening of his exhibition Revolution at Giverny: A Return to Women in Nature it is difficult to disagree that in this series Ozeri has reached a new apex of depicting beauty.
Seminal aesthetic philosopher Umberto Eco, as quoted before, declared that the 15th century allowed us to first see the artist as both an imitator and a creator. Eco points out that that concept dwindled and today seems foreign to us. However, in Ozeri's very contemporary renditions of physical perfection (that is, women in nature), this seeming contradiction once again comes to the fore.
Indeed, in the large-scale canvases of Revolution at Giverny that duality of imitating nature and creating something hyper-natural has never been clearer. The light playing off the beautiful model's face seems to be captured by film. Whether we want to or not, our first response is to think of the sheer craftsmanship it would take to render something that feels so mechanically replicated. Yet within an instant, the viewer is pulled toward the sumptuous landscape. This is not the work of a camera but the painterly perfection of a sublimist like Albert Bierstadt (1). And moving toward the water lilies, one cannot ignore the hidden hand of Claude Monet (2).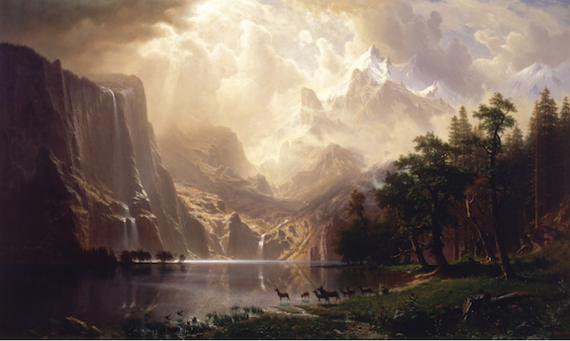 (1.) Albert Bierstadt, Among the Sierra Nevada Mountains, 1868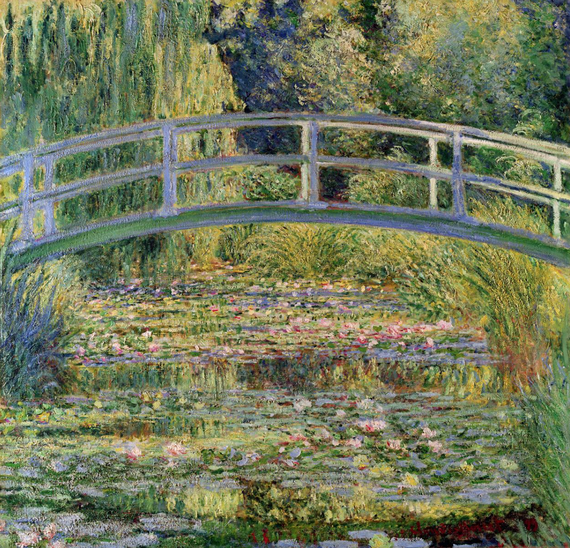 (2.) Claude Monet, The Japanese Bridge, 1899.
The concept of this group of paintings, commissioned by the The Richard J. Massey Foundation is a dreamy anachronism. Beautiful model-come-performance artist Tarra Bandet not only posed for the works but created the narrative context: Marie Antoinette reflecting in Monet's Giverny gardens. The result is quite literally a mash-up of stylized aesthetics. The elaborate, contrived lushness of the 18th century Rococo Queen, like a creation by Jean-Honoré Fragonard (3), meets the 20th century's benchmark for visual perfection in Monet's late 19th century water lilies. Through Ozeri's photorealistic technique, the artist strips each of their temporal indicators, leaving only the hallmark of Beauty itself (4).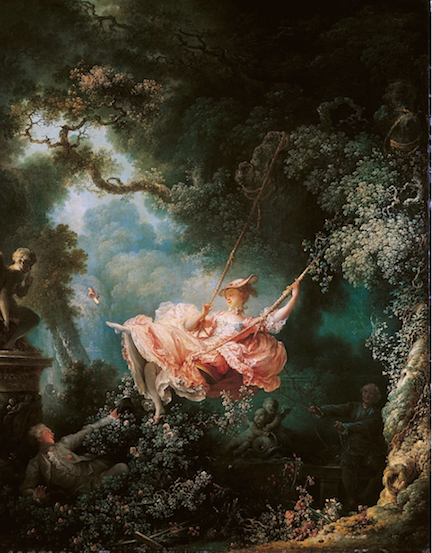 (3.) Jean-Honoré Fragonard, The Swing, 1767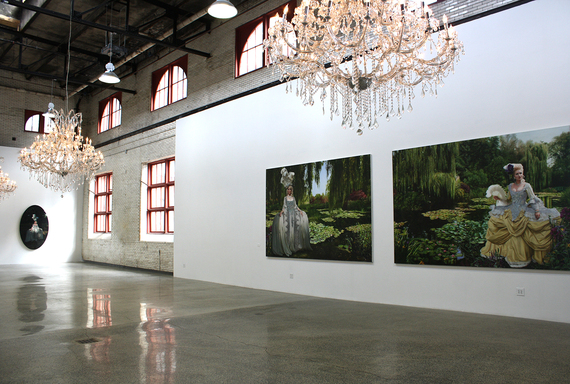 (4.) Installation shot, Revolution at Giverny: A Return to Women in Nature, May 2015 (Photographed by Shuli Sadé, Chandeliers courtesy Bronson Van Wyck, Van Wyck & Van Wyck)
At the opening on May 3 at Mana Contemporary, Bandet swanned about in full regalia, bringing anachronism to the fore. But it is in the paintings that anachronism falls to the wayside. Indeed in his photorealistic renderings, Ozeri makes all these referents contemporary. Truly, it is a bold statement on the part of the artist. Anyone who dares to enter territory so influenced by previous masters must do it the right way. Irreverent Ozeri approaches Giverny unflinchingly. He is not replicating Monet's ineffable impression of nature; he is elevating it with contemporary precision.
Artistically, Ozeri has since left the gardens of Giverny and parted from Rococo queens. Recent works place twenty-first century goddesses in the forests and fields where they seem to spring, fully grown, from the earth in denim and lace. Showing this weekend at Bernaducci Meisel Gallery and Louis K. Meisel Gallery in a dual-gallery opening, Ozeri's Recent Works will tempt us further into his exploration of beauty and aesthetic perfection (5-6). We can look forward to being led, one minute brushstroke at a time, into that temptation.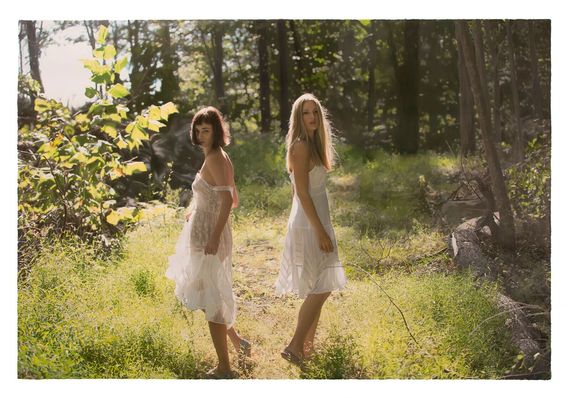 (5.) Yigal Ozeri, Olya and Zuzannah, 2015.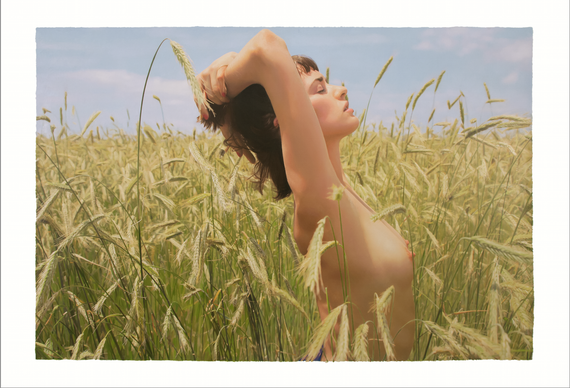 (6.) Yigal Ozeri, Untitled (Olya), 2014
Yigal Ozeri, Revolution at Giverny: A Return to Women in Nature runs through August 1 at Mana Contemporary in Jersey City.
Calling all HuffPost superfans!
Sign up for membership to become a founding member and help shape HuffPost's next chapter