Do you love deadpan mockumentaries like Christopher Guest's Waiting for Guffman, Best In Show, and A Mighty Wind? Are you a big fan of snarky, anti-establishment John Waters films like Hairspray, Cry-Baby, Pecker, and Serial Mom that are filled with inappropriate sexual references and attacks on the status quo? Do you have a wicked taste for the prurient delights found in Todd Solondz's films (Welcome to the Dollhouse, Happiness, Storytelling, and Life During Wartime) where it seems as if the envelope of impropriety couldn't be pushed any further?
Then trust me, you're going to fall head over heels in love with RSO [Registered Sex Offender]. Imagine a documentary crew that is so exasperated and repulsed by its unrepentantly cynical and unremittingly vulgar subject that it finally gives up on producing a film about him. Imagine a registered sex offender whose combination of sarcasm, intelligence, and stubbornness undermines the efforts of every mindless parole officer and aspiring therapist who tries to contribute to his rehabilitation.
Then think of the smart-ass slacker who knows exactly which questions to answer honestly to guarantee that he won't get a job. Think of every determined horndog/porn connoisseur you've met (straight or gay) who can't stop drooling at the mere possibilities evoked by the words, thoughts, and images that fill his day. Think of the class reject who went through his senior year with a 24-hour boner and you've met the protagonist of this film.
It takes about 30 seconds before you realize that RSO will offer a thoroughly scandalous, no-holds barred experience in which absolutely nothing is sacred. Watch the trailer below for a tantalizing appetizer to a mockumentary whose tagline is: "A film that will touch you... inappropriately."
I tip my hat to Byington and his talented cast of professionals and nonactors -- who have managed to shoot a contemporary sex comedy about one of the most repugnant issues in our society and yet still keep a straight face throughout the process. Special credit goes to the slouching, snarky Gabriel McIver as the protagonist, to Kristen Tucker as his girlfriend, Tina, and to film editor Peggy Chen for her inspired choices.
Shot in handheld HD format with a cast of relatively unknown talents, RSO is put together with a lot more precision and intelligence than many big budget affairs. Listen to Robert Byington, Kristen Tucker, and Kevin Corrigan discuss their "process" in the following clip (recorded at the South by Southwest Film Festival in Austin, Texas) and then do yourself a big favor.
Purchase a DVD of [Registered Sex Offender] here for $10 so that you can have the guilty pleasure of watching it in private and laughing your head off when no one else is looking. Byington's bitingly droll mockumentary is guaranteed to give you new and piercing insights into the culture of the penal, parole, and rehabilitation systems of the State of Texas. Better still, put it on a double bill with I Love You Phillip Morris and invite your most twisted friends over for a party!
Anyone who thought RSO was a fluke would be well advised to think again. Take one look at this picture of Bob Byington and you know he's a trouble maker. My guess is that he could well become the next John Waters.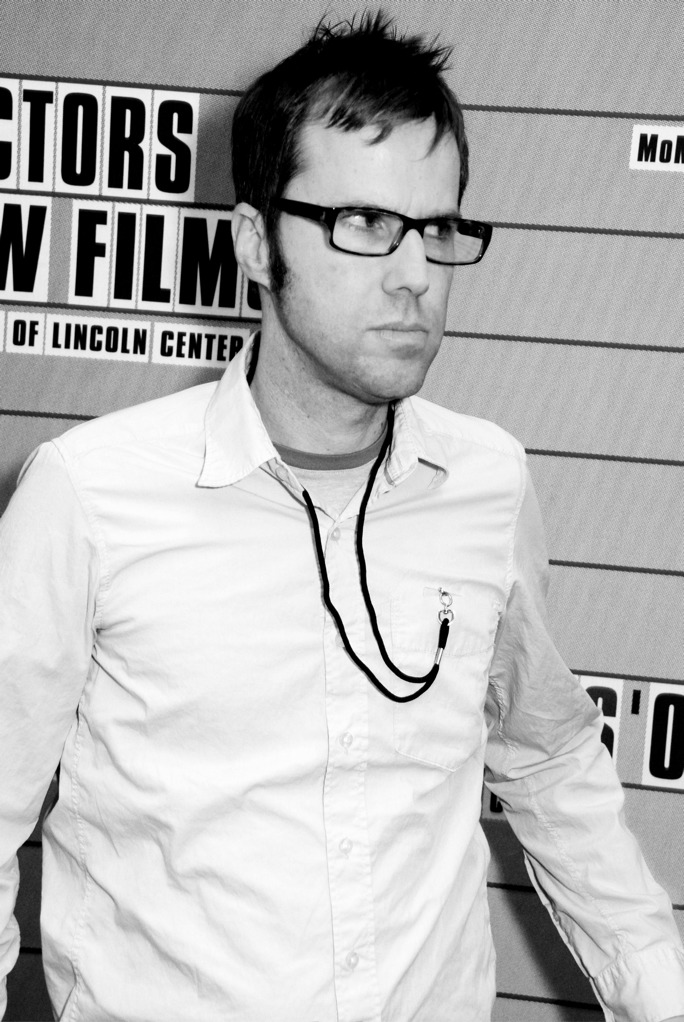 Bob Byington
Set in Austin, Texas, Byington's film Harmony and Me revolves around a young lyricist (Justin Rice) who comes from a totally dysfunctional family. Like Registered Sex Offender, this film is blessed with some crackling dialogue. There aren't too many movies where, at a graveside service as an employee struggles to find something nice to say about his deceased employer, he starts off by admitting that he didn't know the dead man very well and then, for no particular reason, addss, "Oh, and he was a pedophile."
Harmony's girlfriend has just dumped him, he's lost his job, and he's trying to learn how to play piano from a man with dubious teaching credentials. Allergic to chocolate, deeply depressed, and boring his friends to death with the story of his recent breakup, Harmony is also forced to beg his older brother for financial help.
When he can't stand it anymore, Harmony bites into a chocolate candy, knowing full well that he will end up in the Emergency Room. The scene in his hospital room is a type of black comedy that is rare and razor-sharp.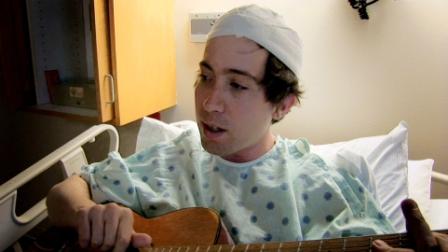 Justin Rice as Harmony

Justin Rice is hilarious as a sad sack slacker schlemiel. Compared to Harmony, The Big Bang Theory's horniest physicist, Howard Wolowitz, is actually on a par with George Clooney. Under Byington's direction, the rest of the cast gets maximum black comedy mileage simply by playing their scenes straight.
The sicker and more twisted your sense of humor is, the more you'll enjoy the sullen self absorption of Harmony and Me. The fact that Harmony's redemption comes from being transformed into a male meter maid should give you some idea of the acidity of Byington's wit. Here's the trailer:
Sometimes you really do have to pinch yourself to make sure you're not dreaming. However, if you're a triple threat talent like Scott Prendergast, you reach out and continue to pinch your audience to remind them exactly whose nightmare it is that they find so damned entertaining.

Prendergast is the author, director and star of Kabluey, a small indie gem that is so much better than 2004's Sideways, 2006's Little Miss Sunshine, and 2007's Juno that it's a shame it hasn't reached a larger audience. I found it to be remarkably intelligent, achingly funny, and full of strange, but wonderful insights into the empty evils of corporate collapse in the dot.com era and the soul-scorching shallowness of suburban life.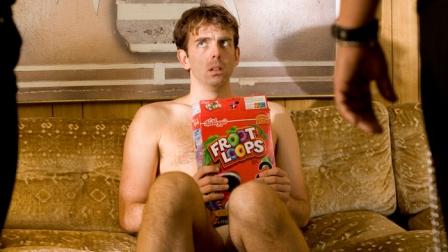 Scott Prendergast in Kabluey

Prendergast plays Salman, a total loser who is called into action when his depressed and overstressed sister-in-law (Lisa Kudrow) realizes that if she doesn't go back to work, she'll lose the family's healthcare benefits while her husband is off fighting in Iraq. Unemployed after a string of hilarious work-related disasters, Salman arrives to take care of Leslie's two horrifically obnoxious rug rats from hell, who waste no time expressing total contempt for their hopeless and pathetic uncle).
Realizing that Salman is not helping matters, Leslie sends him out on an interview that leads to a job as a corporate mascot for a failed dot.com company named BluNexion. Kabluey t is one of those quiet gems that not only has wit and heart, but ends on a rare note of -- dare I say it -- decency.
Kabluey gives Prendergast an impressive directing debut with his first full-length feature as well as a great starring role that showcases his comedic talent. The film boasts some hilarious moments from Chris Parnell, Teri Garr, and the always amusing Conchata Ferrell. Here's the trailer:
Calling all HuffPost superfans!
Sign up for membership to become a founding member and help shape HuffPost's next chapter