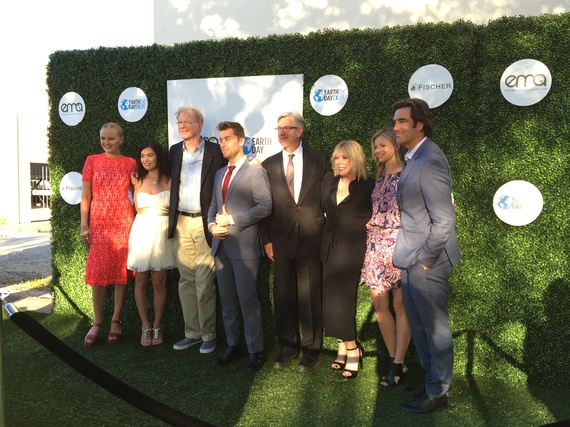 Celebrities at Environmental Media Assn - Earth Day Texas 2016 Gala, l to r: Malin Akerman, Leilani Munter, Ed Begley Jr., Lance Bass, John Quigley, EMA president Debbie Levin, Amy Smart, Carter Oosterhouse (Photo credit Jason Kindig)

Environmental and climate change advocates are finally expanding their reach to the "unconverted." It's amazing what another "hottest year on record" and extreme weather can do, especially when you can enroll powerful allies like the Pope.
From the historic signing of the Paris Climate Accord by 175 countries, to diverse audiences converging at the huge Earth Day Texas described as the largest Earth Day celebration in the U.S. and possibly worldwide, stretching across 1,000,000 square feet of Dallas' Fair Park, , evidence surrounds us.
As rebel race car driver Leilani Munter said in her speech at Earth Day Texas, we need to reach the unconverted, and be prepared for their "pushback," even "get comfortable" with it.
Here are a few examples from Earth Day Texas of folks pushing the unconverted:
• Having the largest Earth Day festival in the heart of Texas oil and gas country is certainly pushing the limits. I did not see any oil and gas companies, but the mere fact of having this successful an event for the environment and alternative fuels is pushing the limits.
• Green Republicans Pushing Oil Country: Trammel Crow, Earth Day Texas Founder and a self-described "green Republican" has taken an aggressive pro-environment stance on the state level, including in blogs and the Texas State Legislature. He's pushing his oil-and-gas-supporting neighborhood to embrace the economic potential of clean energy, even though it's an uphill battle.
• A top national Green Republican supporting the carbon tax: Leveraging the cachet of his great-grandfather's name, Teddy Roosevelt IV says being a "green Republican" today is "challenging." That's an understatement, though it does seem to have energized TR IV. An investment banker, he supports a carbon tax to make the impact of fossil fuels "more transparent" and believes in carbon sequestration. By the way, he said his personal investment portfolio intentionally does not include fossil fuels.
• Pushing the macho and gas-guzzler race car industry, is the diminutive and feisty race driver-biologist Leilani Munter, one of the rare women in the sport. Her diversion to "cross driving a race car off (her) bucket list," quickly became a passion, a career, and a crusade to clean up her notoriously oily industry. For example, her pit box is powered by a portable solar system and she only takes sponsorship funding from non-fossil fuel companies. It cost her big bucks when she rejected a big potential sponsor who wanted her to "lighten up" on the oil companies. NASCAR's standards need disruption, however, because they require all cars to run on gas.
• Bigger is not always better: The Tiny House Movement is pushing back on the big home ideal. The lines were by far the longest for this exhibit at Earth Day Texas, so it's caught an audience. The owner of one Tiny House I toured told me she downsized from an ~7,000 square foot home into this 8 x 20 version that she built herself on a budget of $18,000, complete with living room, bedroom/loft, marine-style bathroom, closet, microwave, stove and fairly large refrigerator/freezer. Other tiny houses are slightly larger and more elaborate, including one that cost $28,000, or a service that will build you a larger, fancier one.
• The entertainment industry cleaning up its own house? They love to make documentaries about climate change and talk about it, but their own footprint has been rather lacking. Enter the Environmental Media Association, pushing them to clean up their own act, along with some intrepid studio folks. At the Earth Day gala that EMA cosponsored, HGTV's Carter Oosterhouse and his actress-wife Amy Smart told me about the pushback they still hear when they question the plastic bottles and huge waste on sets. He said HGTV is getting better, but the struggle continues. EMA Founder Debbie Levin insisted to me in our interview that the industry is tackling this aggressively, but my studio sources tell me how hard the struggle is in the entertainment industry culture and systems.
One incongruity was the food: Junk food concessions dominated Earth Day Texas, which Crow told me were a requirement of using Fair Park. There were other options, such as food trucks, and a sustainable food tasting area, but the tasting area had very limited hours and ran out of food quickly. I was also surprised at the large amount of beef at the Festival and the gala, considering how many speakers talked about how eating meet hurts the environment and that many people in this audience don't eat meat.
Calling all HuffPost superfans!
Sign up for membership to become a founding member and help shape HuffPost's next chapter